Ryane Paige Brown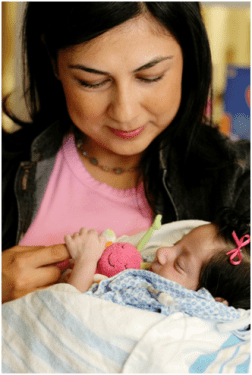 A Year of LIfe We Wouldn't Have Had
By her father, Stewart Brown
On January 11th, 2005, our daughter Ryane Paige Brown was born. My wife and older daughter were excited as we brought Ryane home from the hospital.
Everything was going great until we noticed that Ryane was not eating after ten days being at home. We were very concerned and took her to the emergency room at Huntington Memorial Hospital. We were informed by Dr. Joseph Ahdoot that Ryane had a life-threatening heart condition and would need immediate surgery.  So she was transferred to Childrens Hospital Los Angeles.
My family was shocked and devastated to find out our little girl was so sick. When we arrived at Childrens all the nurses and doctors in the Cardiothoracic Intensive Care Unit did their absolute best to fight for Ryane's life.
While we were exhausted and concerned, we knew Ryane was supported by experienced and well-trained medical staff.
We were informed of Ryane's condition, called Hypoplastic Left Heart Syndrome. The only chance she had to survive was to receive surgery from Dr. Vaughn Starnes.
I've included a link to a video that ABC News ran on Ryane's condition: