Floyd H. Gilles Lecture in Neuroscience Research
Apr. 3, 2019 – Floyd H. Gilles Lecture: "One Brain, Many Genomes: Somatic Mutation and Genomic Diversity in Human Brain from Birth to Old Age"
Christopher Walsh, MD, PhD Investigator, Howard Hughes Medical Institute, Chief, Division of Genetics and Genomics, Boston Children's Hospital, Bullard Professor of Pediatrics and Neurology, Harvard Medical School; Topic: "One Brain, Many Genomes: Somatic Mutation and Genomic Diversity in Human Brain from Birth to Old Age"; Hosted by: Pat Levitt, PhD
Mar. 14, 2018 – Floyd H. Gilles Lecture: "Genetics and genomics of Autism Spectrum Disorder"
Daniel Geschwind, MD, PhD, Gordon and Virginia MacDonald Distinguished Professor in Human Genetics, Professor of Neurology and Psychiatry, Senior Associate Dean and Associate Vice Chancellor for Precision Health, Director, Center for Autism Research and Treatment, Semel Institute, UCLA. Topic: "Genetics and genomics of Autism Spectrum Disorder." Hosted by:  Pat Levitt, PhD, Simms/Mann Chair in Developmental Neurogenetics, Institute for the Developing Mind, Children's Hospital Los Angeles, WM Keck Provost Professor of Neurogenetics, Keck School of Medicine of USC
Dec. 6, 2016 - Floyd H. Gilles Lecture: "Molecular and Cellular Mechanisms of Neuronal Migration"
Pasko Rakic, MD, PhD, Dorys McConnell Duberg, Professor of Neuroscience and Professor of Neurology, Yale School of Medicine; Topic: "Molecular and Cellular Mechanisms of Neuronal Migration"; Hosted by Marvin D. Nelson J.R., MD, MBA, FACR
Jan. 29, 2014  - Floyd H. Gilles Lecture: "Development and Adult Connectomics of the Cerebral Cortex"
Larry W. Swanson, PhD, is University Professor and Appleman Professor of Biological Sciences, Neurology and Psychology at the University of Southern California (USC). He has headed basic research laboratories in systems neuroscience at the Washington University School of Medicine, the Salk Institute for Biological Studies and USC. Swanson is a leading expert on the structure and function of neural systems that control basic drives and emotions. He has been a member of the Society for Neuroscience since 1970 and served as its president in 2012-2013. He was elected to the American Academy of Arts and Sciences in 2003 and the National Academy of Sciences in 2010, received two Javits Awards from the National Institutes of Health and served on the National Institute of Mental Health's Board of Scientific Counselors. Swanson was founding coordinator of the USC Neuroscience Graduate Program, dean of research of the Dornsife College of Letters, Arts and Sciences and chair of the Provost's Neuroscience Advisory Group. Swanson is a prolific author and one of the most highly cited neuroscientists worldwide with more than 43,000 citations.
About Floyd H. Gilles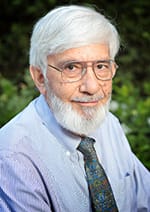 Floyd H. Gilles, MD, has dedicated more than 50 years to improving the lives of children by searching for innovative cures for neurodevelopmental disease. He holds the Burton E. Green Endowed Chair in Pediatric Neuropathology at Children's Hospital Los Angeles and has been professor of Pathology (Neuropathology), Neurosurgery and Neurology at the Keck School of Medicine of the University of Southern California (USC) since 1983. In addition, Gilles has held other leadership roles at CHLA. He served as the division head of Pediatric Neurology (including Neuropsychology and Pediatric Psychiatry) from 1997 to 2008, and head of the Children's Brain Center since 1999, (now the Institute for the Developing Mind). He was involved in establishing the Developmental Neurobiology Program of The Saban Research Institute in 2005 and the recruitment of Richard Simerly, PhD. Gilles was also vice-chair of Pathology and Laboratory Medicine from 2009 to 2012.

Gilles received his Bachelor of Arts, Bachelor of Science and Medical Degree from the University of Chicago in the 1950s and an honorary Master of Arts degree and tenured professorship from Harvard University in 1983. He did his neurology training at The Johns Hopkins Hospital. He was the head of Pediatric Neuropathology at Boston Children's Hospital for 22 years and head of its Pediatric Neuropathology Training Program.
Gilles has more than 200 peer-reviewed publications, two published books and many book chapters. His pioneering group has contributed in several key areas. Examples include establishing the quantitative standards for the developmental deposition of myelin in the human fetal, neonatal and early childhood periods as well as identifying the risk factors of delayed myelination. Gilles' team also established the histologic characteristics and risk factors for the common abnormalities in the human fetal brain and developed a quantitative histologic way to predict survival in children with brain tumor, which is now computerized for the front-line pathologist. Internationally, Gilles' group has shown leadership in their work with the World Health Organization (WHO), first proving that the standard WHO Classification and grading schemes were not reliable predictors of survival for children with brain tumors and then participating in the development of a modification of the WHO Classification for Childhood Brain Tumors.