Biobehavioral Pain Laboratory

Research Focus
The Biobehavioral Pain Laboratory research is focused on children and adolescents who are evaluated and treated at the Pain Medicine Clinic for chronic pain and other concomitant chronic diseases, such as cancer, obesity and juvenile idiopathic arthritis. We examine and identify neurobiological mechanistic aspects of pain attenuation, the impact of stress and chronic pain on childhood outcomes and interventions that decrease pain and improve overall pediatric/adolescent health outcomes.
Goals

To understand and examine unconventional medicinal treatments, which are safe and cost-effective to alleviate acute and chronic pain in medically ill children and adolescents.
To improve infant, child and adolescent health by conducting state-of-the-art pediatric health outcomes research.
Leading-edge Technology Used
Virtual reality
Neuroimaging techniques
Research Topics 
Development of a Transdisciplinary USC Center for Integrative Health Research and Education
Biopsychosocial, neurodevelopmental and neurobehavioral investigations of acute and chronic pain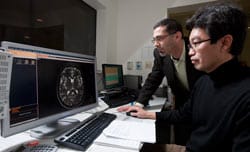 Chronic pain and quality of life
Virtual reality, pain medicine and neuroimaging
Chronic illness and posttraumatic stress disorder (PTSD) in medically ill children and adolescents
Clinical trials investigating pharmacological interventions for chronic pain
Children's Outcomes, Research and Evaluation (CORE) Program
Impacting clinical practices and health care policy by demonstrating how medical decisions affect critically ill children and adolescents.
Complementary alternative medicine (CAM)
Acupuncture treatment
Biofeedback treatment
Massage treatment
Research Team
Current Funding
1. National Institutes of Health (NIH)/National Institute on Drug Addiction (NIDA) Cutting-Edge Basic Research Awards (CEBRA)
"Virtual Reality Analgesia: Using fMRI to explore the central mechanisms of VR's effect on experimentally induced pain in healthy adolescents." 

2. NIH Heart, Lung and Blood Institute (NHBLI) Comprehensive Sickle Cell Centers - NHLBI Clinical Trials Consortium
"Neuropsychological dysfunction and neuroimaging abnormalities in neurologically intact adult patients with sickle cell disease: a neuropsychological and neuroimaging investigation of adult patients with sickle cell disease"

3. NIH/National Institute of Mental Health (NIMH) 
"Validating a child acute stress measure in English and Spanish" 

4. NIH/National Institute of Child Health & Human Development (NICHHD) 
"Improving Pain and Anxiety in Children Undergoing Surgery" 

5. Pfizer Pharmaceutical 
"A 15-Week, Randomized, Double Blind, Placebo-Controlled Parallel Group Efficacy Study of Pregabalin in Adolescents (12-16 Years Old) with Fibromyalgia"

"A 6-Month, Open-Label, Safety Trial of Pregabalin in Adolescent Patients with Fibromyalgia"

6. University of Southern California – Children's Hospital Los Angeles, Southern California – Clinical Translational Science Institute Los Angeles Basin (SC-CTSI LAB)

"Virtual Reality Analgesia: Using fMRI to explore the central mechanisms of VR's effect on experimentally induced pain in adolescents with fibromyalgia" 

7. Green Foundation Grant
Children's Hospital Los Angeles – Yo San University Pediatric Acupuncture program 

8. Forest Laboratories
"A Multicenter, Randomized, Double-Blind, Placebo-Controlled Withdrawal Study to Evaluate the Safety, Tolerability, and Efficacy of Milnacipran in Pediatric Patients with Primary Fibromyalgia"

9. Weingart Foundation Grant
Children's Hospital Los Angeles – Yo San University Pediatric Acupuncture program
10. USC Collaboration Fund
Development of a Transdisciplinary USC Center for Integrative Health Research and Education