Research students and trainees are recognized and valued in The Saban Research Institute at Children's Hospital Los Angeles. They are the future of pioneering discoveries and our mentors take great pride and honor to help further their careers in the field of pediatric medicine and beyond.
National Postdoctoral Appreciation Week
LA-HIP Science Symposium and Graduation Ceremony
Volunteer Reception
National Postdoctoral Appreciation Week
The Saban Research Institute celebrates National Postdoc Appreciation Week with a reception honoring TSRI postdoctoral scholars ("postdocs") and the important contributions they make to the Children's Hospital Los Angeles research enterprise.  

Our leadership is highly committed to transforming health care at Children's Hospital Los Angeles and that this work cannot be done without the knowledge and dedication of our outstanding postdoctoral fellows.
Attendees are invited to have informal conversations with the invited experts who represented a few of the various career choices available to scientists interested in working outside of academia.
LA-HIP Science Symposium and Graduation Ceremony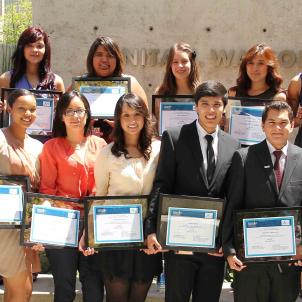 The auditorium in The Saban Research Building is filled by science mentors, laboratory personnel, parents and siblings of the interns. Leadership of The Saban Research Institute and Children's Hospital Los Angeles attended along with members of the Board of Trustees and donors who helped fund the program.
LA-HIP students present their findings and show all that they have learned during their mentorship. Presentations vary in topics ranging from how cancer uses the microenvironment to proliferate, how the brain works, how bacteria invade endothelial cells, how the lung repairs injury and many more.
Interns are given a certificate of completion and a check for $500 as part of their stipend. Students are reminded to excel in their academic careers to ensure that some day they would return to Children's Hospital as physicians or scientists. Click here to learn more about LA-HIP .  
  
Volunteer Reception
Summer at The Saban Research Institute is a dynamic time where students at various career stages visit our campus to participate in, and contribute to, the exciting research taking place at Children's Hospital Los Angeles. This diverse group of talented interns receives mentoring from our dedicated faculty who are committed to training the next generation of leaders in pediatrics.
The Saban Research Institute's research training office sponsors a reception to recognize and thank our summer research interns and their mentors.
In 2012, those honored included 58 research interns from seven states, 29 high schools and 17 colleges and ranging from high school to medical to graduate students.
The gathering gives our summer research interns an opportunity to socialize with one another, their mentors and faculty from other labs before beginning another academic year. We hope the time at Children's Hospital Los Angeles will guide volunteers as they explore one of the most fulfilling career choices, becoming a leader in the exciting, and humbling, world of pediatric academic medicine.