Autism: A Hunt for Culprit Genes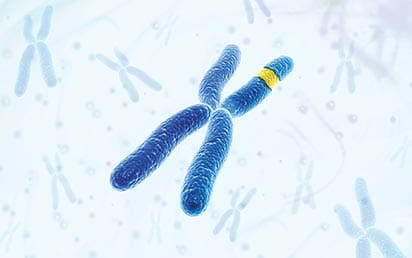 Di Tian's investigations are part of an ambitious collaborative effort at Children's Hospital Los Angeles and the Keck School of Medicine of USC to uncover the origins of autism spectrum disorder—and the most effective interventions.

Di Tian, MD, PhD
Scientists have linked literally hundreds of mutated genes with autism spectrum disorder (ASD), a success rate that could be viewed as both an important first step toward future interventions and an increasingly complex puzzle.
Di Tian, MD, PhD, an investigator in the Developmental Neuroscience program at The Saban Research Institute of Children's Hospital Los Angeles, has been studying a microdeletion—the loss of genetic material—from chromosome 16. He is zeroing in on clues that bring 30 possible genes in this region down to just five, or even fewer.
The microdeletion at chromosome 16, specifically, the region known as chr16p11.2, has been strongly associated with ASD. In fact, says Tian, assistant professor of Pathology at the Keck School of Medicine of the University of Southern California, "it is one of the most common genetic abnormalities associated with autism spectrum disorder."
Tian, a pediatric neuropathologist in the Department of Pathology and Laboratory Medicine at Children's Hospital, combines a passion for the developing brain with an expertise in creating in vivo models for autism and other neurological disorders. He employs a variety of experimental approaches, including electrophysiology, biochemistry and behavioral studies. His ultimate goal is finding the causal gene or genes behind ASD, which affects approximately 1 in every 68 children in the United States.
"We need to be cautious," says Tian. "There may be no single gene responsible for this mutation. It might be multiple genes in combination."
About 30 percent of patients with the chr16p11.2 microdeletion display some of the most common symptoms of ASD, such as deficits in social interaction, language impairment and repetitive behavior.
Armed with high-tech field recording equipment and the latest software, Tian is able to look at hundreds of thousands of neurons at a time, or at a single cell. Currently, he is studying neuroplasticity of the brain in the hippocampus and visual cortex. Neuroplasticity refers to the brain's capacity for continuous alteration in response to the sensory world and life experience. Studies have shown that patients with ASD have altered neuroplasticity.
He's also approaching the problem of ASD using behavior-focused experiments. He has designed behavioral assays to observe whether the chr16p11.2 mutation results in impaired social interaction and repetitive behaviors in mice. So far, he says, it appears to do so.
Next, Tian wants to pinpoint the molecular events leading up to the suspect microdeletion to find out if manipulating those events with drugs employed in treating ASD can rescue or correct the abnormal gene characteristics.
Using his translational in vivo models, Tian has already identified key synaptic dysfunctions in affected brain regions of patients with the chr16p11.2 mutation. Scientists believe that disruption in synapses—which allow neurons to pass signals to individual cells—is instrumental in ASD. Tian's studies connect those interrupted synapses to protein synthesis, the process by which cells generate new proteins.
The chromosome 16 mutation and faulty protein synthesis seem to go hand in hand, "which provides more clues to what might go wrong," he says, "and makes this puzzle very challenging and very interesting."