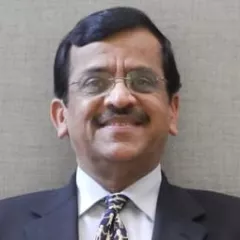 Rangasamy Ramanathan, MBBS, MD
Associate Center Director, Center for Neonatal Medicine
Professor of Pediatrics, Keck School of Medicine of USC
Rangasamy Ramanathan, MD, FAAP, is Professor of Pediatrics at the Keck School of Medicine of the University of Southern California. He is Division Chief of the Division of Neonatal Medicine at LAC+USC Medical Center and Associate Director for Center for Neonatology at Children's Hospital Los Angeles. He is the Medical Director of the Newborn Intensive Care Unit, Division of Neonatology at LAC+USC Medical Center in Los Angeles, where he is also Director of the Neonatal Respiratory Therapy Department.
Dr. Ramanathan directs one of the largest fellowship programs in neonatal-perinatal medicine in the country, with 18 fellows in the program. He is Vice-Chair of the Department of Pediatrics and Section Head of the Division of Neonatology at the Hospital of the Good Samaritan. He was elected to serve as President of the California Association of Neonatologists, one of the largest organizations of neonatologists in the country.
Dr. Ramanathan graduated from Stanley Medical College at Madras University, and received Diploma in Child health (DCH) and MD Pediatrics at the Institute for Child Health and Hospital for Children after completing his training in Pediatrics. He then went on to complete his residency in Pediatrics at Lincoln Medical Center, New York Medical College, in New York. He was a fellow in clinical neonatology at LAC+USC Medical Center, and a research fellow in neonatology at Harbor-UCLA Medical Center in Los Angeles.
His research interests include surfactant therapy for RDS and ARDS, noninvasive ventilation in neonates, caffeine therapy in preterm infants, cardiorespiratory monitoring, pathophysiology of refractory hypotension in neonates, and oxygen toxicity in preterm neonates. He has extensive experience in planning and conducting multicenter trials. He is the author of more than 70 peer reviewed articles published in the New England Journal of Medicine, JAMA, American Journal of Perinatology, Pediatrics, Journal of Pediatrics, Journal of Perinatology, Neonatology, formerly known as Biology of Neonate and Pediatric Research, among others. He has written chapters in several textbooks, including Avery's Diseases of the Newborn (WB Saunders Co., 2004).
He is a member of the editorial boards of Pediatric Research, the Journal of Pediatrics and Neonatology and the Journal of Maternal-Fetal and Neonatal Medicine. He is the recipient of numerous teaching awards from the departments of Pediatrics and Obstetrics, and is listed in Best Doctors in America each year by his peers since 2005. Dr. Ramanathan was selected as "America's Top Pediatricians" by the Consumer's Research Council of America in 2007 and America's Top Doctors by US News& World Report and Castle Connolly report in 2011 through 2015. In 2011, Dr. Ramanathan received AAP CME/CPD Award (Continuing Medical Education/Continuing Professional Development) from American Academy of Pediatrics. Dr. Ramanathan is frequently an invited speaker at national and international scientific meetings.
Clinical Interests
Non-Invasive Ventilation, Surfactant Theraoy for RDS and ARDS, Retinopathy of Prematurity, Preventing Oxygen toxicity in preterma nd term neonates, bronchopulmonary dyspalsia, molecular basis of lung injury
Education
Medical School
Stanley Medical College, Madras, India - MBBS
Internship
Madras Medical College, Madras, India
Residency
Institute of Child Health and Hospital for Children, Madras Medical College, India - DCH and MD. Pediatrics Lincoln Medical Center, New York medical College, NY. - Pediatric Residency
Fellowship
Neonatal Perinatal Medicine Fellowship - LAC+USC Medical Center, Los Angeles, California
Accomplishments
Certification
Pediatrics, Indian Board of Pediatrics
Diplomate, American Board of Pediatrics, Pediatrics
Diplomate, American Board of Pediatrics-Sub-board of Neonatal- Perinatal Medicine
Diplomate, Maintenance of Certification (MOC) Certificate, American Board of Pediatrics
Neonatal Resuscitation Program (NRP) – Regional Traine
Active Lead Instructor, S.T.A.B.L.E. Program
Active Basic Life Support (BLS)
Active Pediatric Advanced Life support (PALS)
Active Master Trainer & Mentor, Helping Babies Breathe, AAP
Memberships
Local
Member, Western Society for Pediatric Research
South Western Pediatric Society
California Association of Neonatologists
Los Angeles Academy of Medicine
National
Fellow of the American Academy of Pediatrics
Fellow of the American Thoracic Society
Section on Perinatal Pediatrics
Member, American Pediatric Society (APS)
Executive Council Member, District 9, Chapter 2, Section Perinatal Pediatrics
Steering committee, Neonatal Resuscitation Program (NRP), 1998
Executive Member, AAP District IX, Chapter 2, Second Term 1998-2000
Research Advisory Workgroup, 1999
International
Member, European Society for Pediatric Research (ESPR)
Medical Awards
SWPSICL Trophy for Best Presentation: "You Mouth Your Tale Well" – Award, South Western Pediatric Society Annual Spring Meeting, 2002
Outstanding Teacher Award, Class of 2004, Department of Pediatrics, Keck School of Medicine, University of Southern California, 2004
Physician of the Year Award, Good Samaritan Hospital, Keck School of Medicine University of Southern California, 2004
Richard H. Paul. M.D. Maternal-Fetal Medicine Distinguished Teaching Award, Department of Obstetrics and Gynecology, Keck School of Medicine, University of Southern California, 2005
Specialty Interests
Neonatal Pulmonology, Cardiopulmonary interaction
Publications
Publications
Ramanathan R, Corwin M, Hunt C, Lister G, Tinsley L, Baird T, Silvestri J, Crowell D, Huffod D, Martin R, Newman M, Weese-Mayer D, Cupples L, Plucker M. Willinger M, Keens T and CHIME. Cardiorespiratory Events Recorded on Home Monitors. Comparison of healthy infants with those at increased risk for SIDS. JAMA 285:2199-2207, 2001
Cayabyab RG, Jones CA, Kwong KYC, Hendershott C, Lecart C, Minoo P, Ramanathan R. Interleukin-1b in the bronchoalveolar lavage fluid of premature neonates: a marker for maternal chorioamnionitis and predictor of adverse neonatal outcome. J Maternal Fetal and Neonatal Med 14: 205-211, 2003
Ramanathan R, Rasmussen MR, Gerstmann D, Finer N, Sekar K, and The North American Study Group: A Randomized, Multicenter Masked Comparison Trial of Curosurf and Survanta in the Treatment of Established Neonatal Respiratory Distress Syndrome. American J Perinatology 21: 109-119, 2004
Ramanathan R, Sekar K, Rasmussen M, Bhatia J, Soll RF. Nasal Intermittent Positive Pressure Ventilation After Surfactant Treatment for Respiratory Distress Syndrome in Preterm Infants <30 weeks' Gestation: A Randomized, Controlled Trial. J Perinatal doi:10.1038/jp.2012.1. May 2012; PMID: 22301528
Ramanathan R, J Bhatia, K Sekar, Ernst FR. Mortality in preterm infants with respiratory distress syndrome treated with poractant alfa, calfactant or beractant: a retrospective study. Published online ahead of print version. J Perinatol. 2013 Feb;33(2):119-25. doi: 10.1038/jp.2011.125. Epub 2011 Sep 1. PMID:21886094
Research
Research Summary
Non-Invasive Ventilation, Non-invasive Monitoring, Retinopathy of Prematurity, Bronchopulmonary Dysplasia
Research Topics
Closed Loop to control oxygen delivery in neonates
Current Funding
Research Grants - Funded
NIH LRP Grant Program: 2014-2016 ; NIH 2674-16 $70,000
PI: Aaron Reitman, DO
ECMO and Blood Exposure: Is there a role for labile plasma iron, F2-Isoprostane and MRI R2 in the evaluation for iron overload?
Co-Investigator % Effort: 1%
Multicenter Research - Funded
ClinicalTrials.gov ID: NCT02140580
** Multicenter randomized controlled trial of minimally Invasive surfactant therapy in preterm infants 25-28 weeks Gestation on continuous positive airway pressure (Optimist-A Trial), University of Tasmania, Australia
Site Principal Investigator, 2014-2016 $ 1500 /patient
% Effort: 1%
** NIH and University of Miami Miller School of Medicine, ROI-RCT
Sponsor ID: 007656; Prime Sponsor ID: 000340
Automatic Adjustment of Inspired Oxygen for Prevention of Retinopathy of Prematurity and Bronchopulmonary Dysplasia in Premature Infants
Closed Loop Study-during Non-invasive ventilation
Site Principal Investigator, 2015-2020 $ 469,985.00
% Effort: 5%
Multicenter Clinical Trial - Funded
IND No : 122619
Protocol Number: CCD-5633AA1-02
A multicenter, double blind, randomized, single dose, active-controlled study to investigate the efficacy and safety of synthetic surfactant (CHF 5633) in comparison to porcine surfactant (Poractant Alfa, Curosurf®) in the treatment of preterm neonates with Respiratory Distress Syndrome.
Sponsor: Chiesi, USA
Site Principal Investigator, 2015-2017 $7,366.00 per subject
% Effort: 5%
News Stories
HSC Weekly, Vol 7, No.15; University of Southern California School of Medicine. "Baby Monitors may go out with bath water" (Ramanathan R et al). 05-11-2001
Science News Update. News from JAMA and the Archives Journals, Chicago. "Cardiorespiratory events detected by home monitors common in healthy babies, as well as those at risk for SIDS" (Ramanathan R et al). 05-02-2001
Medscape Health. "Study questions use of Home Monitors to prevent SIDS (Ramanathan R et al), May 2001
Surfactant Selection Criteria for the Treatment of Neonatal RDS. Bhatia J, Gerdes JS, Ramanathan R, Sekar KC, Seri I. Panel Discussion and Summary report, 2006.
Ramanathan R. Webinar: Non-invasive Ventilation in Newborns. Los Angeles, CA. August 10, 2011
Ramanathan R: Second Smallest baby in USA, December 15, 2011.
Ramanathan R:. Doctor: Half-pound baby is a 'miracle'
Ramanathan R: December 20. 2011: National Public Radio. Ethical Considerations. California's smallest baby raises host of really big questions
Ramanathan R. January 2015. Born Early: When Life Begins in the NICU. WALLS DOWN, Essential Hospital Stories without Boundaries, AMERICA'S ESSENTIAL HOSPITALS.