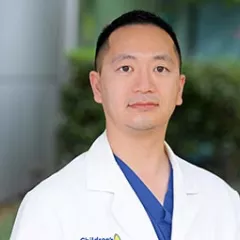 Jason Chu, MD, MSc
Attending Physician, Division of Neurosurgery
Assistant Professor of Clinical Neurological Surgery, Keck School of Medicine of USC
Dr. Jason Chu, MD, MSc is a board-certified Pediatric Neurosurgeon, Assistant Professor of Neurosurgery at the University of Southern California and an Attending Neurosurgeon at Children's Hospital of Los Angeles. Dr. Chu is from Toronto, Ontario, Canada and earned his Bachelors of Science from Queen's University in Kingston, as well as a Master's of Science at the University of Toronto. He is a graduate of Saint Louis University School of Medicine and completed his Neurosurgery training at Emory University School of Medicine in Atlanta. Dr. Chu finished his Pediatric Neurosurgery fellowship at Texas Children's Hospital, one of the largest pediatric hospitals in the country, where he received specialized training in epilepsy surgery, including minimally invasive stereoencephalography (sEEG) and laser interstitial thermal therapy (LITT) techniques. Dr. Chu also has expertise in the treatment of pediatric cerebrovascular disorders, including arteriovenous malformations (AVMs), Moyamoya and cavernous malformations of the brain and spinal cord.
Working with a specialized team of physicians at the CHLA Fetal-Maternal Center, CHLA Spina Bifida Program and Keck School of Medicine Division of Maternal Fetal Medicine, Dr. Chu performs fetal surgery for patients with spina bifida and myelomeningocele. The results of the Management of Myelomeningocele (MOMs) Trial suggest that in utero repair of myelomeningocele can decrease the development of symptomatic hydrocephalus, as well as improve developmental and motor outcomes in patients with open neural tube defects. Our group has worked on developing a minimally-invasive technique that minimizes the risks of the surgery for the mother, while preserving the potential benefits of in utero repair for the fetus.
Dr. Chu is also member of the Hydrocephalus Clinical Research Network (HCRN), a national, multi-center collaborative research network devoted to improving the understanding and treatment of hydrocephalus in infants and children. He is the CHLA site investigator for the HCRN Endoscopic versus Shunt Treatment of Hydrocephalus in Infants (ESTHI) trial for infantile hydrocephalus.
Dr. Chu has authored over 30 peer-reviewed papers and 5 book chapters. His research interests lie in translational neuroscience, functional neuroimaging in brain development and improving clinical outcomes for his patients. He is a member of the American Association of the Neurological Surgeons (AANS), The Congress of Neurologic Surgeons (CNS) and the AANS/CNS Section of Pediatric Neurological Surgery.
Clinical Interests
Dr. Chu's clinical interests include epilepsy surgery, cerebrovascular disorders, spina bifida, hydrocephalus endoscopic Neurosurgery, spinal disorders, brain and spine tumors and congenital abnormalities.
Education
Medical School
Saint Louis University School of Medicine
Graduate School
Master's of Science, Institute of Medical Science, University of Toronto
Residency
Emory University School of Medicine
Fellowship
Texas Children's Hospital/Baylor College of Medicine
Publications
Publications
Sanz Cortes M, Chmait RH, Lapa DA, Belfort MA, Carreras E, Miller JL, Brawura Biskupski Samaha R, Sepulveda Gonzalez G, Gielchinsky Y, Yamamoto M, Persico N, Santorum M, Otaño L, Nicolaou E, Yinon Y, Faig-Leite F, Brandt R, Whitehead W, Maiz N, Baschat A, Kosinski P, Nieto-Sanjuanero A, Chu J, Kershenovich A, Nicolaides KH. Experience of 300 cases of prenatal fetoscopic open spina bifida repair: report of the International Fetoscopic Neural Tube Defect Repair Consortium Am J Obstet Gynecol. 2021 Jun 2:S0002-9378(21)00612-8. PMID: 34089698
Sangara RN, Chon AH, Van Speybroeck AL, Chu JK, Llanes AS, Kontopoulos EV, Quintero RA, Chmait RH. Fetal blood gases after in utero carbon dioxide insufflation for percutaneous fetoscopic spina bifida repair. Am J Obstet Gynecol MFM. 2021 May 28;3(5):100409.
Chu JK, Chiarelli PA, Rea ND, Pimentel N, Flyer BE, McComb JG, Durham SR, Krieger MD. Postoperative facial palsy after pediatric posterior fossa tumor resection. J Neurosurg Pediatr. 2021 Mar 12:1-6.
Hauptman JS, Kestle J, Riva-Cambrin J, Kulkarni AV, Browd SR, Rozzelle CJ, Whitehead WE, Naftel RP, Pindrik J, Limbrick DD, Drake J, Wellons JC, Tamber MS, Shannon CN, Simon TD, Pollack IF, McDonald PJ, Krieger MD, Chu J, Hankinson TC, Jackson EM, Alvey JS, Reeder RW, Holubkov R; Hydrocephalus Clinical Research Network. Predictors of fast and ultrafast shunt failure in pediatric hydrocephalus: a Hydrocephalus Clinical Research Network study. J Neurosurg Pediatr. 2020 Dec 18:1-10.
Chu JK, Feroze A, Collins K, McGrath L, Young C, Williams J, Browd S. Variation in hospital charges in patients with external ventricular drains: comparison between the intensive care and surgical floor settings. J Neurosurg Pediatr. 2019 Apr 19:1-6