The Saban Research Institute Awarded $2.5 Million Grant for Ongoing Stem Cell Studies
The Saban Research Institute Awarded $2.5 Million Grant for Ongoing Stem Cell Studies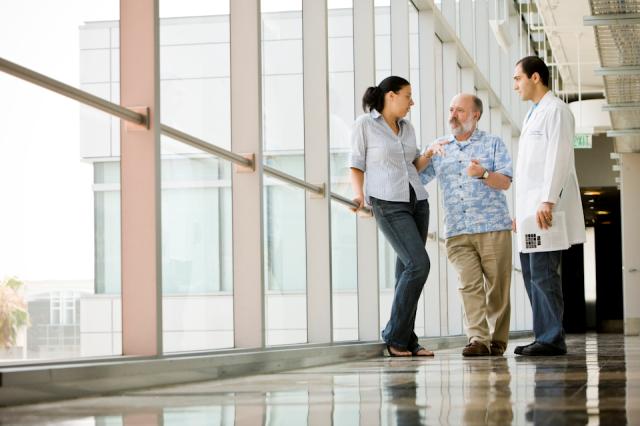 Dr. Warburton (center) directs the promising Developmental Biology and Regenerative Medicine Program
California Institute of Regenerative Medicine supports the promise of stem cell-based therapies for pediatric disorder
MEDIA CONTACT: Ellin Kavanagh at 323-361-8505
Email: ekavanagh@chla.usc.edu
Los Angeles (January 6, 2012) -  A three-year extension of a major training grant from the California Institute of Regenerative Medicine (CIRM) was recently awarded to the Developmental Biology and Regenerative Medicine Program at The Saban Research Institute of Children's Hospital Los Angeles. The $2.5 million dollar grant will fund an ongoing stem cell training program for post-doctoral scientists and medical fellows.
"Developmental biology and regenerative medicine is one of our main scientific priorities. Stem cell-based therapies show tremendous promise for treating pediatric conditions, that may also lead to cures for later in life diseases," said Brent Polk, MD, director of The Saban Research Institute.
Over the last six years, the CIRM grant has already funded the training and career development of several young investigators and they, in turn, have made significant medical discoveries. 
Among the findings, investigators have pinpointed how the early-stage human embryo organizes stem cells for particular functions in the body. With this information scientists can now understand how blood vessels direct the formation of organs from these stem cells. Additionally, stem cells are being isolated from amniotic fluid and show promise for therapeutic purposes. These findings shed light on new theories for healing and regenerating the damaged tissues of several vital organs.
Despite the sluggish economy and federal budget cuts, advances at The Saban Research Institute have attracted the attention of major funding institutions, philanthropists and investors. These additional avenues of support have contributed to several US and foreign patent applications as well as the development of new therapies for kidney, lung, and intestinal disease. Also, new treatments for brain damage and brain cancer continue to emerge. All of these new advances are quickly progressing towards clinical trials that offer promise to patients suffering from historically irreversible disease and trauma.
"I cannot overstate the significance of the CIRM training grant and how it has supported the development of our research program. We have made several landmark discoveries that inform our understanding of how the body can heal itself and the continued support will help our trainees and their mentors to evolve better treatments for our patients," says David Warburton, MD, Director of the Developmental Biology and Regenerative Medicine Program at The Saban Research Institute.
The fellows participating in the training grant also have the opportunity to incorporate the larger ethical issues into their work with embryonic and other stem cells.   A steering committee has incorporated medical ethics education into the program to promote awareness of the ethical, legal, and societal implications for the emerging stem cell based therapeutic applications.
"We are very aware of the scrutiny and ethical concerns involving embryonic stem cell research. In this light, the CIRM training grant offers support for both scientific investigation as well as a structure for exploring the humanistic issues that are connected to our findings. In our program, we harness the discoveries and apply them for the greater good for our young patients. We always keep the ethical and social implications of the work in mind, and we are totally focused on using our novel findings to help those in need," continues Dr. Warburton.
About Children's Hospital Los Angeles
Children's Hospital Los Angeles has been named the best children's hospital in California and among the best in the nation for clinical excellence with its selection to the prestigious US News & World Report Honor Roll.  Children's Hospital is home to The Saban Research Institute, one of the largest and most productive pediatric research facilities in the United States, is one of America's premier teaching hospitals and has been affiliated with the Keck School of Medicine of the University of Southern California since 1932.
For more information, visit  CHLA.org. Follow us on Twitter, Facebook, YouTube and LinkedIn, or visit our blog: WeAreChildrens.org.