The Margie and Robert E. Petersen Foundation Gives $8.5 Million to Name New Rehabilitation Center at Children's Hospital Los Angeles
The Foundation's Gift Includes a Match for Donations from Other Donors up to $3.5 Million

Media Contact: Lorenzo Benet
Office: 323-361-4823
Email: lbenet@chla.usc.edu
LOS ANGELES (March 14, 2014) – Children's Hospital Los Angeles (CHLA) announced today that the Margie and Robert E. Petersen Foundation has made a transformative gift of $5 million to support the hospital's mission of delivering advanced patient care at CHLA. In honor of this generous support, the hospital will name a new state-of-the-art facility for inpatient rehabilitation currently under construction the Margie and Robert E. Petersen Foundation Rehabilitation Center, honoring Bobby and Richie Petersen. Margie and Robert Petersen's two sons, Bobby and Richie, were killed in a plane crash in 1975. To advance the hospital's efforts to secure community funds to complete construction of the new rehabilitation center, the Foundation has also pledged a dollar-for-dollar match—up to $3.5 million—on all donations made to support the center's completion through Dec. 31, 2016.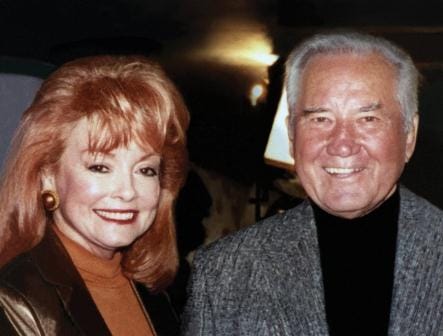 "The Petersen Foundation's gift is in furtherance of Mr. and Mrs. Petersen's belief that children are our future and that each child deserves the opportunity and support to achieve his or her best," says GiGi Carleton, president of the Margie and Robert E. Petersen Foundation.

The hospital's current inpatient facility opened in 1973 as Southern California's first dedicated pediatric rehabilitation center and is now one of the largest of its kind in the state. CHLA's Division of Rehabilitation is a major referral center for challenging cases that cannot be treated at other local hospitals, and needs facilities that match the level of care provided. The new Margie and Robert E. Petersen Foundation Rehabilitation Center will offer these patients unrivalled patient care in a new space that benefits from the most current findings related to integrating families into a child's recovery from traumatic injury or life-threatening illness. 

"The CHLA rehabilitation unit is a very special place where many of the young patients in our care have suffered a devastating illness or injury and are relearning basic functions that we take for granted like sitting up, holding a fork and talking," says Richard D. Cordova, FACHE, president and CEO of Children's Hospital Los Angeles. "This tremendous gift will give them the healing environment they deserve and our staff the facilities to match the level of the care they provide. We are so honored and humbled by the generosity of the Margie and Robert E. Petersen Foundation—its legacy of compassion will be mirrored in the strength of the children we serve for generations to come."

The Division provides coordinated care through nursing; physical and occupational therapy; hearing and speech therapy; social work and Child Life specialists for children with some of the most complex and diverse diagnoses, including stroke, brain and spinal cord injuries, brain tumors, bone tumors, seizures, spinal disorders and rheumatologic disorders. After a child's mobility has been affected by trauma or illness, rehabilitative care helps children regain as much function as possible while achieving a sense of independence and well-being.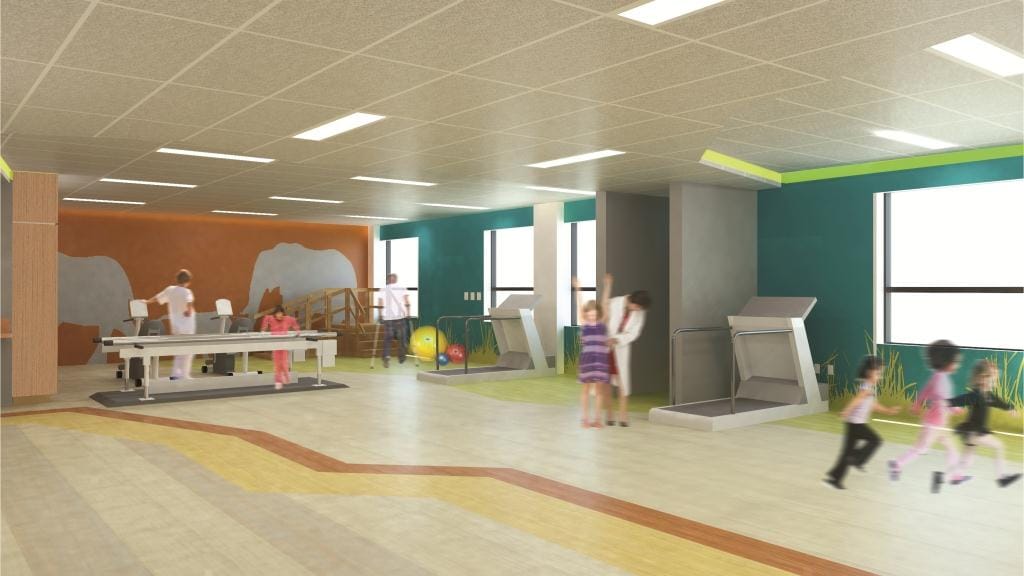 The new 22,000-square-foot, safari-themed rehabilitation center will house 22 patient beds in two isolation rooms, three semiprivate double rooms and 16 private rooms, which are especially important for children and adolescents who have suffered head traumas and require privacy and quiet spaces to heal. On average, patients are hospitalized in the rehabilitation unit for 35 days, with some staying as long as four to five months while they receive intensive therapy. Families also drive long distances to be with their child during care, so the new facility will honor a family's needs for privacy and the ability to maximize their opportunity to interact as a family during patients' recoveries.

Additionally, the new center will provide a greater range of amenities and include innovative technologies. The space will feature a large gym with 1,750 square feet of physical and occupational therapy space, an occupational therapy craft room, a speech therapy room, a recreation therapy room, a private treatment room, a Child Life playroom and access to the hospital's existing hydrotherapy room. Every patient room will include family sleep areas, a bathroom and shower, free wireless internet and the GetWellNetwork®, an interactive patient care system developed for pediatric patients and their families that lets them learn and play while in the hospital. Some patient rooms and the gym will include innovative ceiling-mounted transportation systems to help safely move patients. The center will also feature a kitchen for therapeutic training purposes with patients and a large common dining area that will encourage communal dining.

Rehabilitative medicine is essential to the healing process," says Kevan Craig, D.O., chief of the Division of Rehabilitative Medicine. "The sooner a child begins the kind of coordinated, specialized care offered at Children's Hospital Los Angeles, the better his or her chances are of recovery and returning to a happy and healthy life. The Margie and Robert E. Petersen Foundation Rehabilitation Center will give patients access to the latest in rehabilitative equipment and care, as well as a family-friendly space that allows their mind and soul to thrive."

The Margie and Robert E. Petersen Foundation Rehabilitation Center, honoring Bobby and Richie Petersen is expected to open this coming October. Patients will move from the existing rehabilitation unit in the McAlister Building into the new facility, which will be located in the Mary Duque Building. 

The late Margie Petersen, a former CHLA regent and board of trustee member, and her late husband Robert, founder and chairman of Petersen Publishing Co., maintained a longstanding relationship with the hospital. In addition, their foundation benefited other community institutions, including the Petersen Automotive Museum, which was co-founded by the couple, as well as the Los Angeles County Museum of Art, the Saint John's Health Center and the John Wayne Cancer Institute.


About Children's Hospital Los Angeles

Children's Hospital Los Angeles has been named the best children's hospital on the West Coast and among the top five in the nation for clinical excellence with its selection to the prestigious U.S. News & World Report Honor Roll. Children's Hospital is home to The Saban Research Institute, one of the largest and most productive pediatric research facilities in the United States. Children's Hospital is also one of America's premier teaching hospitals through its affiliation since 1932 with the Keck School of Medicine of the University of Southern California.

For more information, visit CHLA.org. Follow us on Twitter, Facebook, YouTube and LinkedIn, or visit our blog: WeTreatKidsBetter.org.