Largest Gift Made to Children's Hospital Los Angeles In Support of Spiritual Care Services
Kathleen McCarthy Kostlan and The Thomas and Dorothy Leavey Foundation Give $5.5 million to Name New CHLA Interfaith Center
LOS ANGELES (October 31, 2014) -- Children's Hospital Los Angeles (CHLA) announced today that Kathleen McCarthy Kostlan and The Thomas and Dorothy Foundation have donated a gift of $5.5 million to Children's Hospital Los Angeles to establish The Thomas and Dorothy Leavey Foundation Interfaith Center. In addition to naming and supporting construction of the new facility, funds will also be used to establish the Thomas and Dorothy Leavey Foundation Spiritual Care Program Endowment.
"We are immensely grateful to Kathleen for her generous gift and continued commitment to CHLA. Her leadership will play a vital role creating and sustaining this important space for the patients and families we care for," says Richard D. Cordova, FACHE, president and CEO of Children's Hospital Los Angeles.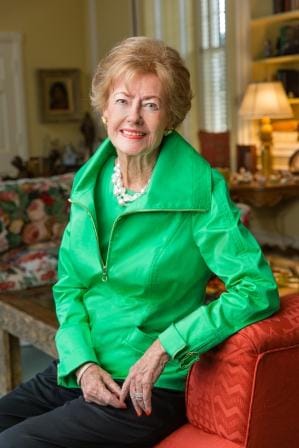 Kathleen McCarthy Kostlan, chairperson of the Thomas and Dorothy Leavey Foundation and CHLA Board of Trustees member.
The gift is the largest made in support of the Spiritual Care Services program in CHLA history and represents a leadership gift toward the program's $10 million fundraising goal. Construction on the new, 2,400-square-foot indoor and outdoor Thomas and Dorothy Leavey Foundation Interfaith Center will begin on February 2015 with completion and move-in expected to be in the fall of next year. The Leavey Interfaith Center will be centrally located on the south side of the Joyce and Stanley Black Family Building, easily accessible from the Burtie Green Bettingen Surgery Center, the outpatient tower and other inpatient facilities.
 
"Children's Hospital Los Angeles has always been a leader in the services it provides to the diverse community it serves. It was of great interest to me that the spiritual care program receive significant support so that persons of all faiths need not go far to receive comfort and healing," says Kostlan, a member of the CHLA Board of Trustees since 2012, a First Families Legacy Member and a member of the hospital's Advancement Committee. "Often, spiritual care is an afterthought to health care. But in fact, the two go hand-in-hand in helping people heal. The new center paired with the hospital's spiritual care services program will complement the top-notch medical care young patients receive at CHLA."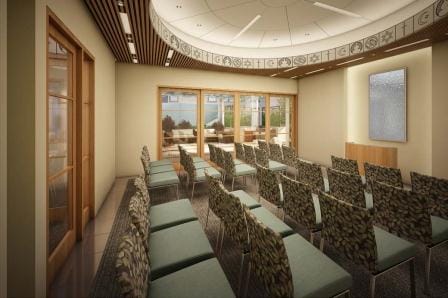 Artist rendering of the Leavey Interfaith Center Chapel prayer room.
The new Leavey Interfaith Center will include:
• 900 feet of indoor prayer and meditation space—nearly seven times larger than the hospital's current chapel
• A spacious interfaith sanctuary for ceremonies and group activities
• A semi-private Our Lady of Guadalupe devotional, with a statue and kneeler
• Four semi-private meditation and prayer spaces to serve all faiths, including but not limited to: Christian (Catholic, Protestant), Buddhist, Jewish, Mormon, Muslim and Hindu
• A 1,500-square-foot shaded outdoor Reflection Garden with soothing water features, symbolic art and landscaping
 "The new Leavey Interfaith Center will allow our Spiritual Care team to provide even greater support for patients, families and staff and meet the needs of persons from diverse spiritual and religious traditions," says Rev. Dagmar Grefe, PhD, manager of Spiritual Care Services and Clinical Pastoral Education.
Artist rendering of the Leavey Interfaith Center outdoor Reflection Garden.

"The new Center will embody CHLA's commitment to family-centered care," says Mary Dee Hacker, vice president and chief nursing officer at CHLA. 

 The Spiritual Care team conducts bedside visits with patients and families in their time of need, no matter the hour. CHLA's Spiritual Care Services Program provides around-the-clock care seven days a week for pastoral requests including baptisms, communion, confession and blessings. In addition to serving patient and family needs, the Spiritual Care team provides guidance and support to hospital staff, and educates them about religious traditions that may impact a child's medical care. When the Leavey Interfaith Center opens next fall, it will mean that when a retreat from the hospital room is needed, patients and family can connect with their faith in the tranquil meditation rooms and the Reflection Garden.

Kostlan, a 1957 alumna of the University of Southern California, is chair of The Thomas and Dorothy Leavey Foundation and has been a dedicated supporter of CHLA for more than three decades. In addition to serving on the Board of Trustees, Kostlan is a member of Las Madrinas, one of the hospital's longstanding Associate & Affiliate fundraising groups.

This gift is only the most recent contribution from Kostlan and her charitable foundation. In 2013, The Thomas and Dorothy Leavey Foundation Cardiothoracic Intensive Care Unit at CHLA received the national gold-level Beacon Award for Excellence from the American Association of Critical-Care Nurses. Over the past 60 years, the Leavey Foundation has contributed more than $200 million to medical institutions, faith causes, schools and universities, primarily in the Los Angeles area. Kostlan's passion for philanthropy was cultivated by her parents, Farmer's Insurance co-founder Thomas Leavey and his wife, Dorothy Risley Leavey. The couple's commitment to helping those in need inspired them to establish The Thomas and Dorothy Leavey Foundation in 1952.

About Children's Hospital Los Angeles 

Children's Hospital Los Angeles is a not-for-profit pediatric health care organization dedicated to creating hope and building healthier futures for children. Honored as the premier children's hospital in California and among the top five in the nation, we treat more than 104,000 children annually from Los Angeles and around the world. The hospital provides the equivalent of $221 million in health programs, services and other community benefits for Los Angeles children and families. As a pediatric charity of choice, the hospital relies on the generosity of the community to support its ground-breaking pediatric research and the complex care it provides for critically ill and injured children.

For more information, visit CHLA.org. Follow us on Twitter, Facebook, YouTube and LinkedIn, or visit our blog: WeTreatKidsBetter.org.

Media Contact: Lorenzo Benet 323-361-4823, lbenet@chla.usc.edu