Investigators at The Saban Research Institute Demonstrate That Amniotic Fluid Stem Cells Can Slow Progression of Kidney Disease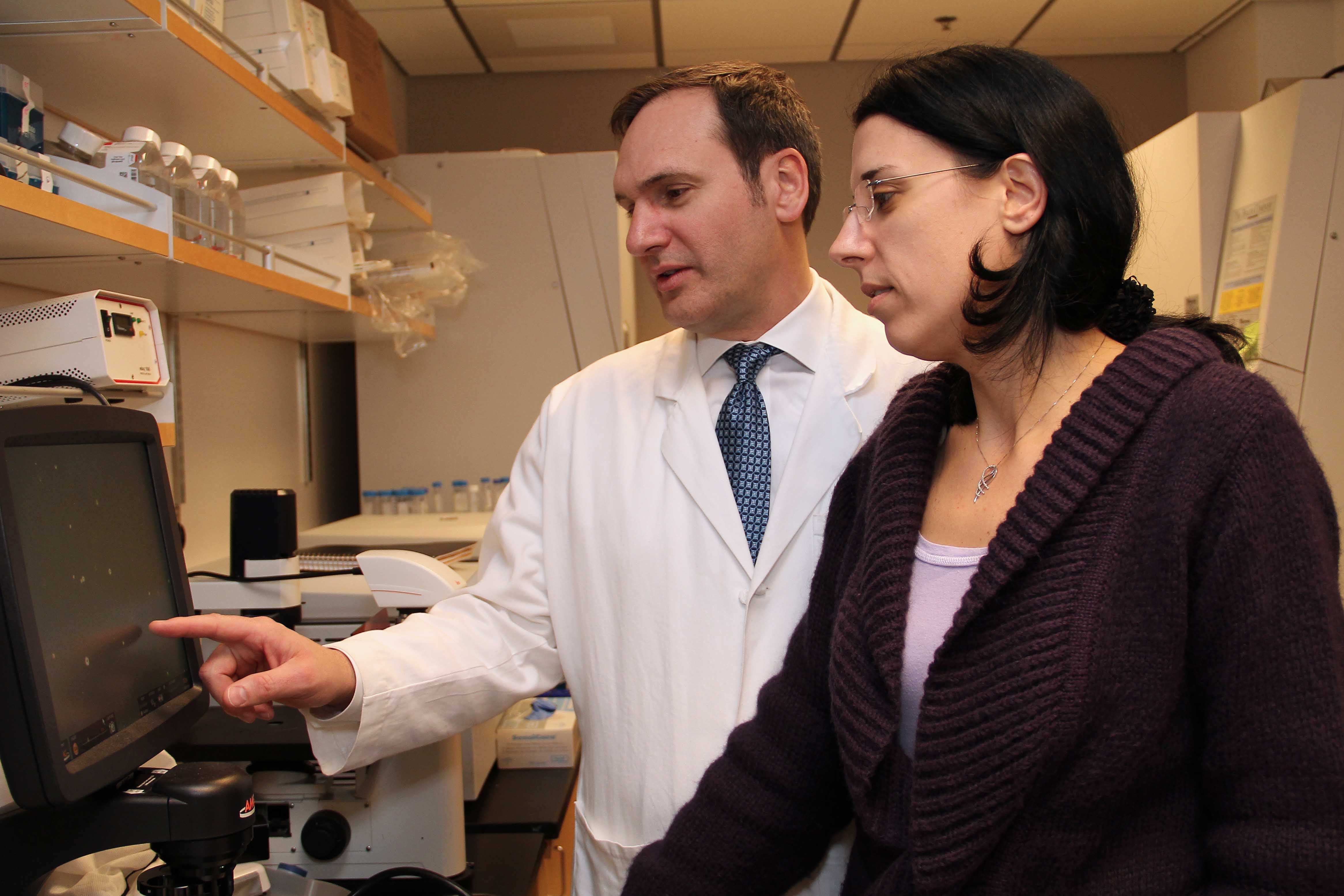 Roger De Filippo, MD and Laura Perin, PhD
MEDIA CONTACT: Ellin Kavanagh at 323-361-8505
Email: ekavanagh@chla.usc.edu
Investigators at The Saban Research Institute of Children's Hospital Los Angeles have found that amniotic fluid stem cells (AFSC) can slow the progression of chronic kidney disease.  A new study, published in the current issue of the Journal of the American Society of Nephrology, reveals that these stem cells can protect the kidneys and help maintain their function.
"We believe that this novel and innovative study clearly demonstrates the value and promise for amniotic fluid stem cells," comments Roger De Filippo, MD, head of the GOFARR Laboratory for Organ Regenerative Research and Cell Therapeutics at The Saban Research Institute.
Using a model for Alport's Syndrome, Dr. De Filippo's team, which includes Dr. Laura Perin, one of the original investigators of AFSC and co-director of the GOFARR Laboratory, injected AFSC early in the course of the disease.  Alport's Syndrome is a kidney disease characterized by progressive renal fibrosis.  Treatment with AFSC increased survival time and ameliorated the decline in kidney function.
Kidneys are responsible for filtering toxins from the blood. Chronic kidney disease (CKD) affects millions of children and adults in the United States. Characterized by a progressive decline in kidney function, CKD leads to an increase in health problems, including heart disease and diabetes. Those who develop end-stage kidney disease depend on dialysis to clear the waste from their blood and, ultimately, most patients require a kidney transplant in order to survive. With such stark long-term consequences, the new study offers hope to those suffering from the disease and is also a significant advancement in the stem cell research field.
Stem cell therapies have emerged over the last twenty years as a promising new area of biomedical research. While embryonic stem cells remain a controversial subject, AFSC are found in the fluid surrounding a fetus. The cells can be collected via amniocentesis or at birth without any harmful effects. This study demonstrates that the therapeutic benefit of AFSC is similar to that of embryonic stem cells.
"These findings are of significant interest to stem cell researchers. By using these common cells that are easily obtained, we can focus on other types of therapeutic studies that offer hope to many patients with chronic disabilities and disease," says David Warburton, DSc, MD, director of the Developmental Biology and Regenerative Medicine Research program at The Saban Research Institute. This work was funded in part by a training grant from the California Institute for Regenerative Medicine, the Alport's Syndrome Foundation, GOFARR and the Pasadena Guild of Children's Hospital Los Angeles.
About Children's Hospital Los Angeles
Children's Hospital Los Angeles has been named the best children's hospital in California and among the best in the nation for clinical excellence with its selection to the prestigious US News & World Report Honor Roll.  Children's Hospital is home to The Saban Research Institute, one of the largest and most productive pediatric research facilities in the United States, is one of America's premier teaching hospitals and has been affiliated with the Keck School of Medicine of the University of Southern California since 1932.
For more information, visit  CHLA.org. Follow us on Twitter, Facebook, YouTube and LinkedIn, or visit our blog: WeAreChildrens.org.