From Bedside Barcodes to Patient Portals: Children's Hospital Los Angeles is "Most Wired" Again in 2017
Prestigious award by Hospitals & Health Networks magazine recognizes excellence in adoption of technology for improving digital healthcare access, security and care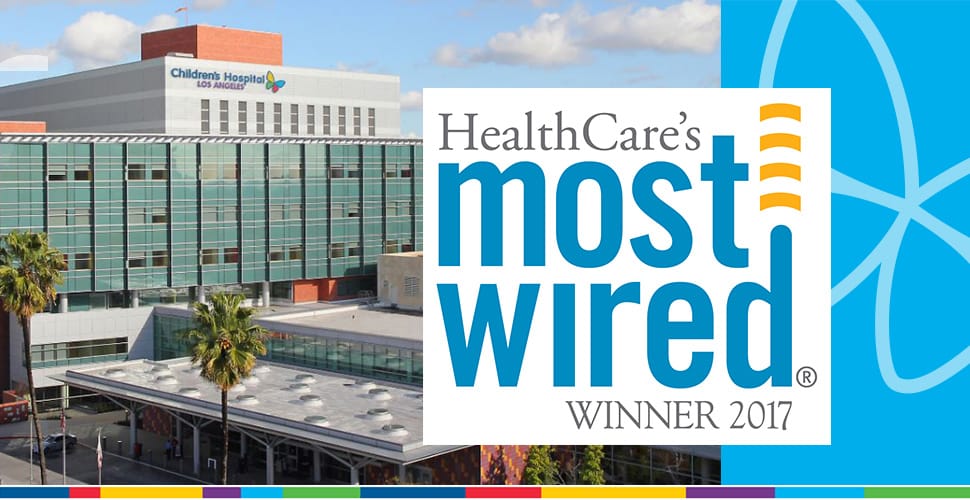 LOS ANGELES (July 11, 2017) – Seamless. Secure. Simple. Ask any company's Information Technology department what a healthy, reliable computer network looks like and it often boils down to those three words.
But when thousands of doctors, nurses and families need access to hundreds of thousands of patient records from multiple locations across Los Angeles County and across the nation, it takes quite a bit of work to ensure seamless connections, secure channels and simple interfaces.
That's why Children's Hospital Los Angeles (CHLA) receiving a Most Wired® 2017 designation today from the American Hospital Association's (AHA) Health Forum is especially meaningful.
"Most Wired hospitals are recognized not only because they hit industry benchmarks, but more importantly because they stay ahead of the curve for technology adoption and innovation," says CHLA President and CEO Paul S. Viviano. "This recognition is a testament to the unceasing work of our Information Services team, a confirmation of the technological roadmap we've laid out for the future of our health system, and an affirmation to our patients and families that their medical records are secure and complete across our entire continuum of care."
Hospitals & Health Networks, an AHA publication, annually assesses the level of health information technology (IT) adoption in U.S. hospitals and health systems through an extensive survey. The survey measures how each organization's investment in technology supports patient safety, quality care and best practices. This year's Most Wired list included 461 of the 698 total participants surveyed. CHLA was one of 21 children's hospitals to receive the designation.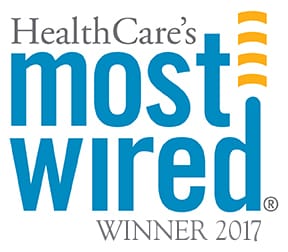 "Safeguarding each child's health, safety and privacy is at the core of Children's Hospital Los Angeles' mission to offer transformative, compassionate care," says Steve Garske, PhD, CHLA's chief information officer. "This means each patient family – as well as our entire network of clinicians and specialists – must be able to depend on an intuitive, robust technology infrastructure."
In the past few years, the CHLA Information Services team (IS) has implemented several new systems and technologies, including:
Launching mobile and web patient portals in 2015 to give parents more immediate access to their child's health record.
Introducing barcode medication scanning in 2016 to ensure the right child gets the right dosage of the right medication at the right time. CHLA is expanding this system in 2017 and 2018 to cover blood transfusion verification, milk administration and lab specimen identification.
Unifying the electronic health records (EHR) system across nearly all inpatient and outpatient services in 2016, reducing delays and virtually eliminating handwritten or phone referrals.
Piloting limited remote telemedicine consults in certain hospital clinics, such as The Vision Center.
Behind-the-scenes improvement of intrusion detection and data governance infrastructure to protect health data from cyberattacks.
As a result of these and other initiatives, CHLA has been able to better consolidate and analyze the vast amount of data generated by the hospital, which in turn has helped drive policies and procedures leading to noticeable, beneficial results for patients and for hospital efficiency. For example, Garske says, "Clinical operations improvements to standardize care over the last few years have resulted in a significant improvement in care coordination (reducing unnecessary time in the hospital) and in pharmacy costs."
"The Most Wired hospitals are using every available technology option to create more ways to reach their patients in order to provide access to care," said AHA President and CEO Rick Pollack. "They are transforming care delivery, investing in new delivery models in order to improve quality, provide access and control costs."
Health care organizations participating in the Most Wired survey are required to submit comprehensive information about health information technology investments in four key areas: infrastructure; business and administrative management; clinical quality and safety; and clinical integration between ambulatory services, physicians, patients and community partners. If any advanced capability requirements are not met, the organization does not receive a Most Wired designation. The 2017 Most Wired Survey was conducted in cooperation with the AHA and Clearwater Compliance, LLC.
CHLA will be honored at a ceremony for Most Wired recipients on July 28, 2017, during the AHA's annual Health Forum and Leadership Summit. Detailed results of the survey and a full list of winners can be found in the July issue of Hospitals & Health Networks.

About Children's Hospital Los Angeles
Children's Hospital Los Angeles has been ranked the top children's hospital in California and sixth in the nation for clinical excellence with its selection to the prestigious U.S. News & World Report Honor Roll. CHLA is home to The Saban Research Institute, one of the largest and most productive pediatric research facilities in the United States. Children's Hospital is also one of America's premier teaching hospitals through its affiliation with the Keck School of Medicine of the University of Southern California since 1932. For more information, visit CHLA.org. Follow us on Twitter, Facebook, YouTube, LinkedIn and Instagram, and visit our child health blog (CHLA.org/blog) and our research blog (ResearCHLABlog.org).