CHLA Researcher Awarded $1.665 Million to Study Retinal Development
Study seeks to improve understanding of light-sensitive cells in the retina that initiate daylight vision
David E. Cobrinik, MD, PhD, of The Vision Center at Children's Hospital Los Angeles (CHLA) has been awarded a four-year grant totaling $1.665 million from the National Eye Institute of the National Institutes of Health. The grant will support his study seeking to improve understanding of how cone photoreceptors develop.
"This research is expected to reveal features specific to human cone development, which is important in understanding what goes wrong in cone-related diseases, such as retinoblastoma," says Cobrinik, who also an investigator with The Saban Research Institute of CHLA and associate professor of Ophthalmology at the USC Gayle and Edward Roski Eye Institute at Keck School of Medicine at the University of Southern California.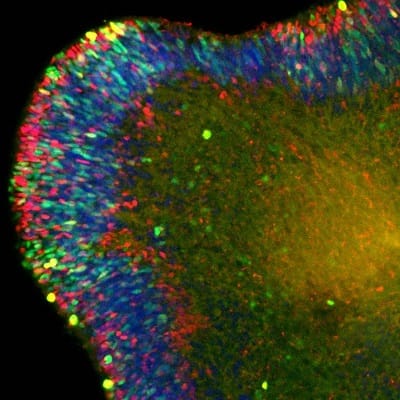 Retinal diseases like retinoblastoma – a childhood retinal tumor usually affecting children one to two years of age – can lead to devastating vision loss. Although rare, retinoblastoma is the most common malignant tumor of the eye in children.
In a paper published in the journal Nature in 2014, Cobrinik and colleagues reported that retinoblastomas originate in cone photoreceptor precursors, immature cone cells that have not fully differentiated. Cone cells, or cones, are one of the two types of photoreceptor cells in the retina, and are responsible for color vision.
Retinal diseases are often modeled in animals, and more recently in human embryonic stem cell (hESC)-derived retina, in efforts to improve understanding of the origins of the diseases and to develop novel therapies.
"However, human retinal development differs from that of animal and hESC-derived retina models in important yet poorly understood ways," Cobrinik explains. Defining such differences could reveal previously unrecognized human-specific features, enabling more accurate modeling of retinal diseases both in animals and in the hESC-derived retina system.
This study also aims to define the differentiation states of a human retinal cell type in unprecedented detail, using single-cell RNA sequencing to identify all the cellular states of developing cones in the human, mouse and hESC-derived retinas. The approach will be used to identify the signaling pathways that underlie their differences so that the model systems can be made to better represent human retinal disease.
Ultimately, the hope is that such models could lead to improved approaches to produce stem cell-derived cone precursors for use in cell replacement therapies.
This research is based on preliminary studies at Children's Hospital Los Angeles by Hardeep Singh, Dominic Shayler and Jennifer Aparicio. It is supported by NIH grant 1 R01 EY026661-01.
About Children's Hospital Los Angeles
Children's Hospital Los Angeles has been named the best children's hospital on the West Coast and among the top five in the nation for clinical excellence with its selection to the prestigious U.S. News & World Report Honor Roll. Children's Hospital is home to The Saban Research Institute, one of the largest and most productive pediatric research facilities in the United States. Children's Hospital is also one of America's premier teaching hospitals through its affiliation since 1932 with the Keck School of Medicine of the University of Southern California.
For more information, visit CHLA.org or visit our blog at ResearCHLAblog.org.
Media Contact: Debra Kain, dkain@chla.usc.edu
(323) 361-1812