Children's Hospital Los Angeles Welcomes Members Added to the CHLA Board of Directors in 2020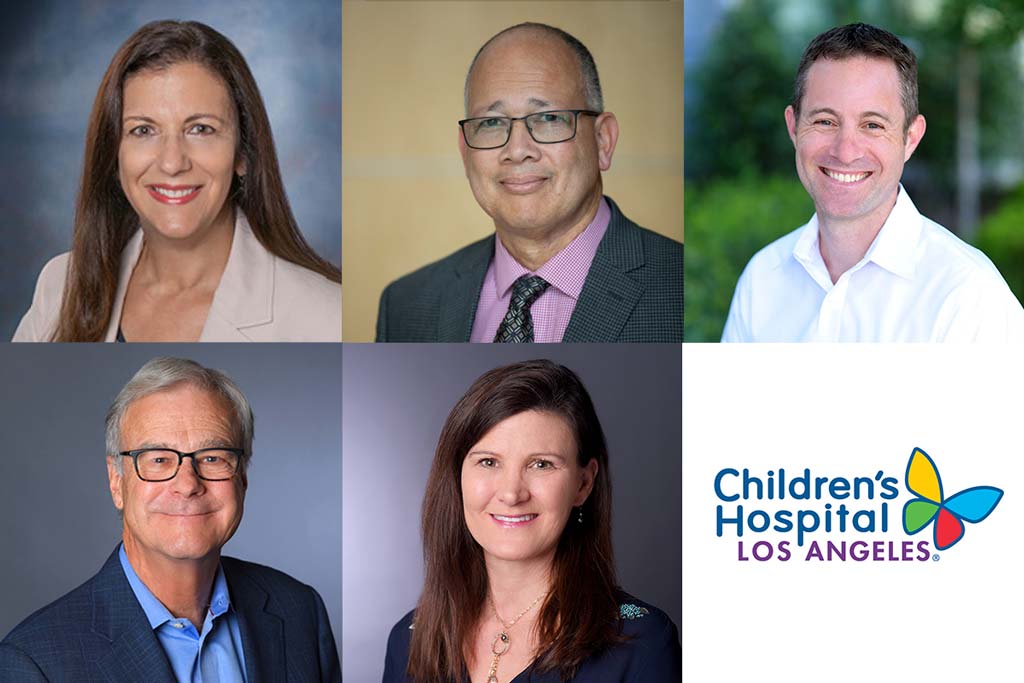 Children's Hospital Los Angeles announces the election of five new members to the CHLA Board of Directors: (Top Row, L-R) Diana M. Bontá, RN, DrPH; George H. Brown; Matthew S. Keefer, MD; (Bottom Row, L-R) Byron Pollitt; and Sheri Sani

Children's Hospital Los Angeles is pleased to announce the election of four new independent members—Diana M. Bontá, RN, DrPH; George H. Brown; Byron Pollitt; and Sheri Sani, CPA—and the appointment of one new ex-officio member to the CHLA Board of Directors, which establishes and guides the vision, mission and goals of one of the top pediatric academic medical centers in the United States.

"I am thrilled to welcome the depth of leadership, as well as the diversity of personal and professional experience, that these new directors bring to our team," says Children's Hospital Los Angeles Board Chair Jeffrey Worthe. "Each has a proven track record as a tireless advocate for the health and well-being of infants, children and youth, and I am grateful for the unique and valuable expertise each brings in support of CHLA's mission to create hope and build healthier futures for our patients and families."

Dr. Diana Bontá is President and CEO of The Bontá Group, and an adjunct professor in the UCLA Fielding School of Public Health's Department of Community Health Sciences. Previously, Dr. Bontá served as President and CEO of The California Wellness Foundation, Vice President of Public Affairs for Kaiser Foundation Health Plan and Hospitals, Southern California Region, and was the first Latina director of the California Department of Health Services, which oversees and regulates MediCal, public health, hospitals and nursing homes for the state.

George H. Brown is an expert in accounting, economic and finance law who throughout his career specialized in complex multiparty disputes. He is a retired partner with Gibson, Dunn & Crutcher LLP, former law professor at UCLA School of Law and adjunct at UC Berkeley School of Law. Brown has long been involved with youth-related organizations and advocacy, including having served as a National Trustee for the Boys & Girls Clubs of America, as Chair of the Housing Trust Silicon Valley and Vice Chair of Fresh Lifelines for Youth.

Matthew S. Keefer, MD, is an attending physician in the Department of Pediatrics at Children's Hospital Los Angeles, CHLA's Chief Medical Informatics Officer and President of the CHLA Medical Group, the largest pediatric multi-specialty medical group in the United States. Board-certified in pediatrics and clinical informatics, Dr. Keefer is also an associate professor of Pediatrics at the Keck School of Medicine of USC. Dr. Keefer serves on the Board of Directors as an ex-officio member by virtue of serving as the President of the CHLA Medical Group.

Byron Pollitt is a retired senior executive with more than 20 years of experience as a Chief Financial Officer, most recently as Executive Vice President and CFO of Visa Inc. Prior to Visa, Pollitt also served as Executive Vice President and CFO of Gap Inc. and Executive Vice President and CFO of Walt Disney Parks and Resorts. He and his wife Teresa have long supported Children's Hospital Los Angeles in various capacities, including a $3 million donation in 2017 to establish the Teresa and Byron Pollitt Family Chair in Fetal and Neonatal Medicine.

Sheri Sani is a longstanding supporter of Children's Hospital Los Angeles who has served for a decade as a member and leader of the CHLA Westside Guild, one of the oldest volunteer charitable organizations dedicated to supporting the hospital. Sani has held a certified public accountant license and has considerable depth of experience and understanding of nonprofit finances. She has also served on the Executive Committee of the Parent's Association Board at Curtis School.

The CHLA Board of Directors consists of community leaders as well as organizational executive and physician leaders who provide oversight of executive management, strategy, clinical quality, finance, compliance, research and academic training.
Independent board directors are elected to serve three-year terms; ex-officio members are appointed for a term consistent with the duration of their leadership role.

All new independent directors will continue serving on the CHLA Foundation Board of Trustees, a volunteer board of civic and healthcare leaders that supports the institution's fundraising and child health advocacy efforts.

About Children's Hospital Los Angeles
Founded in 1901, Children's Hospital Los Angeles is the highest-ranked hospital in California and fifth in the nation on the prestigious U.S. News & World Report Honor Roll of best children's hospitals. U.S. News ranks Children's Hospital Los Angeles in all 10 specialty categories. Clinical care at the hospital is led by physicians who are faculty members of the Keck School of Medicine of USC through an affiliation dating from 1932. The hospital also leads the largest pediatric residency training program at a freestanding children's hospital in the Western United States. The Saban Research Institute of Children's Hospital Los Angeles is home to all basic, translational, clinical and community research conducted at the hospital, allowing proven discoveries to quickly reach patients. Our mission: to create hope and build healthier futures. To learn more, follow us on Facebook, Instagram, LinkedIn, YouTube and Twitter, and visit our blog at CHLA.org/blog.