Children's Hospital Los Angeles Welcomes Delta Air Lines Executive to the CHLA Board of Trustees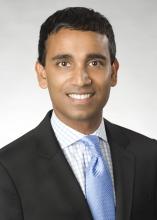 LOS ANGELES (February 8, 2016) – Ranjan Goswami, vice president, Sales – West for Delta Air Lines, has been elected to the Children's Hospital Los Angeles Board of Trustees, which establishes the vision, mission and goals of one of the largest pediatric health care facilities in the United States.
"We welcome Ranjan Goswami to the CHLA Board," says Board Co-chair Lynda Boone Fetter. "Not only is he a proven leader in his industry who has worked for years to strengthen the relationship between our hospital and Delta Air Lines, he has a distinguished track record of humanitarian service to the Los Angeles community."
"Ranjan Goswami has succeeded in establishing and building ties between organizations with likeminded interests," says Board Co-chair Arnold "Arnie" Kleiner. "We believe his leadership and dedication to helping the youth in our community are a great fit for our Board and emblematic of our mission to create hope and build healthier futures for children."
Goswami currently oversees Delta's commercial strategy in LA in addition to managing key account growth across the West Coast. He also is deeply involved in the Los Angeles community, serving on the boards of directors for Habitat for Humanity of Greater Los Angeles, Junior Achievement of Southern California and the Los Angeles Chamber of Commerce. Goswami received his Master of Arts and Bachelor of Arts degrees in political science from Yale University and currently lives in Marina Del Rey.
"It is part of Delta's core values to serve the communities where we live and work, and we have a strong commitment to LA's nonprofit and community organizations," says Goswami. "I am grateful to my fellow board members for entrusting me with this important responsibility, and I look forward to working alongside them and the dedicated CHLA staff to advance the hospital's mission to provide the highest-quality care to infants, children and young adults."
The work of Goswami and many others has allowed Children's Hospital Los Angeles and Delta Air Lines to sustain their longstanding relationship. Delta previously has sponsored CHLA's Noche de Niños Gala, and for the past five years Delta has worked with CHLA and other community partners to host the annual "Holiday in the Hangar" event, where volunteers dress like elves, sing carols, and treat patients and their families to an afternoon excursion to the "North Pole" (a holiday-spruced-up Delta hangar at LAX).
CHLA is a nonprofit pediatric hospital under the leadership of a volunteer Board of Trustees. Consisting of community leaders and physicians, the Board makes decisions that direct quality care, secure the financial health of the hospital, build positive community relationships, and ensure top-caliber executive management performance and fundraising to fulfill the hospital's mission.
Goswami's three-year term as a trustee lasts through 2019.
Media Contact
Lorenzo Benet
Director, CHLA Media Relations
Phone: 323-361-4823
E-mail: lbenet@chla.usc.edu
About Children's Hospital Los Angeles
Children's Hospital Los Angeles is a nonprofit pediatric health care organization dedicated to creating hope and building healthier futures for children. Honored as the premier children's hospital in California and among the top 10 in the nation, we treat more than 111,000 young patients annually from Los Angeles and around the world. As a pediatric charity of choice, the hospital relies on the generosity of the community to support our groundbreaking pediatric research and the complex care we provide for critically ill and injured children.
For more information, visit CHLA.org. Follow us on Twitter, Facebook, YouTube and LinkedIn, or visit the CHLA blog.