Children's Hospital Los Angeles Ranked No. 1 in California
Ranked in the top 10 nationally seven years in a row, CHLA is once again named to the prestigious Honor Roll in the U.S. News & World Report survey of the nation's best children's hospitals
Children's Hospital Los Angeles is the only California pediatric medical center selected for the Honor Roll distinction and it has been named an elite institution all 26 years that U.S. News has evaluated children's hospitals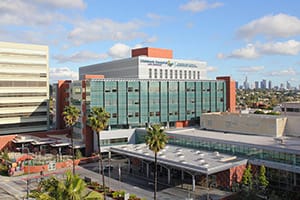 LOS ANGELES (June 9, 2015) – For the seventh straight year, Children's Hospital Los Angeles has been ranked among the top 10 children's hospitals in the country, an honor that acknowledges the hospital's clinical excellence and the comprehensive scope of its patient care.
CHLA also was named to the elite Honor Roll of the nation's "best" children's hospitals in the U.S. News & World Report rankings released online today. It is one of only 12 children's hospitals in the country and the only hospital in California to make the Honor Roll in 2015-16, an achievement it has earned for seven consecutive years since the list was established in 2009 – an accomplishment attained by no other pediatric hospital in California.
"In 26 years of evaluating the country's children's hospitals, U.S. News & World Report has included CHLA among the nation's elite every time," says Richard D. Cordova, FACHE, president and CEO, Children's Hospital Los Angeles. "What an incredible run of excellence. It reflects our ability to sustain our mission to create hope and build healthier futures as well as our promise of superior care to the children we treat."
In all, the hospital placed among the top 10 in an impressive seven specialties measured by the authoritative survey. "This is a first," says Cordova, "and is reflective of the across-the-board excellence of our medical specialty care."
For 2015-16, CHLA's Cardiology and Heart Surgery team was named No. 3 in the nation, surging four spots from last year. Diabetes and Endocrinology went from seventh to sixth, while Urology jumped 10 places to 10th in the nation. Cancer and Neonatology were ranked eighth in their respective areas, while Orthopaedics was ranked ninth. Gastroenterology and GI Surgery finished 10th, matching the specialty's position from last year.
Children's Hospital Los Angeles' overall scores placed it among the top seven nationally, and the hospital equaled or improved its national ranking in four of the 10 categories compared to its performance on the 2014-15 survey. With Pulmonology ranking 16th, Neurology and Neurosurgery 17th and Nephrology 18th, CHLA earned top 20 recognition for each of the ten specialty areas ranked in this respected review. "Even if the healthy futures of our young patients are the only motivation we need, it's still rewarding to be recognized for our quality and consistency as we fulfill our mission as a medical institution dedicated to patient care," Cordova says.
Children's hospitals that achieve exceptional scores in at least three pediatric specialties are named to the magazine's Honor Roll of Best Children's Hospitals. Children's Hospital Los Angeles, ranked No. 7 this year, was joined by 11 other hospitals on this prestigious list for 2015-16: Boston Children's Hospital, Children's Hospital of Philadelphia, Cincinnati Children's Hospital Medical Center, Texas Children's Hospital, Houston, Children's Hospital Colorado, Aurora, Seattle Children's Hospital, Children's Hospital of Pittsburgh of UPMC, Nationwide Children's Hospital, Columbus, Ohio, Children's National Medical Center, Washington, D.C., Ann and Robert H. Lurie Children's Hospital of Chicago and Children's Healthcare of Atlanta.
The purpose of the Best Children's Hospitals rankings list is to identify the hospitals that provide the highest quality of care for children with the most serious or complicated medical conditions. U.S. News emphasizes that "pediatric-specific data are critical because young patients present special challenges. Their small size relative to adults complicates every facet of care, from intubation to drug dosages; they are more vulnerable to infection; they depend on adults to manage and administer their medications; and they are treated for congenital diseases such as spina bifida and cystic fibrosis."
U.S. News pulls together clinical and operational data in 10 different pediatric medical specialties from a lengthy survey, completed by the majority of the 184 pediatric centers asked to participate in the rankings. U.S. News requires hard data such as availability of key resources and ability to prevent complications and infections, as well as survival rates, nurse staffing, subspecialist availability, procedure volume and many more pieces of critical information. The data from the survey is combined with recommendations from pediatric specialists on the hospitals they consider best for children with challenging medical conditions.
Children's Hospital Los Angeles has been providing high-quality pediatric care to the children of Southern California residents for 114 years. Since the 2011 opening of the hospital's state-of-the-art inpatient tower, the Marion and John E. Anderson Pavilion, the hospital has achieved Magnet® redesignation for nursing excellence and three times earned Top Hospital designation for safety and quality by The Leapfrog Group. This past year, the hospital opened the new 22,000-square-foot Margie and Robert E. Petersen Foundation Rehabilitation Center. In addition, the hospital has expanded its clinical operations to Encino, its fifth outpatient center in the region, and is expanding its partnership with Providence Tarzana Medical Center to provide CHLA medical leadership for the hospital's general pediatric, pediatric intensive care and neonatal intensive care units, offering a new level of care for the children and infants from the San Fernando Valley and adjacent communities.
The hospital recently captured international headlines when a team of 18 CHLA physicians, nurses and staff members traveled to Haiti and successfully led an operation to separate six-month-old conjoined twins, a medical first for the Caribbean nation. Research is at the core of fulfilling the hospital's mission to provide innovative clinical care and Children's Hospital is home to The Saban Research Institute, one of the largest and most productive pediatric research facilities in the United States. The hospital also recently announced it is making an institutional commitment of $50 million to expand its Center for Personalized Medicine. In addition, our mission to provide the best pediatric care in California was enhanced by a $10 million gift from Costco Wholesale last August.
U.S. News & World Report's annual rankings recognize the top 50 children's hospitals in 10 pediatric specialties. Of the 109 centers providing enough clinical information to be evaluated, 83 were ranked in at least one specialty. U.S. News Media Group, the parent of U.S. News & World Report, announced the 2015-16 hospital rankings at 12:01 a.m. EST on Tuesday, June 9, at www.usnews.com/childrenshospitals
About Children's Hospital Los Angeles
Children's Hospital Los Angeles has been named the best children's hospital in California and among the top 10 in the nation for clinical excellence with its selection to the prestigious U.S. News & World Report Honor Roll. Children's Hospital is home to The Saban Research Institute, one of the largest and most productive pediatric research facilities in the United States. Children's Hospital is also one of America's premier teaching hospitals through its affiliation since 1932 with the Keck School of Medicine of the University of Southern California.
For more information, visit CHLA.org. Follow us on Twitter, Facebook, YouTube, LinkedIn and Instagram, or visit our blog: WeTreatKidsBetter.org.

Media contact: Lorenzo Benet, lbenet@chla.usc.edu
Phone: (323) 361-4823