Children's Hospital Los Angeles Infant and Family Mental Health Program Receives $1 Million Gift
Donation from Gene and Mindy Stein establishes the Stein Tikun Olam Infant-Family Mental Health Initiative
LOS ANGELES (March 5, 2015)--Philanthropists Gene P. and Mindy Stein, through the Tikun Olam Foundation, have made a $1 million gift to establish the Stein Tikun Olam Infant-Family Mental Health Initiative at Children's Hospital Los Angeles (CHLA). Funds will be used to support families struggling to bond with their newborn during an extended hospitalization for their child just after birth. Building on existing programmatic success, this recent gift will permit the hospital to provide a bridge of support for parents as their babies transition home from the Newborn and Infant Critical Care Unit (NICCU) and into follow-up care in the High Risk Infant Follow-up clinic (HRIF), each of which treat large numbers of infants. It will also support additional training for staff members who play a critical role in serving this vulnerable patient population and their families.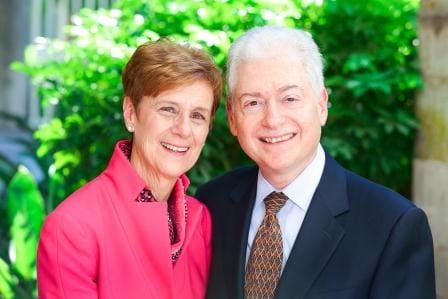 Mindy and Gene Stein

"We are incredibly grateful for this donation, which will allow our team of infant-family mental health professionals to infuse mental health principles into the care of the most fragile infants at CHLA – those receiving care in the Newborn and Infant Critical Care Unit and the High Risk Infant Follow-up clinic," says Marian E. Williams, PhD, inaugural director for the Stein Tikun Olam Infant-Family Mental Health Initiative.

"The terms mental health and mental illness sometimes have a stigma in our culture, and most people don't realize that mental health in infants and children is a real public health issue," says Gene Stein. "The experiences that children have in the early months and years of life make an enormous impact on a child's brain development and future success."

"Our goal is to educate parents that their child's social and emotional development determines their mental health, which is as important as their physical development," says Mindy Stein. "Our willingness to give this gift now was based on the trust we have with the CHLA team, the work they do and their ongoing training of the people they work with. We want to continue to give them that opportunity."

"The Steins' generous gift builds on their seven years of extraordinary support for early childhood mental health training and services at CHLA," says Bradley O. Hudson, PsyD, ABPP, clinical psychologist and director of Community Mental Health at the USC University Center for Excellence in Developmental Disabilities (UCEDD), a partnership with the Division of General Pediatrics at CHLA.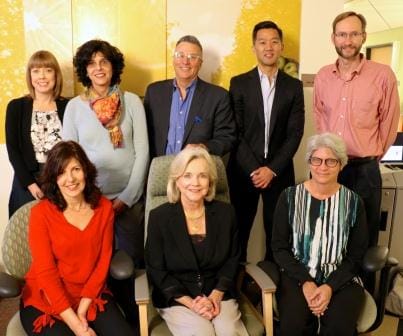 Members of CHLA's Infant Family Mental Health medical team: Seated from left to right: Tamara Matic, PhD; Marie Poulsen, PhD; Marian Williams, PhD. Standing from left to right: Melissa Carson PsyD; Patricia Lakatos, PhD; Brad Hudson PsyD; Steven Chin,MD; Douglas Vanderbilt, MD.


"The added support from our partnership with the Stein family not only ensures that our very young children will better heal, but that they and their families will thrive following the trauma of a hospital experience," says Marie Kanne Poulsen PhD, Chief Psychologist for the USC UCEDD at CHLA.

Inspired by studies that have shown that early intervention is critical in lowering the risk for mental health disorders, substance abuse, mental and physical abuse and violence later in life, the Stein Tikun Olam Infant-Family Mental Health Initiative aims to provide direct services to more than 100 infants annually, with the majority of those being patients who have severe medical conditions requiring inpatient treatment in the NICCU and outpatient care in the High-Risk Infant Follow-Up (HRIF) clinic.

The Steins' gift will support four psychologists and two home visiting therapists in caring for families with infants served by CHLA. This gift will also support training on infant-family mental health and trauma-informed care for medical professionals. Families often experience psychosocial stressors, trauma and postpartum depression during an extended hospitalization for an infant born with a serious medical condition and these challenges often continue after discharge from the hospital. CHLA's infant-family mental health services help families to develop a strong and growth-promoting attachment with their newborn despite these challenges.

Recently, one of CHLA's infant-family mental health psychologists worked with a young woman whose baby had a complex medical condition and associated developmental delays. A NICCU social worker recognized the stress being experienced by the single mother along with her difficulty in forming an attachment with her son. An infant-family psychologist found that the mother felt disconnected and overwhelmed trying to understand her baby's medical issues. The mother expressed her difficulty feeling a bond with her baby, and her worry that she would not be able to meet his needs.

Initial treatment began by supporting the mother's sense of confidence in her existing capacity to read and respond to the baby's cues, her knowledge of his medical needs, and her ability to manage his medical care.  With the support of the psychologist, the mother began to take a more active role in caring for her baby and learned to recognize how her baby responded to her. As the mother began to feel more connected to her child, the psychologist encouraged her to hold the baby and observe how her touch helped him to feel calm and safe. 

"After the baby was discharged home from the hospital, the psychologist provided follow-up home visits as well as support by phone," Williams explains. "The psychologist was also present for follow-up visits to the HRIF clinic, helping the mother transition to working with the clinic's staff for guidance and support. The targets of intervention varied from addressing the stress of parenting to her continued sense of competence with new developmental changes, as well as accessing resources for her baby. But ultimately, the goal remained that of reducing stress to support the parent-child relationship and baby's optimal development."

Mindy Stein is a community leader and noted philanthropist who began her career as a speech therapist at Children's Hospital Los Angeles in 1976. She is a member of the Board of Directors of Children's Bureau where she served as Chair from 2010 to 2013. Gene Stein serves as vice chairman and a director of Capital Strategy Research, a unit of the Capital Group Companies, a global investment management company. He is also senior vice president of Capital World Investors, and a director of Capital Research and Management Company. Active in the community, Gene is a Trustee of the Jewish Community Foundation and also a Board member of Pitzer College and the Los Angeles Opera. The Steins are longstanding supporters of CHLA and are members of the Children's Fund 100. Both are members of the Board of Directors of ZERO TO THREE: National Center for Infants, Toddlers and Families. In 2001, the Steins founded the Tikun Olam Foundation, a support foundation at the Jewish Community Foundation of Los Angeles. Tikun Olam is Hebrew for "healing the world," and the mission of the foundation is to help vulnerable children by providing support to both the child and family, with a primary focus on promoting early childhood mental health and the prevention of child abuse for young children up to five years of age.

About Children's Hospital Los Angeles

Children's Hospital Los Angeles is a not-for-profit pediatric health care organization dedicated to creating hope and building healthier futures for children. Honored as the premier children's hospital in California and among the top five in the nation, we treat 107,000 children annually from Los Angeles and around the world. As a pediatric charity of choice, the hospital relies on the generosity of the community to support its groundbreaking pediatric research and the complex care it provides for critically ill and injured children.

For more information, visit www.CHLA.org. Follow us on Twitter, Facebook, YouTube and LinkedIn, or visit our blog: www.WeTreatKidsBetter.org.

Media Contact: Monica Rizzo, 323-361-5745 
email: mrizzo@chla.usc.edu