Children's Hospital Los Angeles Annual Halloween Greeting Card Drive Kicks Off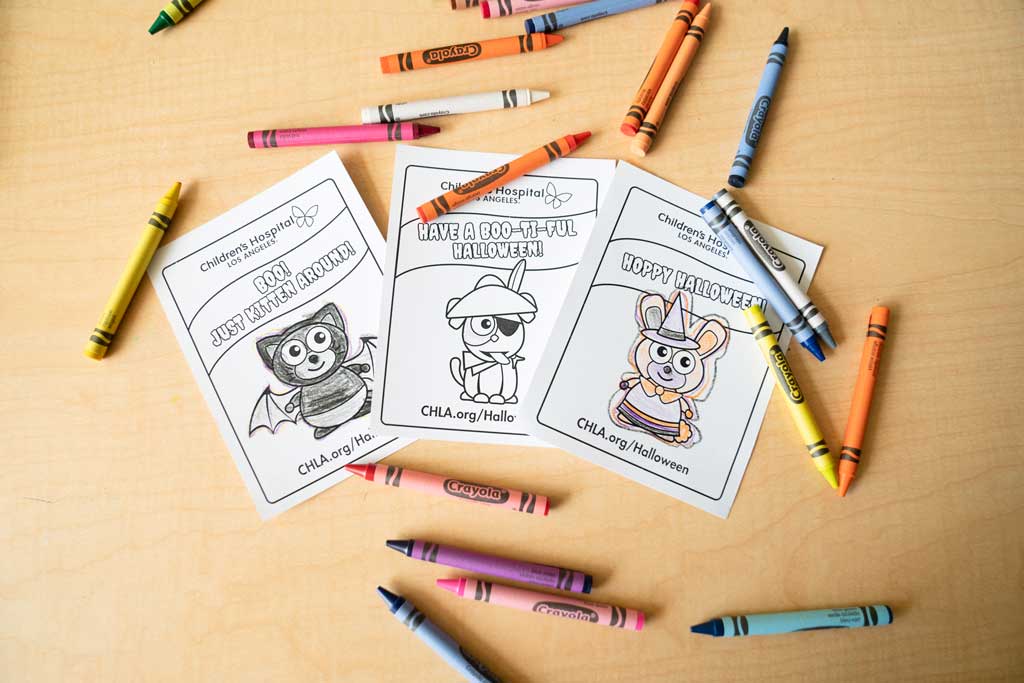 An anonymous donor has pledged $1 for each holiday-themed card sent by October 31, committing up to $75,000

Los Angeles (October 13, 2021) – Trick or Treat? At Children's Hospital Los Angeles (CHLA), Halloween is all about treats when it comes to its patients. Supporters and friends in the community, across the country and around the world are invited to take part in the hospital's annual Halloween greeting card drive. Individuals can go to CHLA.org/Halloween through October 31, choose from one of three ready-to-color designs (a cat, a dog and a bunny) and write a personal message of cheer to a patient.
The coloring cards with special notes will then be printed out and hand-delivered by CHLA's Child Life team to pediatric patients along with fun goody bags to celebrate the season. An anonymous donor has pledged to give $1 to the hospital for each card sent by October 31, committing up to $75,000.
Even though the hospital is not able to hold its annual Pumpkin Party and costume dress-up for patients and families due to pandemic precautions, patients will be able to engage in a variety of seasonal-themed activities including pumpkin decorating and arts and crafts.
About Children's Hospital Los Angeles
Founded in 1901, Children's Hospital Los Angeles is the largest provider of care for children in Los Angeles County. Families travel from all 50 states and more than 90 countries so that their children can receive the very best care. The hospital's clinical teams treat patients ranging in age from newborn infants to young adults for everything from well-child visits to organ transplantation. It is ranked the top children's hospital in California as well as in the Pacific region, and fifth in the nation for clinical excellence by U.S. News & World Report in its prestigious Honor Roll of Best Children's Hospitals. Clinical care is led by physicians who are faculty members of the Keck School of Medicine of USC through an affiliation dating from 1932. It is home to the largest pediatric residency training program at a freestanding children's hospital of its kind in the western United States. Among top 10 children's hospitals for National Institutes of Health funding, The Saban Research Institute of Children's Hospital Los Angeles leads the field in innovative bench-to-bedside basic, translational and clinical research conducted in pediatrics. To learn more, follow us on Facebook, Instagram, LinkedIn, YouTube and Twitter, and visit our blog at CHLA.org/blog.