American Association of Medical Colleges Will Present National Humanism Award to Henri Ford, M.D. of Keck School of Medicine of USC, Children's Hospital Los Angeles
AAMC Will Honor Dr. Ford During Ceremonies on Nov. 5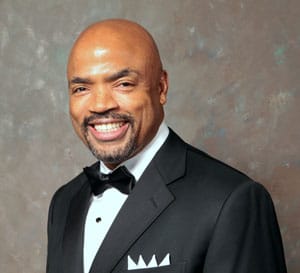 Children's Hospital Los Angeles
Media Contact: Brian Greene 
Office: (323) 361-4823
Email:  bgreene@chla.usc.edu

USC Media Contact: Leslie Ridgeway
Office: (323) 442-2823
Email: lridgewa@usc.edu

LOS ANGELES – As the son of a minister in Haiti, Henri Ford, M.D., was accustomed to people coming to the family home for help. Watching his parents respond to others' needs for food or spiritual assistance taught Ford that giving to others was a prerogative of human beings.
"The concept of caring and sharing are principles that I grew up with," said Ford, professor of Surgery and vice dean for Medical Education at the Keck School of Medicine, and vice president and chief of surgery at Keck School-affiliated Children's Hospital Los Angeles.
That instinctive devotion to service has resulted in Ford being awarded the American Association of Medical Colleges (AAMC) Arnold P. Gold Foundation Humanism in Medicine Award, to be presented at the association's Nov. 5 annual meeting in Denver.
Medical students nominate the faculty honored with this award. Students stated in their nomination that "Dr. Ford is a true hero and exemplifies the professional and personal qualities of a great doctor." Students also praised Ford for his mentorship and compassionate care of his patients.
"We admire and appreciate Dr. Ford's generosity to medical students in helping them reach their highest potential," said Keck School of Medicine Dean Carmen A. Puliafito, M.D., M.B.A. "His work in Haiti is an example of his commitment to service, and he has been inspirational to our students. We agree with them that he very much deserves this prestigious award."
Ford is one of nine clinicians and educators honored by AAMC for their exemplary contributions to academic medicine. The AAMC also honors one teaching hospital. Ford was chosen for his mentorship of young people, especially medical students, as well as his work as a pediatric surgeon, his efforts to treat victims of the 2010 Haiti earthquake and his contributions to improving the health care structure of that nation.
"Dr. Ford always has the best interests of children at the forefront of everything he does, whether it's caring for patients at our hospital, teaching the next generation of medical students, or leading multiple relief efforts in his home country of Haiti," said Richard D. Cordova, FACHE, president and CEO of Children's Hospital Los Angeles. "By sharing his life in all of these ways, Dr. Ford offers all of us an inspirational example that we can emulate."
Ford was lauded for his commitment to young people, who he mentors in his lab and encourages through medical school. The opportunity to help shape the future of medical care drives Ford's guidance of students to find the careers that best suit their potential.
"This is a great opportunity to help mold the next generation of caring, compassionate and competent physicians," he said. "Through medical education we can have a tremendous impact on global health, because these students will deliver care, shape health care policy, and promote advances in biotechnology and biomedical research. As medical educators, we need to inspire them and make sure they are on the right path."
The award also recognizes Ford's work to discover and implement surgical alternatives for several pediatric disorders, and his research in the areas of pediatric trauma and necrotizing enterocolitis, a life-threatening gastrointestinal disease affecting newborns.
His contributions to the relief effort in Haiti received special mention. Ford was one of the first surgeons on the ground after the quake devastated the small Caribbean country. As a pediatric surgeon in a nation where nearly half the population is under the age of 15, his assistance was greatly needed.
Ford continues to travel to Haiti to help improve the country's health care infrastructure and works in partnership with the U.S. Department of Health and Human Services Office of Minority Health and Project Hope to lead a group of medical educators working to promote reform in medical education and training. He also is working with the Haitian Ministry of Health, Project Medishare, and the Interim Commission for Haiti's Reconstruction, co-chaired by former President Clinton and Haiti's Prime Minister, to help establish a trauma and critical care system in the country.
Through his work in Haiti, Ford has projected an example that seems to have influenced students. Ford notes that many Keck School students are already signing up to volunteer in schools, prisons and other places where their training can make a difference.
"That shows that the spirit of humanism is well developed in our students, and it makes me proud," he said. "This award tells me the Keck School students have understood the message that we should care not only for one another and our patients, but also for people all over the world."
About the Keck School of Medicine of USC
Located on USC's Health Sciences Campus, just east of downtown Los Angeles, the Keck School of Medicine includes more than 500 nationally recognized physicians practicing in a multitude of clinical specialties. They practice in private clinics on campus and at the USC-owned private hospitals, USC University Hospital and USC Norris Cancer Hospital. They also work at the LAC+USC Medical Center — one of the largest teaching hospitals in the United States — Children's Hospital Los Angeles and elsewhere around the greater Los Angeles area. The Keck School of Medicine also is home to several research institutes, including the USC Norris Comprehensive Cancer Center, the Zilkha Neurogenetic Institute, the Eli and Edythe Broad Center for Stem Cell Research and Regenerative Medicine at USC, the USC Cardiovascular Thoracic Institute and the USC Institute for Global Health. Established in 1885, the Keck School is the oldest medical school in Southern California.
About Children's Hospital Los Angeles
Children's Hospital Los Angeles has been named the best children's hospital in California and among the best in the nation for clinical excellence with its selection to the prestigious US News & World Report Honor Roll. Children's Hospital is home to The Saban Research Institute, one of the largest and most productive pediatric research facilities in the United States.