$3 Million Investment Establishes the Teresa and Byron Pollitt Family Chair in Fetal and Neonatal Medicine at Children's Hospital Los Angeles
Endowment supports research priorities to improve outcomes and clinical care for more than 2,000 infants and high-risk pregnant women who depend on CHLA each year
(R to L) Dr. Philippe Friedlich, CHLA chief of Neonatology; Paul Viviano, CHLA president and CEO; Byron Pollitt; Teresa Pollitt. (Photo by CHLA)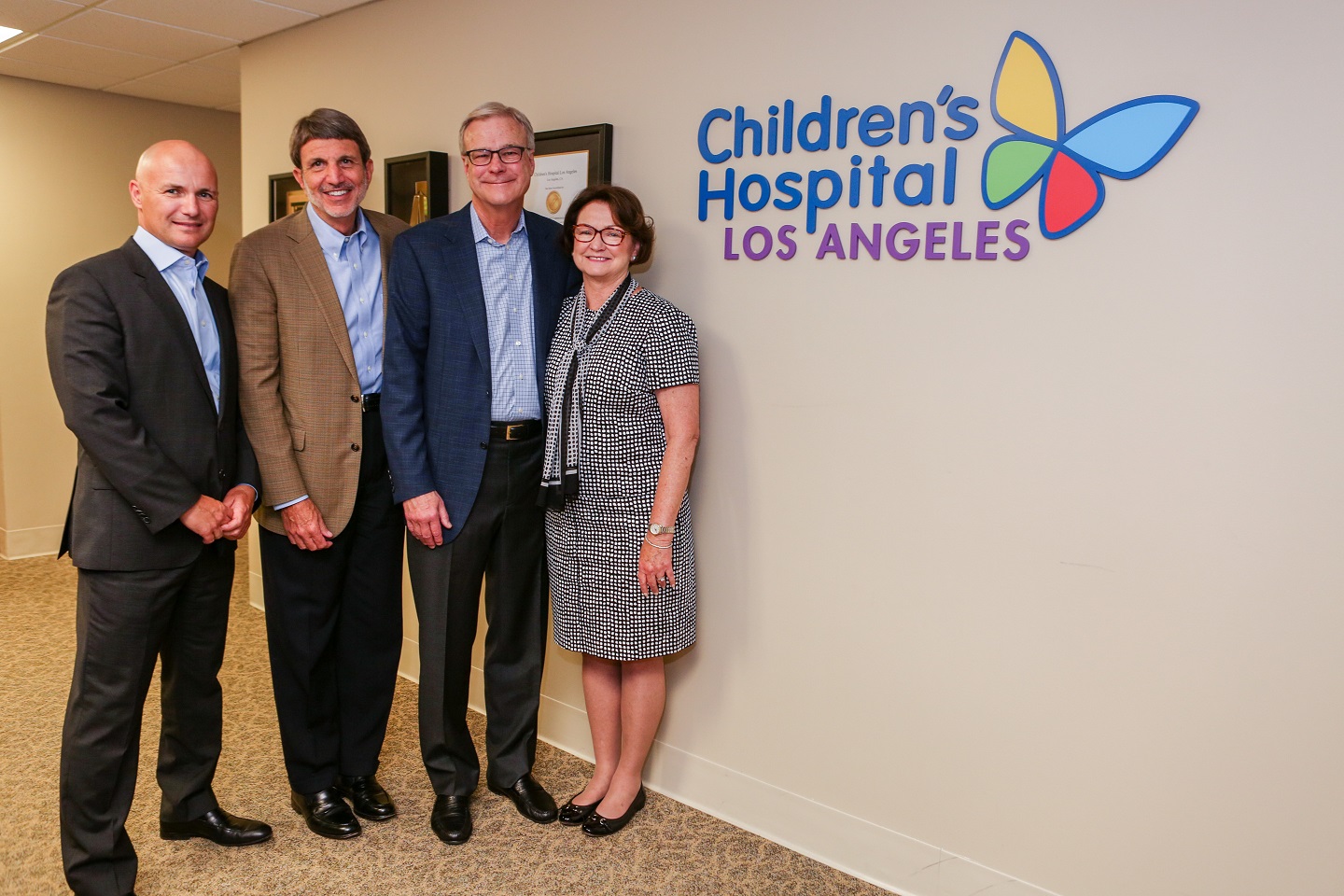 LOS ANGELES — Inspired by a family mantra and a longstanding relationship with both Children's Hospital Los Angeles (CHLA) and the University of Southern California (USC), philanthropists Teresa and Byron Pollitt have pledged $3 million to help create an endowed chair position for the director of the CHLA Fetal and Neonatal Institute (FNI).
The Pollitts' charitable investment completes a $5 million endowment, to be named the Teresa and Byron Pollitt Family Chair in Fetal and Neonatal Medicine in their honor. The inaugural holder of the chair will be FNI Co-director Philippe Friedlich, MD, MSEpi, MBA, chief of CHLA's Division of Neonatology and professor of Clinical Pediatrics and Surgery at Keck School of Medicine of USC.
"We are honored by the generosity of the Pollitt family, which will permit expert clinicians at Children's Hospital Los Angeles to save the lives and improve the health of more premature infants and neonates," says CHLA President and CEO Paul S. Viviano. "We are gratified that our mission has inspired them to help us provide brilliant futures for our patients, for generations to come."
"This gift will give the Fetal and Neonatal Institute more opportunity to care for and improve the health of our youngest, most vulnerable patients," says Dr. Friedlich. "With this new support, the Institute will hire an epidemiologist, provide greater support for families and engage government agencies to improve the care provided for patients treated through the Fetal and Neonatal Institute."
Creating Hope and Healthier Futures through Innovative, Conscientious Care
The Pollitts often quote the proverb, "To whom much is given, much is required." Byron, who retired in 2015 as executive vice president and chief financial officer of Visa Inc., says this speaks not just to their responsibility as a family to live and care compassionately, but also to make sure they partner with conscientious stewards with the same passion to help others. The family's affiliation with CHLA spans more than 30 years, with Teri serving as a past president of Children's Chain, one of CHLA's oldest associate support organizations.
The Pollitt Family Endowed Chair will assist Dr. Friedlich and his team in multiple areas of research, training and clinical care, including:
Recruiting an epidemiologist to CHLA and Keck Medicine of USC to research and identify critical care needs of infants with multiple congenital malformations, including barriers to effective transition to home care.
Engaging local, state and national agencies to develop new public health policies for diagnosis and treatments to improve neurodevelopmental outcomes in infants.
Developing a web-based program for parents and affected families to share knowledge and improve the exchange of information about their children.
Dr. Philippe Friedlich (right), CHLA's chief of Neonatology, with Teresa and Byron Pollitt, discussing care and treatment of vulnerable infants. (Photo by CHLA)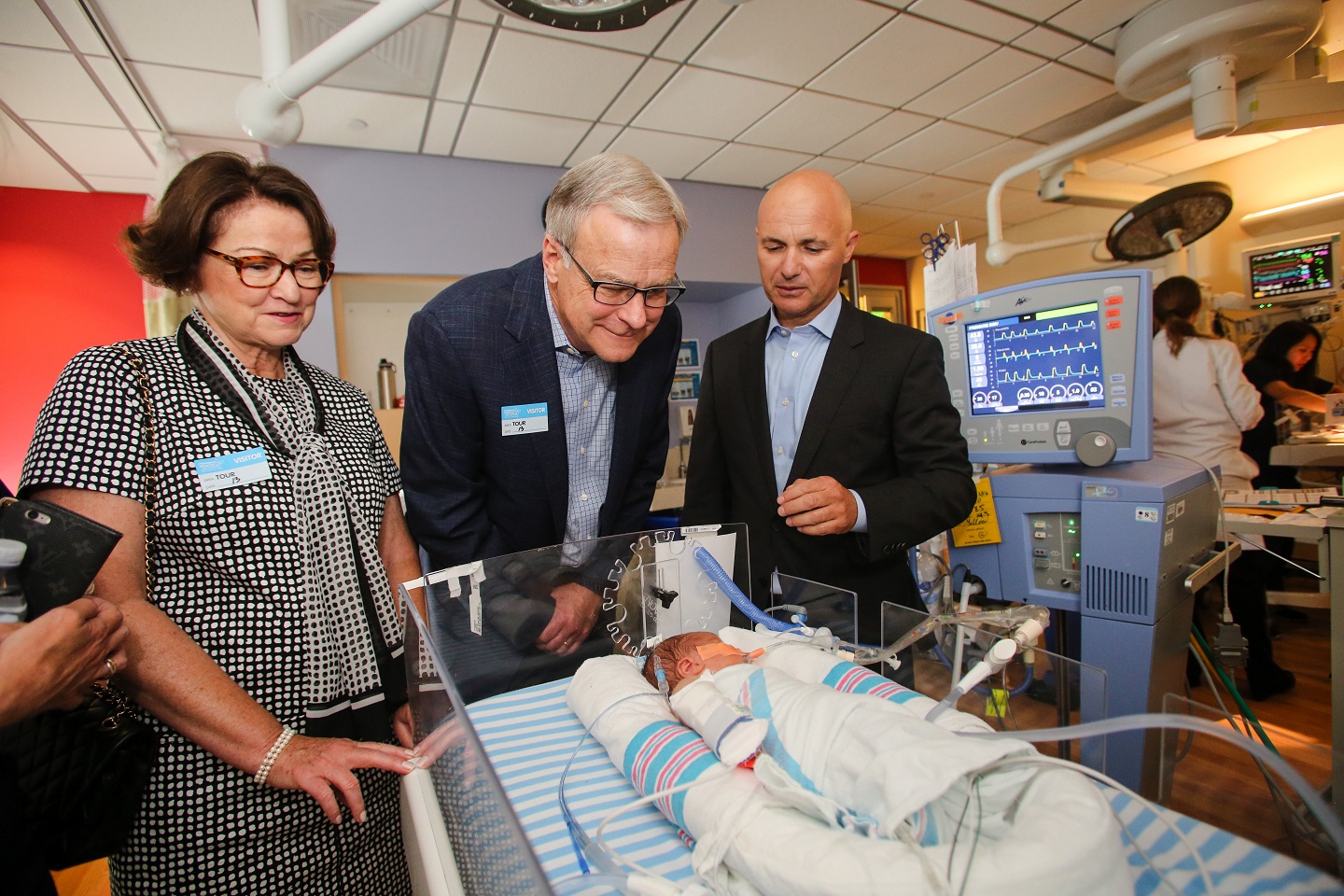 "It was hard to keep a dry eye during our personal visits with Paul, Philippe and the research clinicians, all of whom revealed an extraordinary passion and determination to find better treatments for those who start life under the most challenging of circumstances," says Byron. "It is an indescribable feeling to know that every single day from this day forward, our gift has the potential to make a life-changing difference for these tiny infants and their caring families."
A Direct Impact on Patient Care for Chronically Ill Children
Dr. Friedlich earned his medical degree from the Keck School of Medicine, a master's in Applied Biostatistics and Epidemiology from USC, and a master's in business administration from the University of Massachusetts at Amherst. He is renowned for his research on the health care needs of infants with multiple congenital malformations, and for his efforts to improve their transition from hospital to home.
The Fetal and Neonatal Institute – ranked No. 6 in the nation for delivery of comprehensive care for newborns in U.S. News & World Report's annual survey of Best Children's Hospitals – brings together leading experts from Children's Hospital Los Angeles, Keck Medicine of USC and community partners to provide a comprehensive array of programs. The Institute includes the hospital divisions and services provided by the Fetal-Maternal Center; the Steven & Alexandra Cohen Foundation NICCU; the High-Risk Infant Follow-Up Program; the Neonatal Network, made up of partner neonatal specialists in community NICUs and CHLA physicians providing NICU coverage at Hollywood Presbyterian Medical Center and three Providence Health & Services medical centers – Holy Cross, Saint John's and Tarzana. The Institute also engages in proactive collaborations with the Department of Preventive Medicine at Keck Medicine of USC and USC's Leonard D. Schaeffer Center for Health Policy and Economics. These wide-reaching collaborations enable the FNI to deliver care extending beyond the confines of an intensive care unit in a hospital into the patient's own home.
For Media Inquiries:
Owen Lei, CHLA Senior Public Information Officer
323-361-8433 | olei@chla.usc.edu
About Children's Hospital Los Angeles
Children's Hospital Los Angeles has been ranked the top children's hospital in California and sixth in the nation for clinical excellence with its selection to the prestigious U.S. News & World Report Honor Roll. CHLA is home to The Saban Research Institute, one of the largest and most productive pediatric research facilities in the United States. Children's Hospital is also one of America's premier teaching hospitals through its affiliation with the Keck School of Medicine of the University of Southern California since 1932. For more information, visit CHLA.org. Follow us on Twitter, Facebook, YouTube, LinkedIn and Instagram, and visit our child health blog (CHLA.org/blog) and our research blog (ResearCHLABlog.org).