Plan Your Arrival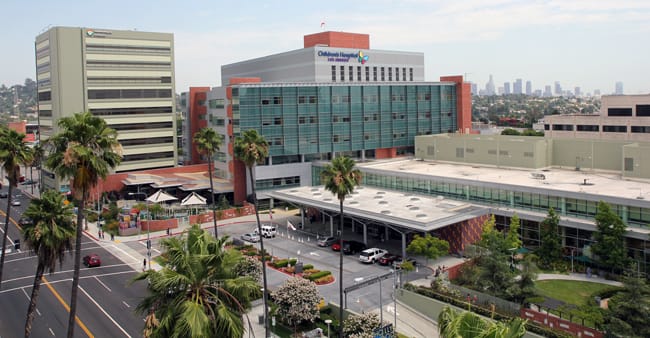 Being prepared for your stay means you can relax and provide your child with the emotional support necessary for recovery. Below are tips to help you plan for your stay, whether it be an extended stay, an outpatient procedure or a wellness check-up.
During Your Stay
Hospital Amenities
Patient Visitations
Going Home
Discharge Day
Free Parking
Getting Here
From Southbound 101
Exit Sunset Boulevard.
Turn left (head east) on Sunset Boulevard.
Enter the hospital a half block past Vermont Avenue on the right.
From Northbound 101
Exit Vermont Avenue.
Turn right (head north) on Vermont Avenue toward Sunset Boulevard.
Turn right (head east) on Sunset Boulevard for half a block.
From Interstate 5
Exit Los Feliz Boulevard.
Head west on Los Feliz toward Hillhurst.
Turn left (head south) on Hillhurst toward Sunset Boulevard.
Turn right (head west) on Sunset Boulevard for half a block.
Public Transit
By Bus
MTA (Metropolitan Transportation Authority)
1-800-COMMUTE (800-286-688)
MTA bus stops are located in front of the hospital. Call MTA or visit metro.net for schedules and fares.
Note: Passes and fares are available at a discount for individuals with disabilities. 
Greyhound
800-231-2222
Direct Line to Los Angeles Terminal: 213-629-8401
The Los Angeles Terminal is located at:
1716 E. 7th St.
1 block east of Alameda 
One mile from Union Station in Downtown L.A. 
To reach Union Station, take the Red Line from the Metro Station across the street from the hospital at Vermont/Sunset.
By Train 
(Metro) Metropolitan Transportation Authority
1-800-COMMUTE | 1-800-286-6889
The Metro Station's Red Line can be accessed across from the hospital at the Vermont and Sunset stop. From this line, you may access the rest of the Metro Subway network, and reach Union Station.
Metrolink
1-800-371-5465
Metrolink reaches areas outside of Los Angeles County. Metrolink connects to the Red Line at Union Station in downtown Los Angeles. Call Metrolink for schedule & fare information.
Parking
Available 24 hours a day, 7 days a week, for $10 a day (3 hours - 24 hours). There are no in-and-out privileges on the same ticket.
Main Visitor Parking Range
The main visitor garage is located beneath the main hospital building at 4650 Sunset Blvd. (at the intersection of Sunset & Rodney). Parking in the hospital's main visitor parking garage is limited and is usually full by 9 a.m. during the week.
Rates for Main Visitor Parking
Time Period Charge
First 30 Minutes - Free
Each additional 15 minutes - $1
Maximum (after 3 hours) - $10
Weekly Parking Pass - $40 +$5 deposit
Monthly Parking Pass - $125 +$5 deposit
Valet Parking
Hours of Operation
Monday through Friday
7:30 a.m.-5:30 p.m.
Cost - $15
Enter the driveway from Sunset Boulevard and Rodney Drive. Follow the circle driveway to the hospital's main entrance. Your car will be parked on the P-1 level of the visitor parking garage.
A valet attendant will give you a receipt and park your car. Keep your receipt with you at all times. You will need it to get your keys.
No in-and-out privileges.
After 5:30 p.m., your vehicle will be parked on the valet driveway and your keys will be left with the information desk in the lobby.
Parking Permits
Monthly and weekly visitor parking permits with in-and-out-privileges are available to parents of patients for purchase.
Contact the Parking Office
323-361-2214
4601 Sunset Blvd. (across the street from the hospital)
Parking Office Hours of Operation:
Monday-Tuesday, Thursday-Friday: 7:00 a.m. - 4:00 p.m.
Wednesday: 7:00 a.m. - noon
Free Parking on Discharge Day
Parking in the Visitor Parking Garage is free on the day your child goes home. To obtain your free validation:
Speak with your child's nurse about obtaining a printed paper parking pass.
The nurse will provide your parking pass as part of your child's discharge paperwork.
The nurse refers you to the Information Desk in the John Stauffer Lobby.
Guest services members at the Information Desk will provide you validation good for one free day of self-parking.
For more information, contact the Parking Office at 323-361-2214.
Hospital Amenities
ATMs
There are two ATMs in the hospital. One can be found on the First Floor in the Park Lobby. A second ATM is located on the Ground Floor just outside the cafeteria near the Tiger Elevator.
Interfaith Chapel and Meditation Room
The hospital's Interfaith Chapel and Meditation Room is open 24 hours a day. It is located on the First Floor near the Giraffe Elevators. Families are welcome to use this room for meditation, prayer or quiet time. Hospital chaplains offer support through listening, spiritual counseling and religious rites. To visit with a chaplain, call 323-361-2482.
Library
The hospital maintains an extensive therapeutic library for patients and their families:
Patient literature
Healthcare information
General fiction
Non-fiction books
In addition, our Book MOObile regularly supplies general books and videos for children and adults. To find the therapeutic library or the Book MOObile, call 323-361-2371.
Free Wi-Fi
Stay connected during your child's stay at our hospital. Select the "Guest_4650" network.
What to Bring
Information on Your Child's Medications
Please bring a list of your child's medications. To help us care for your child, keep your child's list up to date, adding new medicines and deleting old ones. The medicine record should list:
Why your child is taking the medicine
The amount (or strength) of each medicine that your child takes
How your child takes each medicine (pill, liquid, by mouth, or injection)
Information on who ordered the medicine for your child
Information on over-the-counter medications (aspirin, Tylenol, cold medicine, vitamins or herbs)
Any allergies to medicine and food
If you are unable to create a list before coming to the hospital, bring all of your child's medicines in their original bottles.
Items from Home
Have your child help you pack their bag for the hospital. Bring items from home to help your child feel more at ease. 
Examples of items you might bring include (please label all belongings):
A favorite blanket or pillow
Toys, books, games, and music
Photos of family members and pets
Audio or videotapes
Glasses, hearing aids, crutches, braces
Corrective shoes or other orthopaedic aids
Slippers or socks
Comfortable clothes and underwear (sweatshirts, sweatpants, and pajamas to sleep in)
Toothbrush and toothpaste
Schoolwork, if appropriate
Other personal items like (hairbrush, chapstick, etc.)
What not to Bring
Do not bring valuables, large sums of cash, or anything that cannot be replaced:
Cell phones can interfere with medical equipment and are not allowed in clinical areas. Cell phones are allowed outdoors and in certain "Cell Safe" zones. Watch for the signs inside the hospital or ask your child's nurse.
Non-medical electrical items, such as video games, radios, or hair dryers. Please check with your child's nurse first about any items that need to be plugged into a wall.
Flowers and stuffed animals. These are discouraged for health reasons in certain patient units. Please check with your child's nurse.
Latex (rubber) balloons are a safety hazard and are not allowed.  Metallic Mylar® balloons are permitted.
Patient Visitations
Visiting Hours
Click here for current visitor guidelines.
Identification Badges
To protect the security and privacy of our patients, all visitors must check in with a Guest Services Representative at the Information Desk in the Main Lobby to obtain a Visitor Badge. Badges expire after 24 hours. Parents, legal guardians or designated caregivers with children in an inpatient unit are eligible to receive a one-week badge.
Health Care Information
To protect each child's privacy, only parents or legal guardians will be given medical information about a patient.
Gifts for Patients
Our patients love to receive toys and gifts to help them pass the time while they are in the hospital. Due to infection control requirements, we do not permit fresh flowers to be taken to any patient care areas. If visitors bring flowers, they will be asked to drop off the flowers at the front desk so that parents can take them home. They will not be taken to the unit.
Going Home
We will do all that we can to help your child return home to familiar surroundings and loved ones.
Discharge Day
On the day of discharge, you will need to remember:
To be available to pick up your child (discharge time is at 11 a.m.)
To install a car seat or booster seat in the vehicle you bring to pick up your child if he or she weighs 80 pounds or less. Per California law, we cannot discharge your child to return home without this requirement being met.
Help plan your child's discharge by talking with your child's doctor and nurse about:
Any problems associated with going home.
Any special needs for your child at home.
A list of all phone numbers we might use to reach you.
The language you prefer for discharge instructions.
The mode of transportation you will use to take your child home.
Insurance information for medications provided for your child to use at home.
Your pharmacy's name and phone number for prescriptions for your child after you return home.
Free Parking
On the day your child is ready to go home, parking is free.
If your family already has your vehicle parked on site, work with your child's nurse to obtain a voucher for free parking.
If you have a family member (aunt, uncle, grandparent, etc.) coming to pick up your child, work with your child's caregivers to let them know who will be coming. Your child's caregiver can then coordinate parking arrangements on the day of discharge for your family.