Overcoming Language Barriers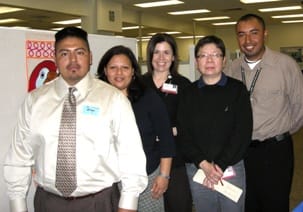 Maurilio Lopez, Mizteco intrepreter (left), with staff interpreters and translators (left to right), Karla Velasquez, Veronica Chavarria, Jane Kwan and Avelino Nicolas.
Imagine being 5 years old and being so sick that you need to go to the hospital. 
What would it be like if you had to go all by yourself?  
Your mom, your dad, and your siblings wouldn't be able to accompany you. And, when you got to the hospital, no one could understand you. And you couldn't understand anyone else.
A young boy recently came to us in this situation. He was from a village in Mexico where the language spoken was Mixteco-bajo, a dialect of a dialect rarely spoken outside his rural native area. When this child came to us for care, the staff of our Diversity Services program rallied to this young child's cause.
Searching across city and county lines for someone who could help our young patient communicate with us, we eventually found a community organization linked to a small Mixteco community in Ventura, California, nearly two hours away from the hospital. By the next day, we arranged for Maurilio Lopez, a member of this community that spoke English, Spanish and Mixteco, to visit our hospital to help this young patient. 
Having someone who spoke his language helped this child understand what the doctors and nurses were doing to help him get better, and helped ease his fears about being in the hospital away from his family.
Children's Hospital Los Angeles is located in one of the most diverse areas of the country. Providing culturally and linguistically-appropriate and competent care to all of our patients is our first priority. This requires that we build a network of alliances that come to our patients' aid when they are needed. Through our reputation as a caring healthcare provider, the efforts of our staff interpreters and the goodwill we have established in the community, we were able to find an interpreter with these very special language skills.