Nursing Units and Specialties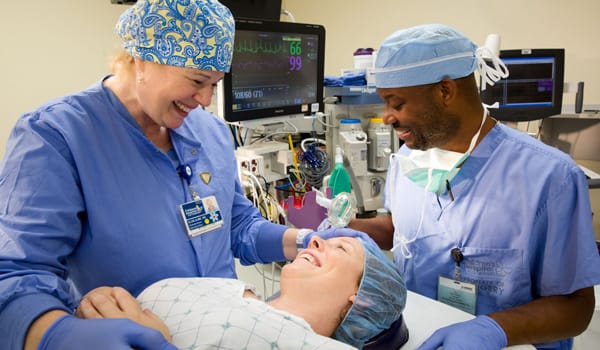 Children's Hospital Los Angeles (CHLA) offers nurses and RNs the opportunity to specialize in several critical care areas. Click here to apply to join the nursing teams in any of the areas below.
Cardiovascular Care
The Heart Institute at CHLA is known as an international leader in the treatment of heart disease and lung disorders in children. It is the largest pediatric cardiovascular center in the West, and serves as a global referral center. We provide virtually every advanced treatment for heart disorders and defects affecting children. 
Cardiovascular Acute
The Helen and Max Rosenthal Cardiovascular Acute Care Unit is a 21-bed unit. Nurses on this unit provide care for patients who are awaiting transplants and need intensive monitoring during this process. 
Cardiovascular Cardiothoracic Intensive Care Unit (CTICU)
The 24-bed Cardiothoracic Intensive Care Unit, staffed by pediatric intensivists and located in the Heart Institute, is the only dedicated, separately-staffed unit for pediatric patients on the West Coast. About 900 patients are admitted each year, including children with the most complex diseases of the heart and lung.
Critical Care
CHLA is the only freestanding Level 1 Pediatric Trauma Center in Los Angeles County approved by the County Department of Health Services and accredited by the American College of Surgeons. We treat more than 1,100 pediatric trauma patients annually.
ECMO (Extracorporeal Membrane Oxygenation)
CHLA has one of the most active and productive Extracorporeal Membrane Oxygenation (ECMO) programs in the United States, providing long-term cardiac and/or pulmonary bypass support for infants and children who are in life-threatening cardiac or cardio-respiratory failure in the PICU, the CTICU and Center for Newborn and Infant Critical Care.
Emergency Department (ED)
The Emergency Department at CHLA cares for more than 66,000 infants, children and adolescents each year. Half of these children are managed through our Kids Care, or urgent care unit. The other half are often treated for severe illness or critical injury in our Emergency Department. The Department manages more than 25 percent of all pediatric emergency cases in Los Angeles County.
Emergency Transport
CHLA is home to a dedicated Emergency Transport Program that serves as a regional resource for children suffering from life-threatening illness or injuries who need very specialized medical care. When our transport team arrives at remote sites, they are bringing with them the cutting-edge intensive care capabilities provided at CHLA.
Newborn and Infant Critical Care Unit (NICCU)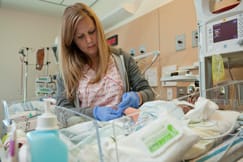 The Steven & Alexandra Cohen Foundation Newborn and Infant Critical Care Unit provides innovative therapies for critically ill newborns and extremely low birthweight infants requiring Level IV neonatal care, transferred from other hospitals to CHLA. In addition to providing ECMO, the tertiary care provided at the 58-bed unit includes nitric oxide and high frequency ventilation.
Pediatric Intensive Care Unit (PICU)
The 24-bed Pediatric Intensive Care Unit, is the largest such unit on the West Coast, providing care for trauma cases, critical medical cases and post-operative surgical patients from all subspecialties. Nearly 1,400 critically ill patients -- too sick to be treated on general inpatient floors -- are admitted each year for specialized medical and nursing services.
Learn more about the PICU nursing team
Hematology-Oncology

Bone Marrow Transplant
The 14-bed Bone Marrow Transplant Unit treats a variety of malignant and non-malignant disorders with autologous hematopoietic stem cell transplants, allogeneic related hematopoietic stem cell transplants, allogeneic unrelated hematopoietic stem cell transplants and related and unrelated cord blood stem cell transplants. We provide nearly 50 percent of the pediatric bone marrow transplants in Los Angeles County.
Hematology/Oncology (4 East and 4 West)
There are two separate inpatient hematology/oncology units, 4 East and 4 West, with 48 beds in total. They are collectively comprised of approximately 85 percent oncology patients and 15 percent hematology patients.
The units treat children requiring:
Diagnostic work to establish a new diagnosis
Administration of standard and investigational chemotherapy
Treatment of complications of therapy
Supportive care
4 East
4 East is the unit for children with leukemia, lymphoma and hematology patients. 
4 West
Unit 4 West is the unit for children with bone and soft tissue tumors and other solid tumors, central nervous system tumors and step-down hematopoietic stem cell transplant patients.
Outpatient Care
The Outpatient Center's ambulatory practice accommodates most procedures, including those requiring general anesthesia or conscious sedation. These clinics deliver comprehensive care in hematology, oncology, bone marrow transplant and the Long-term Information Follow-up and Evaluation (LIFE) program. The outpatient area also includes the Hematology/Oncology Day Hospital, radiation oncology, urgent care and a referral service.
Medical Services

5 East
Unit 5 East is a 32-bed unit where children are treated for disorders from the following areas of specialty expertise:
Adolescent medicine
Allergy and immunology
Genetics
Hematologic disorders
Neurology
5 West
Unit 5 West is a 32-bed acute medical unit where children are treated for disorders from the following areas of specialty expertise:
Diabetes and other endocrine and metabolic disorders
General pediatrics
Infectious diseases
Pulmonary conditions
Rheumatology
This unit can accommodate up to 15 home ventilator and/or bilevel positive airway pressure (BiPAP) patients who are stable enough to be outside the intensive care unit setting. It is the only non-intensive care unit in the hospital managing patients with diabetic ketoacidosis on insulin drips. Common infectious diseases treated on 5 West include tuberculosis, pertussis and Kawasaki disease.
Rehabilitation Nursing
6 North
Our 6 North unit is a 30-bed inpatient rehabilitation unit. The Division of Rehabilitative Medicine treats children with Juvenile Rheumatoid Arthritis, other rheumatoid diseases, head trauma, spinal cord injury, anoxic brain insults, orthopedic and general surgery, cystic fibrosis and cancer/blood diseases.

Surgical Nursing
CHLA is home to an inpatient operating room suite, and a modern ambulatory surgery center.
Learn more about our operating room facilities
6 East
Unit 6 East is a 32-bed unit with clinicians caring for children who have undergone procedures from the following specialty areas:
Ear, nose and throat (otolaryngology)
Neurosurgery
Orthopaedic surgery
Plastic surgery
Urology
6 West
6 West is a 32-bed unit that provides care for children who have undergone procedures in specialties such as:
General surgery
Intestinal rehabilitation
Nephrology
Gastroenterology
Urology
Learn more about the 6 West nursing team
Operating Room
Nurses who work in the Operating Room of our hospital provide surgical care to children of all ages (neonate to young adult) who are to undergo general anesthesia for operative or invasive procedures. We perform more than 15,500 pediatric surgeries per year, including more complex surgical procedures than any other hospital in Southern California.
Post Anesthesia Care Unit (PACU) Nursing
The Post Anesthesia Care Unit (PACU) includes 10 beds. The average length of stay for these patients is four days -- this is a fast-moving unit with great emphasis on the fundamentals of pediatric nursing.
Surgical Admitting
Nurses in Surgical Admitting help prepare children for surgery.
Ambulatory Surgery Center (ASC)