NEW WAYS TO BATTLE PEDIATRIC OBESITY

By Ellin Kavanagh
Weight-loss surgery (without the surgery)
Rohit Kohli, MBBS, MS, with a patient
Most of us have heard of weight-loss surgery. Perhaps we even assume to know how it works—by somehow magically reducing our food and calorie intake.
But it's likely we're wrong.
Rohit Kohli, MBBS, MS, joined Children's Hospital Los Angeles in September as head of the Division of Gastroenterology, Hepatology and Nutrition and as a principal investigator leading his own lab. Kohli's clinical specialty is obesity-related fatty liver disease, a condition that can progress to cirrhosis by the time a patient is a teenager. His National Institutes of Health-funded lab focuses on pediatric obesity and investigates precisely how bariatric surgery for weight loss (also known as gastric bypass or sleeve gastrectomy) works.
"You've probably heard that bariatric surgery can reverse diabetes—which is one of the reasons it's being used in adolescents and teens to correct this chronic, debilitating disease," says Kohli, who is also an associate professor of Pediatrics (Clinical Scholar) at the Keck School of Medicine of the University of Southern California. "Most people think the surgery works because you make the stomach smaller or that you do something to the intestine so less nutrition is absorbed. Neither of these is true."
Research conducted during the past decade indicates that physical changes to the stomach or intestine are practically irrelevant. Rather, it is metabolic changes—alterations in the patient's own physiology—that result in weight loss. Surgery is only important because it initiates the crucial communication that alters metabolism.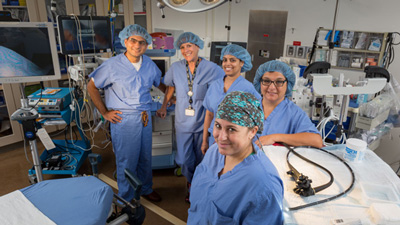 Rohit Kohli, MBBS, MS, with his team
Bile acids, important for fat metabolism, play a key role as signaling molecules, facilitating communication between molecular pathways. In 2014, Kohli and his colleagues co-authored a paper published in the journal Nature that demonstrated that animal models lacking an important bile-acid receptor didn't experience weight loss after surgery. Meanwhile, animals with the receptor did lose weight.
"This is the piece we want to exploit," says Kohli, "by identifying a medication that will initiate this signaling cascade, causing the child to lose weight and preventing type 2 diabetes and fatty liver disease, without the risk and expense of surgery. Basically, we are looking for a bariatric mimetic—something that produces the effect of surgery without the surgery."

Learn more about Kohli's research to help kids battle obesity: CHLA.org/KOHLI