A NEW TOOL FOR STUDYING COMMUNICATION DEFICITS IN AUTISM

By Ellin Kavanagh
A signal-processing program enhances the ability to study vocalizations in a mouse model.
Much of what we know about diseases and how to treat them comes from the use of models that allow scientists to study a specific condition. However, for autism spectrum disorder with behavioral diagnostic criteria—such as social communication deficits—the development of models can be challenging.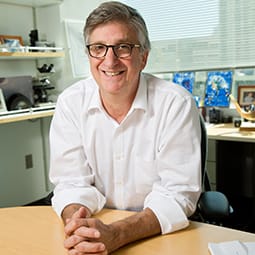 Pat Levitt, PhD
Vocalization plays a significant role in social communication in many species, including mice, which vocalize during friendly social encounters. By linking vocalizations with the animal's behavior and genetics, scientists have created a model for studying the behaviors and the impact of genes associated with autism.
"Understanding the complicated vocalizations of mice and how they relate to their social behavior will be crucial to advancing vocal and social communication research, including understanding how genes that affect vocal communication relate to genetic mutations in children with disorders like autism," says Pat Levitt, PhD, Simms/Mann Chair in Developmental Neurogenetics and vice president, chief scientific officer and director of The Saban Research Institute of Children's Hospital Los Angeles.
This painstaking and time-consuming process of analyzing vocalizations has recently gotten a lot faster and more innovative. In a unique collaboration with Levitt, researchers Allison Knoll, PhD, of CHLA and Shri Narayanan, PhD, of the Viterbi School of Engineering at USC have developed a novel signal-processing tool called Mouse Ultrasonic Profile ExTraction, or MUPET.
The new tool enables unbiased, data-driven machine learning analysis of tens of thousands of vocalizations, and the researchers' findings were published in the journal Neuron.
The investigator team is now able to rapidly analyze enormous amounts of mouse communication data, identify subtle differences in vocalizations, and link them to behavioral conditions occurring at the same time. The analytical software has been made available to all researchers and is now being used by dozens of laboratories around the world.
"This advance has made translational research to understand neurodevelopmental disorders more powerful—testing potential interventions that address social and emotional challenges that typically include communication disturbances," says Levitt, the W.M. Keck Provost Professor in Neurogenetics at the Keck School of Medicine of USC.

To find out more about this research, visit CHLA.org/LevittLab