Neuromuscular Clinic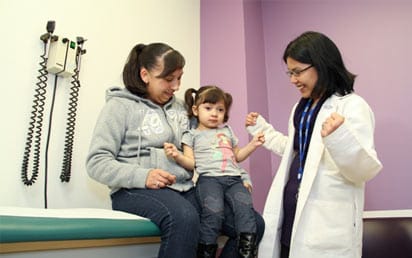 Children's Hospital Los Angeles' Neuromuscular Clinic provides care for children with muscular dystrophy, spinal muscular atrophy, Charcot-Marie-Tooth disease and other muscular diseases.
Patients treated in the clinic have access to all of the specialists they need in one location. Children receive coordinated care in an efficient setting, seeing the entire multispecialty team within several hours for assessment, diagnosis and condition management.
Diagnostic and Assessment Services
Properly managing the care of patients with neuromuscular diseases is key in helping them experience a better quality of life and longer survival. Our specialists work together as a team to arrive at a diagnosis and develop a specialized, comprehensive care plan for each child's unique needs. They see the child together, then discuss each patient in a meeting and develop their recommendations as a group.
Team members include:
Nurse case managers
Dietitians
A health care service coordinator from the MDA also is available on-site at the clinic to help families learn about and access MDA's resources, including support groups and summer camps.
The clinic offers the following types of tests:
Cardiac MRI
DEXA/Bone density evaluation
Echocardiogram
Electrocardiogram
Electromyogram
Evoked potential testing
Genetic testing
Motor function testing
Pulmonary function testing
We currently do not offer clinical trials through the CHLA Neuromuscular clinic. However, our doctors are very knowledgeable about the latest available trials and understand the importance of providing this information to families, when their child may be eligible for a trial.
We will be participating in new trials in 2016 and information will be updated here when available.