Mirkin Testimonial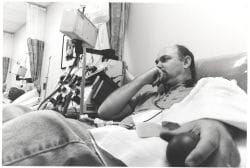 Steve Mirkin Donating Platelets at our Hospital
Message to Fellow Blood Donors
To all the current and future blood and platelet donors who are reading this, I say:
"Thank you for helping to save the life of a child you will never know. They are eternally grateful for what you have done, even if they can never say it directly to you."  
My Three Questions
If I had a chance to speak before one thousand people at one time, I'd ask them to raise their right hand if they:
Like cookies and juice?

Like watching movies?

Like helping children?  
You'd have to be the cruelest person in the world to lower your hand after that last question. 
Okay, now that I have your hand raised, l ask you to repeat after me:
"I promise to become a Children's Hospital blood and platelet donor."
Gotcha!
Being a Children's Hospital Los Angeles blood and platelet donor is simple, but sometimes it can take a little prodding. I was one of those souls. 
I had donated to another blood center in my teens, but found the experience to be less than what I had expected: i.e., I fainted! And, one other thing: I hated needles. To this day, I cannot look at a needle as it is pushed into my arm. I can't look at it when it is in my arm. And I can't look at it as it is removed. Okay, I am a big baby! I know I am not alone.
Donating for My Daughter
You who are reading this right now could be one of those needle haters. I can relate. I was happy being one of those who saw no reason to overcome that fear, until something replaced it. My youngest daughter required surgery at the happiest place on earth, Children's Hospital Los Angeles.
My wife, Elaine, agreed to be the blood donor, but my daughter also required platelets for the operation. I had never donated platelets for anyone before, so I had no idea what I was in for. Oh boy, was I ever surprised. Not just one needle, but two! And, you could not move your arms or the result was OUCH! And I am a fidgeter! 
But, this was for my daughter, so I swallowed my fears and let them stick me with the needles. After watching a movie and enjoying some juice and cookies, I was done. I was happy in the thought that this was the last time this would have to be done. Not so, Sherlock. My daughter would require three more surgeries and I agreed to donate platelets for the other operations. This was my daughter, and I'd do anything for her; that is what a parent does when they agree to bring a new person into this world.
Donating Because the Hospital Asked
With the surgeries out of the way, I was happy in the knowledge I'd never have to enter the blood donor's lab again. I was being selfish, but remember, that fear of needles still existed. That is until Kathy Reger, one of the staff members at the blood lab, called to ask me to donate platelets for the hospital. I did the usual; I told her I'd try to get around to it, but that was my way of getting out of it. She called again and again and then she called at Christmas time. "Make it a gift," she asked. I couldn't say no, so I donated. It felt good. I had donated for someone else's child, even though I did not know how important the need was.
Months went by and Kathy called again, asking me to come in once more. This time, I didn't say no. And that was twenty-four gallons ago!
Becoming an Honored Blood Donor
As I started on my donation odyssey, I never knew where it would end. The blood donor's lab has a large plaque in the lab for seven gallon or greater donors where their names are listed. I was determined to get my name on that board. It took many years, but one day I made it, and I felt a great feeling of accomplishment. I could have stopped at this point, but a few things happened along the way to make me continue to move my name along to the eighth, ninth, tenth and higher levels. 
I'd like to tell you about some of the people I have met who have inspired me to donate every month:
Steve Peisner
I met a fellow by the name of Steven Peisner. Steve is a long time donor -- a name I saw on the board, many, many gallons away from my name. When I finally met Steve one Saturday morning (oh, did I forget to mention you can donate then too? very convenient), he looked at me like the old time baseball hero meeting the rookie for the first time; I was humbled and insulted. I was a pipsqueak in his eyes. I was determined to pass his name on the board, if I could. Time and time again we'd see each other on a Saturday morning and we began to talk.
I learned that Steve was not donating for any one patient, but because he cared so much for the hospital and wanted to do his part. Soon he figured out I was serious about this donation thing and we became good friends. I know I will never pass Steve -- he goes as often as possible -- but I can live with that. However, one day I will catch him, "You hear me, Peisner!" (I always shake my fist when I say that.)
Peter Heumann
Another person is Peter Heumann. Peter runs the L.A. city bike ride that occurs every year in April. I did my first bike ride three years ago. It was a function that helped support the blood donor's lab as they were trying to raise funds for a bloodmobile. I was up to sixteen gallons by then and thought that this was something I had to do (I'll do anything to help out the lab). I did my first ride, and my wife Elaine donated her time to help out the ride staff and hand out medals to the riders as they crossed the finish line (she gave me mine). 
Before the next ride, I met Peter at the lab one Saturday morning as he was going over the details of the soon-to-be-delivered Bloodmobile -- the Maxmobile. I introduced myself to Peter and I told him of my involvement in the blood lab. Peter was so impressed he told me that that year's ride was on him! He picked up the entry fee for me! I can't thank Peter enough for what he did for me, but moreso for what he has done for the lab.
Due to his efforts to get the Bloodmobile built, he has saved countless lives by making it easier for the blood donor's lab to go to mobile locations to increase their ability to collect blood. The "Maxmobile" is one of the most beautiful machines ever made (named after a very brave boy who is no longer with us).
Children With Cancer
Two more groups of people who inspire me are the parents of children with cancer and the children who battle it every day. Many times I have gone to the lab to donate and I had the opportunity to meet a parent who is giving blood or platelets for their child. Their efforts remind me why I do this.
I would never wish cancer on my worst enemy! It is a cruel disease that affects the lives of everyone it touches. I have spoken to these parents and told them of the wonderful treatment my daughter got at the hospital; that this is a place of hope. I don't know if my words made a difference, but I can only hope they did.
The hospital always treats three patients for every one child who comes to the hospital for treatment; the two parents and the child. I know -- I was one of those parents. It is so important that they know there is an entire hospital that is looking out for their child and that they know there are total strangers who are looking out for their welfare, too.
Blood Donor Center Staff
I have been deeply touched by all the people who have worked in the blood donor's lab. I mentioned Kathy earlier, however I also need to mention the names of Aileen, Ann, Pat, Pam, Roger, Debbie, Raul, Gus, George, the great Dr. Sabu, Jean-Claude, Elena, Rubin, Rene, the newbie boss Joy, Jacque and Toni (who donates her time whenever it is needed) they are all my friends.
Every time I go in to make a donation, I get to spend time with these wonderful people. They are the hardest working people you will ever meet and they do everything possible to make your time in the lab as easy and stress free as possible.
Other Donors
I mentioned another blood donor, Steve Peisner, earlier, but that is not to exclude any of the others whose names also adorn the plaque in the lab. Everyone has given something of themselves to help the lives of countless children. This includes the names of donors who never got to that elusive seven gallon level, but deserve to be mentioned too. A few years ago, I developed a blood donor's ring to be available as a way to say to the world that here is a person who has given of themselves something that is worth more than money: life. To this day, only three have been made, but I know that one day it will be available to all the donors as a way of saying "Thank you!" and "Atta boy!" for what they have done.
Note to Kathy
I close by adding this last thought. Kathy, who got me started as a long term blood and platelet donor, left the lab a few years ago to work in another department. I still see her every so often, but when she left, I gave her a thank you card. In it I wrote:
"Thank you for giving me the strength to help save the life of a child I will never know."
Those words are something I try to do every time I give at the lab. I know that there are families every day who are becoming new patients at Children's Hospital Los Angeles and that they are worried, concerned and fearful of what their child is experiencing, wondering if they are going to be given the treatment that will allow them to leave as soon as possible with a healed child.
Final Words
Now, make that appointment, roll up those sleeves and enjoy that movie, those cookies and juice. Oh, you can now lower your right hand.