Medical Services Nursing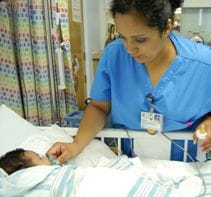 5 East
Unit 5 East is a 32-bed unit for:
Adolescent medicine
Allergy-immunology 
Neurology
Hematologic disorders 
Genetics
Common pulmonary disorders treated on 5 East include pneumonia, bronchiolitis, asthma and cystic fibrosis, with complications.
5 West
Unit 5 West is a 32-bed unit for:
General pediatrics 
Infectious diseases 
Pulmonary conditions
Rheumatology
Diabetes, endocrine and metabolic disorders 
This unit can accommodate up to 15 home ventilator and/or bilevel positive airway pressure (BiPAP) patients who are stable enough to be outside an intensive care setting. It is the only non-intensive care unit in the hospital managing patients with diabetic ketoacidosis on insulin drips. Common infectious diseases treated on 5 West include tuberculosis, pertussis and Kawasaki disease.