Mark D. Krieger, MD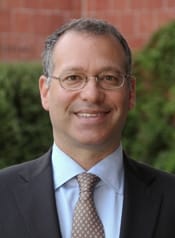 Mark D. Krieger, MD, is the Chief of Medical Staff at Children's Hospital Los Angeles. He joined the Children's Neuroscience Center in 2002. He cares for children with surgical diseases of the brain, spinal cord and peripheral nerves, and specializes in tumors of the central nervous system. He was previously the Director of Pediatric Neurosurgery at the Mount Sinai School of Medicine in New York. A magna cum laude graduate of Harvard College and the College of Physicians and Surgeons of Columbia University, Dr. Krieger completed his training in Neurological Surgery at the University of Southern California, Department of Neurological Surgery.
He served as the American Association of Neurological Surgeons/Congress of Neurological Surgeons Pediatric Fellow at Hospital de la Timone in Marseille, France, and completed a fellowship in Pediatric Neurosurgery at Children's Hospital Los Angeles. Dr. Krieger has published more than 50 peer-reviewed articles and numerous book chapters, in addition to giving more than 100 talks at national meetings. He is active in the Congress of Neurological Surgeons, American Association of Neurosurgeons and the American Society for Pediatric Neurosurgeons.
Dr. Krieger's research program involves the development of novel diagnostic and therapeutic modalities for pediatric brain tumors, combining molecular biology techniques, anti-angiogenesis strategies and advanced imaging techniques. His areas of clinical interest include pediatric central nervous system neoplasms, Chiari malformations, intracranial cysts, craniosynostosis, hydrocephalus and spina bifida.