Liver and Intestinal Transplant
Pediatric Liver and Intestinal Transplant Program
Program Statistics
Outcomes Data
Celebrating 300th Liver Transplant
FAQs
About the Transplant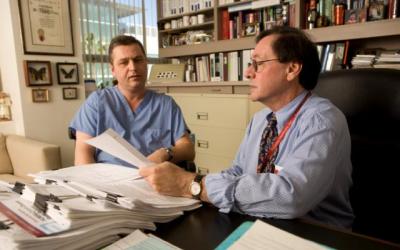 About Our Program
Our Liver and Intestinal Transplant Program is one of the fastest growing programs of its kind in the United States with an excellent track record of graft and patient survival -- making it one of the most successful programs in the nation.
The Pediatric Liver Transplant program received a Bronze Award at the National Learning Congress, sponsored by the Health Resources and Services Administration (HRSA). This prestigious award recognizes our significantly lower than expected mortality rate after patients are placed on the transplant waitlist.
Program Statistics
The first liver transplant was performed in 1998. More than 220 liver transplants have been performed since that time.
The first living donor liver transplant was performed in 1998. More than 94 living donor liver transplants have been performed since then.
The first "bloodless" liver transplant was performed in 2001 and three additional transplants have been done since then.
The first small bowel transplant was performed in 2004. The Center now performs small intestinal transplants, as well as multiorgan (small bowel, liver, stomach, pancreas, spleen and duodenum) transplants. Eleven of these transplants have been performed here.
Living Donor Liver Transplants
With the agreement of a child's family, and when medically appropriate, our transplant team performs living donor liver transplants.
Our success is largely attributable to our high volume of living donor liver transplant procedures. Currently, we perform the largest number of this special type of transplant in the nation.
As the leader in living donor transplants, our program is less dependent on the supply of deceased donor organs.
300… and Counting! Children's Hospital Los Angeles Performs Milestone Liver Transplant
Father donates liver tissue to save son's life, and the family gets a visit from CHLA's first-ever living donor liver patient, now all grown up. Read more.
What Is a Living Donor Liver Transplantation?
The liver is a truly remarkable organ with the capacity to grow back to its full size if a piece is removed. Due to the high level of need for liver donors and the low level of available organs to meet the need, the first living donor liver transplant in the United States was completed in 1989. Read more.  

Featured in Imagine Magazine
Patients who have received care from our Liver and Intestinal Transplant team are featured in our Spring 2008 issue of Imagine Magazine. 
Collaboration With Gastroenterology and Nutrition
We also work closely with the expert physicians in the Division of Gastroenterology and Nutrition.