LISTEN UP: REDUCING HEARING LOSS CAUSED BY CHEMOTHERAPY

By Jennifer Jing
Investigators develop a strategy for minimizing ototoxicity while maximizing treatment effectiveness.
For children and adolescents with cancer, permanent hearing loss is a frequent side effect of common chemotherapy medications. Although lowering the dosage of chemotherapy may reduce these harmful effects, that can cause the cancer treatment to be less effective.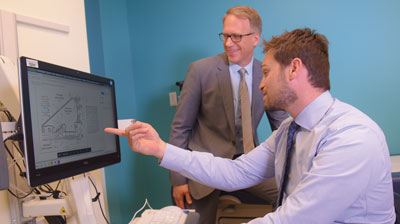 David R. Freyer, DO, MS (left), and Etan Orgel, MD, MS
Researchers at Children's Hospital Los Angeles have been leading the search for a safe way to prevent chemotherapy-induced hearing loss in pediatric patients—without compromising the effectiveness of treatment. That's particularly important for children because the ability to hear is critical for acquiring language, learning in school, establishing social skills and achieving proper psychosocial development. Any disruption to hearing at an early age may lead to lifelong functional disability.
In a recent multicenter study, David R. Freyer, DO, MS, explored the effects of sodium thiosulfate—a powerful antioxidant—in preventing hearing loss among children undergoing chemotherapy with cisplatin. Cisplatin is a common chemotherapy drug used to treat many childhood and adult cancers.
Freyer found that the incidence of hearing loss was reduced by about half in children treated with cisplatin plus the antioxidant, compared with cisplatin alone. He also found that the greatest benefit of the antioxidant treatment was seen in children younger than 5 years of age. These children are most susceptible to, and most affected by, hearing impairment.
As director of the Survivorship and Supportive Care Program in the Children's Center for Cancer and Blood Diseases, Freyer is working closely with CHLA colleague Etan Orgel, MD, MS, to expand on this discovery and look into other compounds that may offer hearing protection during cancer treatment.
"Until now, hearing loss was an unavoidable fact for most patients undergoing chemotherapy," says Freyer. "Our findings are an important step toward developing a strategy that not only effectively treats cancer, but also greatly improves the quality of life for pediatric cancer survivors."

To learn more about this work, visit CHLA.org/FreyerResearch and CHLA.org/OrgelResearch