Lexi: Fighter and Fashionista
Lexi first came to Children's Hospital Los Angeles nearly 10 years ago, at age four.
"Lexi was diagnosed with ganglioneuroblastoma. She had a grapefruit-sized tumor on the bottom of her tailbone. And it had her ureters, which go from the kidneys to the bladder, trapped inside.
We did four aggressive rounds of chemo. She got really sick and it was really hard. And we made it. She survived and beat the cancer," explains mom, Steffanie.
The location of the tumor caused Lexi's kidneys to fail, requiring her to be put on dialysis. Her nephrologist, Carl Grushkin, MD, Chief of the Division of Nephrology, has been with her each step of the way.
"Dr. Grushkin and his entire department, his nurses and everybody have been extremely helpful. They link you with other families and resources.
He is, hands down, one of the most remarkable geniuses I've ever come across in my entire life. And, all the caring and that tenderness is why we keep going back to him," shares Steffanie.
Dr. Grushkin's wife, Rosalind, was Lexi's social worker when she was first diagnosed and Steffanie describes what a difference she made for her.
"I was so scared out of my mind. She walked into the room and found me in shambles, torn apart in every way and hysterically crying.
At that moment she said, 'Let's do this. I'm here to help you. I'm here with you. We're going to do this together.' And at that moment, I knew exactly what I had to do."
Lexi has now been on dialysis for two years. But you couldn't tell by looking at her.
Her strong sense of self, infectious zest for life and fashionista sensibilities shine right through:
" You wouldn't even know looking at her. She's healthier than can be and healthier than she's been during her entire life," says Steffanie.
Lexi has a surgery coming up soon to correct a hip issue caused by her kidney problems.
Meanwhile, she keeps up her fighting spirit and says that her experience at the hospital has been:
"Amazing. They've been a lot of help for the past nine years. They're really helpful and you're just like family here."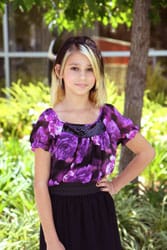 "