Join Our Corporate Partners
Introducing Corporate Partnerships
Your company is able to connect with Children's Hospital Los Angeles through unique and individualized opportunities. We create unique opportunities for our corporate partners who help us continue our mission of creating hope and building healthier futures. 
How to Become a Corporate Partner

Join our Corporate Council

Children's Miracle Network Hospitals

Upcoming Corporate Events

Corporate Partner Spotlight
There are many ways your company can raise funds and awareness for Children's Hospital Los Angeles. The Corporate Partnerships team will work with you to create a specifically tailored program that meets your business goals while raising critical funds for Children's Hospital Los Angeles.
Click here to learn more about corporate fundraising opportunities at CHLA.
The Corporate Council at Children's Hospital Los Angeles is comprised of an elite group of corporate leaders from across Los Angeles who meet bi-annually to exchange ideas and best practices in corporate philanthropy. The Council serves as a corporate leadership hub where an exchange of philanthropic practices, innovative partnership models, and mutually beneficial ideas are utilized to benefit the hospital's corporate partners as well as CHLA.
For more information regarding the Corporate Council please contact Dawn Wilcox, Vice President, Corporate Partnerships.
Children's Miracle Network Hospitals® raises funds and awareness for 170 member hospitals that provide 32 million treatments each year to kids across the U.S. and Canada. Donations stay local to fund critical treatments and healthcare services, pediatric medical equipment and charitable care. Since 1983, Children's Miracle Network Hospitals has raised more than $5 billion, most of it $1 at a time through the charity's Miracle Balloon icon. With help from their generous corporate partners and programs, CMNH is able to save and improve the lives of as many children as possible. Children's Hospital Los Angeles is a proud member of Children's Miracle Network Hospitals.
For more information regarding Children's Miracle Network Hospitals please contact Sara Hackett, Director, Corporate Partnerships.
Companies for Kids brings together corporate employees from across Los Angeles for a monthly day of service benefiting CHLA's patients, families and caregivers. Companies for Kids dates can be held for a single corporate donor and CHLA will work with the company to create a unique team-building experience that supports each partner's individual needs. Click here to join Companies for Kids.
Children's Hospital Los Angeles is thrilled to host its inaugural Walk L.A. on June 17, 2017 at Griffith Park. Be part of the community walking in solidarity to improve the health of children and raise necessary funds in support of CHLA's mission.
June 17, 2017
Griffith Park, Crystal Springs Picnic Area
4659 Crystal Springs Dr.
Los Angeles, CA 90027
Contact Sara Hackett at shackett@chla.usc.edu or click here for more information.
CHLA is hosting the inaugural Play LA event at the iconic Los Angeles Memorial Coliseum on Saturday, August 5, 2017. The event will unite the robust Los Angeles sports community for the ultimate "Play Day", while promoting healthy and active lifestyles. The day will be comprised of a family festival, exclusive clinic stations and a special musical performance. The participants will consist of a variety of youth from the community and CHLA patients. All funds that are raised through sponsorships and ticket sales will help ensure that critical, lifesaving care is available to all patients who need it.
August 5, 2017
Los Angeles Memorial Coliseum
3911 S. Figueroa St.
Los Angeles, CA 90037
Mega Miracle Day
More than 550 people attended CHLA's third annual Mega Miracle Day at the Taglyan Complex in Hollywood on March 1st. The mix of corporate and Children's Miracle Network Hospitals partners united to celebrate the miracles they make happen for families at CHLA. Mega Miracle Day featured inspiring patient stories, group discussion, an engaging corporate panel with leaders from Alfred Coffee, Delta, Drybar, Emi-Jay and Sam's Club and special appearance from notable speaker Josh Sundquist.
Make March Matter
Patients Saylor, Grace, and longtime supporter Kim Kardashian West rung the bell to kick off CHLA's Make March Matter campaign on March 1st. With more than 100 companies participating throughout L.A. and the Coachella Valley, you can help us reach our goal of raising $1 million for CHLA by doing things you already do every day—exercise, shop, get a blow out, grab coffee and so much more! Visit MakeMarchMatter.org to see participating partners near you.
Together We Made March Matter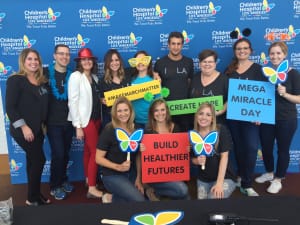 Capital Group, Sam's Club, Honda, Credit Union for Kids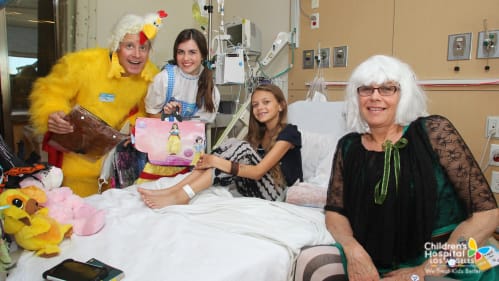 Warner Bros. and DC Comics