Join Our Corporate Partners
Introducing Corporate Partnerships
Your company is able to connect with Children's Hospital Los Angeles through unique and individualized opportunities. We create unique opportunities for our corporate partners who help us continue our mission of creating hope and building healthier futures. 
How to Become a Corporate Partner

Join our Corporate Council

Children's Miracle Network Hospitals

Upcoming Corporate Events

Corporate Partner Spotlight
There are many ways your company can raise funds and awareness for Children's Hospital Los Angeles. The Corporate Partnerships team will work with you to create a specifically tailored program that meets your business goals while raising critical funds for Children's Hospital Los Angeles.
Click here to learn more about corporate fundraising opportunities at CHLA.
The Corporate Council at Children's Hospital Los Angeles is comprised of an elite group of corporate leaders from across Los Angeles who meet bi-annually to exchange ideas and best practices in corporate philanthropy. The Council serves as a corporate leadership hub where an exchange of philanthropic practices, innovative partnership models, and mutually beneficial ideas are utilized to benefit the hospital's corporate partners as well as CHLA.
For more information regarding the Corporate Council please contact Dawn Wilcox, Vice President, Corporate Partnerships.
Children's Miracle Network Hospitals® raises funds and awareness for 170 member hospitals that provide 32 million treatments each year to kids across the U.S. and Canada. Donations stay local to fund critical treatments and healthcare services, pediatric medical equipment and charitable care. Since 1983, Children's Miracle Network Hospitals has raised more than $5 billion, most of it $1 at a time through the charity's Miracle Balloon icon. With help from their generous corporate partners and programs, CMNH is able to save and improve the lives of as many children as possible. Children's Hospital Los Angeles is a proud member of Children's Miracle Network Hospitals.
For more information regarding Children's Miracle Network Hospitals please contact Sara Hackett, Director, Corporate Partnerships.
Companies for Kids brings together corporate employees from across Los Angeles for a monthly day of service benefiting CHLA's patients, families and caregivers. Companies for Kids dates can be held for a single corporate donor and CHLA will work with the company to create a unique team-building experience that supports each partner's individual needs. Click here to join Companies for Kids.
Children's Hospital Los Angeles is thrilled to host its inaugural Walk L.A. on June 17, 2017 at Griffith Park. Be part of the community walking in solidarity to improve the health of children and raise necessary funds in support of CHLA's mission.
June 17, 2017
Griffith Park, Crystal Springs Picnic Area
4659 Crystal Springs Dr.
Los Angeles, CA 90027
Contact Sara Hackett at shackett@chla.usc.edu or click here for more information.
CHLA is hosting the inaugural Play LA event at the iconic Los Angeles Memorial Coliseum on Saturday, August 5, 2017. The event will unite the robust Los Angeles sports community for the ultimate "Play Day", while promoting healthy and active lifestyles. The day will be comprised of a family festival, exclusive clinic stations and a special musical performance. The participants will consist of a variety of youth from the community and CHLA patients. All funds that are raised through sponsorships and ticket sales will help ensure that critical, lifesaving care is available to all patients who need it.
August 5, 2017
Los Angeles Memorial Coliseum
3911 S. Figueroa St.
Los Angeles, CA 90037
Mega Miracle Day
More than 550 people attended CHLA's third annual Mega Miracle Day at the Taglyan Complex in Hollywood on March 1st. The mix of corporate and Children's Miracle Network Hospitals partners united to celebrate the miracles they make happen for families at CHLA. Mega Miracle Day featured inspiring patient stories, group discussion, an engaging corporate panel with leaders from Alfred Coffee, Delta, Drybar, Emi-Jay and Sam's Club and special appearance from notable speaker Josh Sundquist.
Make March Matter
Patients Saylor, Grace, and longtime supporter Kim Kardashian West rung the bell to kick off CHLA's Make March Matter campaign on March 1st. With more than 100 companies participating throughout L.A. and the Coachella Valley, you can help us reach our goal of raising $1 million for CHLA by doing things you already do every day—exercise, shop, get a blow out, grab coffee and so much more! Visit MakeMarchMatter.org to see participating partners near you.
Together We Made March Matter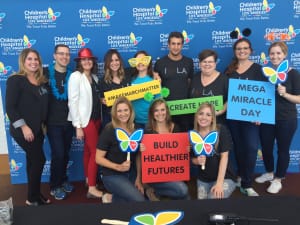 Capital Group, Sam's Club, Honda, Credit Union for Kids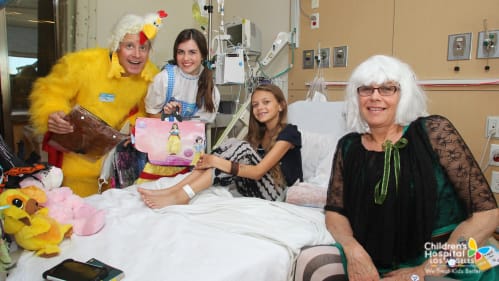 Warner Bros. and DC Comics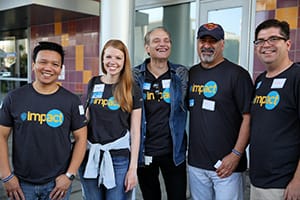 Corporate Partners
7-Eleven
A.Grace Jewelry
Alfred Coffee
Alice & Olivia
American Airlines
Au Fudge
Anita Ko
Athleta
Auto Zone
Avery Dennison
Barry's Tickets
Beacon Echo Park
Bellacures
Berrystar Frozen Yogurt
Big Mama's & Papa's Pizza
Big Sugar Bake Shop
Bird Pick
BJ's Restaurants
Blastoff Comics
Blend it Healthy
Bobble
Brew Co
California Pizza Kitchen
Caruso Affiliated (Americana & The Grove)
Cava
Champagne Bakery
Cigna Healthcare
CJ Free Jewelry
Copa Vida
Curacao
Cycle House
Daphyl's
David Yurman
Deluscious Cookies
Direct TV, Inc.
Disney Worldwide Services
Dr. David A. Chin and Assoc.
Drybar
dTox Day Spa
Dunkin Donuts
edenation
Elizabeth & James
Emi-Jay
Fidelity Investments
Fishing with Dynamite
Fluff Ice
Food 4 Less
Fox Sports West
Fred Segal Mauro Café
Glamboutique
Green Juice Grotto
Greenleaf Gourmet Chopshop
Grounded Kidswear
Half & Half Tea House
Hasbro
Hilton & Hyland
Hollywood Charity Horse Show
Hollywood Roosevelt Hotel
Home Depot
HOME Restaurants
Honda
il Pastaio
Jacmar Foodservice
JCrew
Jersey Mike's
JP Morgan Chase & Company
Keller Williams
Kendra Scott
Kia Motors America, Inc.
KKL American Inc.
Kyle by Alene Too
L'Agence
La La Ling
Larchmont Sanctuary Spa
Lauren Moshi
Lazy Dog
Lease Advisors
Lifescarf
Lil' Simmzy's on the Deck
Little Minis
Los Angeles Dance Marathon
Lucky Soul
LuxAnthropy
M.B. Post
m0851 Los Angeles
Manhattan Beach Brewing Company
Marriott
Matthew's Jewelry
Mendocino Farms
Mikey's Minis
Molla Space Inc.
Moose Toys
Nederlander Concerts
Neiman Marcus
Nespresso
Nestle
Nigel Beauty Emporium
Old Venice
Papa John's Pizza
PayForward
Pez Cantina
PizzaRev
Planet Beauty
Planet Blue
PriceWaterhouseCoopers
Prodege
Project 360 Fashion
Pump Station
R.W. Zant Company
rag & bone
Ralph Lauren
Ralphs Grocery Company
Real Naked Tea
Rock & Brews
Rock'n Fish
Roscoe's House of Chicken N' Waffles
Rosie G
Saks Fifth Avenue
Samy's Camera
Shade House
Shake Shack
Shutterfly
Simmzy's
Skylight Books
Smitten ice Cream
SoCal Gas Company
Society Salon
Speck
St. John
Stella & Dot
StemCyte
STK Los Angeles
Strand House
Strawberry Notes
Sugarfina
Superba
Superior Grocers
Templework LA
Terranea Resort
Thale Blanc, LLC
The Agency
The Arthur J
Theory
Tin Roof Bistro
Toyota
Violet Grey
Warby Parker
WavHello
Wells Fargo
Westfield Malls
WundaBar
Y7 Studio
Yogurtland
Zinc Lounge at The Shade Hotel
ZR Brazilian jujitsu studios
Children's Miracle Network
Ace Hardware
Aflac
American Legion
Alex and Ani
Carmike Cinemas, Inc.
Chevron Corp.
Chico's FAS, Inc.
CO-OP Financial Services
Corner Store
Costco Wholesale Corp.
Credit Unions for Kids
Dairy Queen
Delta Air Lines
DSM Canister, LLC
Driven Brands
Extra Life Guild
Express Employment Professionals
Entravision Communications Corporation
Gaviña, José's Coffe/Don Francisco's
Great Clips, Inc.
HMS Host Corp.
International House Of Pancakes, Inc.
Kiewit Corporation
Kiwanis International
Lazer Broadcasting Corporation
Long John Silver's
Love's Travel Stops
Marriott International, Inc.
Marriott Vacations Worldwide
McLane Company, Inc.
Miss America Organization
Newman's Own, Inc. (Costco Program)
Panda Express
RE/MAX, LLC
Rite Aid Corp.
Ruby's Diner
Torch Relay
Tiltify
Vallarta Supermarkets
Walgreens
Walmart Stores, Inc.
Hollywood Cares for Kids
DC Entertainment
Disney Jr.
ICM Partners
iHeartMedia Management Services, Inc.
Lionsgate
New Line Cinema
Nickelodeon
Shout! Factory
United Talent Agency
Variety (Penske Media Corporation)
Walt Disney Company
Warner Bros.
William Morris Endeavor Entertainment
All-Stars for Kids
Dodger Dream Foundation
Fox Sports West
LA Clippers
LA Kings
LA Galaxy
Otter Pops
JJ and Chelesa Redick