Imagine Winter 2014 - Short Gut, Big Heart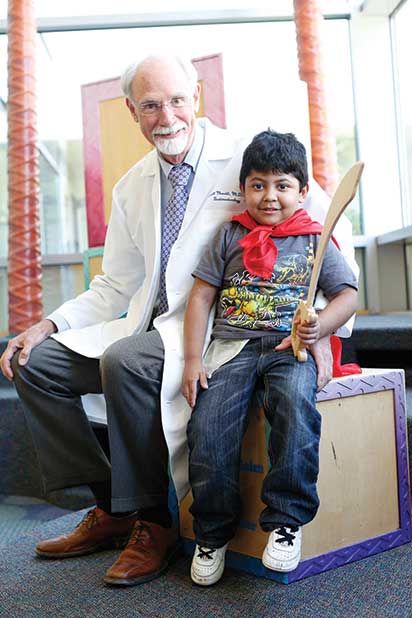 At birth, Jonathan Bautista's intestinal tract was too short and too damaged to function. The Intestinal Rehabilitation team found a way to help him heal.
Like a lot of young boys, 5-year-old Jonathan Bautista is in awe of Iron Man's powered suit of armor and Hulk's superhuman strength. But in Jonathan's eyes, his doctor possesses an even more impressive ability: the power to help his intestines.
"Jonathan's heroes are Hulk, Iron Man and Dr. Merritt," says his dad, laughing. "Whether he has a little owie on his leg, or he's really sick, he immediately says, 'Call Dr. Merritt. Dr. Merritt can fix it!'"
"Dr. Merritt" is Russell Merritt, MD, PhD, medical director of the Intestinal Rehabilitation Program in the Division of Gastroenterology and Nutrition at Children's Hospital Los Angeles. In 2008, Merritt led the creation of CHLA's Intestinal Rehabilitation team -- made up of physicians, nurses, occupational therapists, a dietitian and a social worker who provide highly specialized care for children with intestinal failure or related conditions. Tracy Grikscheit, MD, serves as the program's surgical director.
Like "The Avengers" movie characters Jonathan loves, the team often faces difficult odds. And sometimes -- as in Jonathan's case -- it's a battle of life and death.
A Rough Start
Jonathan was born with gastroschisis, a condition where a baby's intestines protrude outside of the body through a gap in the abdominal wall. Gastroschisis can range from mild to severe -- and Jonathan's case was severe. His intestines were so damaged and swollen at birth that surgeons at Children's Hospital were initially unable to place them in his belly. Days later, they succeeded, but Jonathan's troubles were just beginning.
He was diagnosed with short bowel syndrome, a condition where the small intestine is too short and damaged to efficiently absorb nutrients. In addition, it was not properly connected to his colon, which was too small. Jonathan had intestinal failure.
He survived on intravenous feedings called total parenteral nutrition (TPN), but long-term reliance on TPN can cause liver failure, and Jonathan's liver began to fail at just three months. Making matters worse, he developed bleeding problems after surgeries -- almost dying at one point --  which made surgical repairs of his GI tract very difficult.
His parents, Martin and Lidia Bautista, were devastated. "Every day there was more bad news," Martin recalls. "We would come home at night and just cry together. We didn't know what to do."
Then, their luck turned around. Jonathan was referred to Merritt and the new Intestinal Rehabilitation team at Children's Hospital. Merritt was starting a clinical trial of an intravenous fish oil called Omegaven, which showed promise in helping children on TPN recover from liver damage. He thought Jonathan would be a good candidate.
He was right.
"Within a month, the jaundice disappeared; his whole condition improved," Martin says. "It was our first victory."
There were more to come. At six months, Jonathan finally went home. Meanwhile, another out-of-the-box treatment -- a medication called budesonide typically used in respiratory conditions -- significantly reduced the inflammation in his intestines. It was a slow process, but by age four, Jonathan was off TPN completely.
"He started playing flag football, going swimming, all these things he could never do before," Martin says. "He could finally be a regular kid."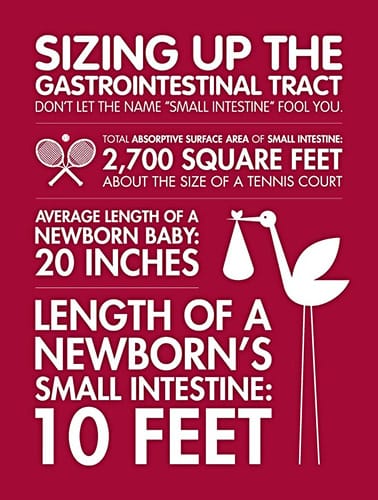 Innovative Approaches
When most people think of rehabilitation, they think of regaining the use of a broken leg or arm, or learning to walk again.
The Intestinal Rehabilitation team at Children's Hospital is tasked with a different kind of therapy: helping the intestines learn to accept and absorb food. The goal is to ensure children with intestinal failure get the nutrition they need to grow and develop -- and gradually move them from intravenous feeding to tube feeding, and then on to an oral diet.
"With most kids, if we manage them well over a few months to a few years, they're no longer dependent on TPN," says Merritt. "But it's a lot of work for the parents. It can sometimes take years for these kids to learn how to eat more normally. It's a huge stress on families."
To meet the challenge, the team takes a comprehensive approach to treatment and emphasizes innovation and research. The group is currently involved in a clinical trial of another new medicine that may help improve intestinal absorption of nutrients and fluids. The team is also partnering with the Department of Pediatrics on a study to devise new ways of training parents to care for central lines and prevent infections.
Family-centered care takes center stage. "We have to come up with creative ways to help these kids, and the parents are an integral part of the team," Merritt says. "I see myself as more of a collaborator with each family, not just a doctor."
One highly successful initiative is a monthly outpatient group called "Lunch Bunch," led by CHLA Occupational Therapist Judy Hopkins. The group brings kids with intestinal failure together for fun, friendship and eating lessons, while the team's clinical social worker, Manisha Parikh, leads a parent support group in the next room.
---
"No matter how bad the news was at times, they never gave up on him. They aren't just Jonathan's heroes; they're our heroes, too."
— Martin Bautista, Jonathan's dad
---
With the help of the Bautistas and other parents, the team has also organized a family day at the Los Angeles Zoo, sponsored by the Office of the Mayor of Los Angeles, and its first Intestinal Rehabilitation Day, which was held in July and featured educational sessions, opportunities to connect with other families, and fun activities for kids, siblings and parents.
"Having a child with intestinal failure can be very isolating," Parikh explains. "Parents have to manage feeding tubes and intravenous lines. And most social events revolve around food, but their child can't eat. It helps so much if they can talk to other parents who are going through the same thing."
'They Never Gave Up'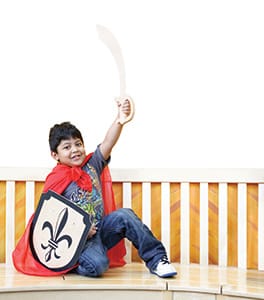 Today, Jonathan is a happy and energetic five-year-old who loves going to the park, walking his dog, and playing hide-and-seek and tag with his eight-year-old brother, Kevin.
"Every morning he gives us hugs and tells us, 'I love you, Daddy! I love you, Mommy!'" Martin says.
Although Jonathan spent more than a year without TPN, he's had some setbacks, too. In recent months, he had to undergo another surgery and resume a small percentage of TPN. He still has residual liver damage, and down the road he may need a liver and intestinal transplant.
His parents are grateful for the Intestinal Rehabilitation team's continued support and care. In this journey with Jonathan, they are not alone.
"I get emotional talking about it," Martin says. "They've been with us every step of the way. No matter how bad the news was at times, they never gave up on him. They aren't just Jonathan's heroes; they're our heroes, too."
Read the Entire Issue of Imagine Winter 2014
View the digital version from your desktop, tablet or smartphone, or download to read this issue at a later time.
Support CHLA
If you Live L.A., Give L.A. Every dollar of your gift will help provide world-class care for every child that comes through our doors -- kids like Jonathan. Visit CHLA.org/GiveLA.