Imagine Winter 2014 - Brain Trust
The Institute for the Developing Mind is bringing multiple specialties together in its quest to find better ways to diagnose and treat -- or better yet, prevent -- neurodevelopmental disorders in children.
When Margarita Gevondyan learned that her 16-month-old son, Alex Guyujyan, had autism, she cried for hours every day. But after she got over the initial shock, she had just one goal: to help him any way she could.
"I spent every free moment searching for ways to help Alex," she says. "I was trying to pull him into our world. I was obsessed -- a woman with a mission."
Fortunately, Alex had been diagnosed early at the Boone Fetter Clinic at Children's Hospital Los Angeles; in fact, he was the youngest patient at the clinic to be diagnosed with autism spectrum disorder. Immediately, Alex began early-intervention behavioral therapies recommended by the clinic for 15 hours a week.
Slowly, he began to communicate and engage more with his parents and older brother, Greg. Just one year later, his improvement was so significant that he no longer met the criteria for a diagnosis of autism.
"Alex's journey has been a roller coaster for our family," his mother says. "But his progress has been a prayer answered." Alex is a perfect example of the outcomes that are possible when neurodevelopmental disorders are diagnosed -- and treated -- early in a child's development. But what if those disorders could be uncovered even earlier -- even at birth? Could neurodevelopmental conditions be prevented altogether?
These are the kinds of questions being asked by the physicians and scientists at the Institute for the Developing Mind (IDM) at Children's Hospital Los Angeles. And thanks to advances in research, science and technology, the answers may finally be within reach.
"I think we're closer than a lot of people realize," says Bradley Peterson, MD, who left Columbia University in July to become the inaugural director of the Institute for the Developing Mind. "Our goal is not only to advance new discoveries related to how a child's brain develops, but to then translate those findings into new therapies that will make a difference in the lives of children and families. That's what the IDM is all about."
Harnessing Team Science
It's an ambitious goal -- and there's no time to waste. Neurodevelopmental disorders are a growing crisis worldwide, both in adults and children. In the U.S. alone, one in six children has a developmental disability; a staggering one in five has a neurodevelopmental disorder.
While some of those disorders are relatively mild, 50 million children and adults nationwide are affected by severe neurological or neurodevelopmental conditions, including autism, schizophrenia, bipolar disorder and others. These disorders wreak havoc on families, create immense economic burdens on society and often affect children throughout their lifetimes.

To make a major impact on this crisis, the IDM has been structured in a uniquely collaborative and interdisciplinary way, establishing world-class expertise in three areas of developmental neuroscience -- genetics, behavior and imaging -- in a close partnership between clinicians at Children's Hospital and basic science researchers at both The Saban Research Institute of Children's Hospital Los Angeles and the neuroscience programs at the University of Southern California (USC).
"The IDM is a big tent; it's all of developmental neuroscience applied to pediatric medicine," says Richard Simerly, PhD, who directs the Developmental Neuroscience basic research program and is deputy director of The Saban Research Institute. "We have a tremendous opportunity here to impact both the understanding and treatment of neurodevelopmental disorders."
The integrated model of the IDM was one of the key factors that led Peterson to leave his job at Columbia University, where he directed the Center for Developmental Neuropsychiatry.
"Someone can have a very rich understanding of the brain in terms of human behavior, but that's only one level of understanding," explains Peterson, who is also director of the Division of Child and Adolescent Psychiatry at the Keck School of Medicine of the University of Southern California. "There's also the level of brain circuits and brain systems, cells and molecules, genetics and more. You need a deep understanding at each of those levels to view the complete picture and have a better idea of how to intervene."
Identifying Risk Factors
Researchers also want to know when to intervene -- and how to do so earlier and earlier in a child's development. Ideally, those interventions would begin before symptoms even surface. That means finding ways to identify children who are at high risk for a particular disorder, whether it's autism or bipolar disorder or adolescent-onset depression. Pat Levitt, PhD, draws a comparison to heart disease. Specific risk factors -- such as high blood pressure and cholesterol levels -- are now routinely evaluated in adults and modified with lifestyle or medicines, ideally before they cause damage.
"That's what we want to do for neurodevelopmental disorders," says Levitt, who directs the IDM's Developmental Neurogenetics Program and holds the Simms/Mann Chair in Developmental Neurogenetics. "We want to identify those signature patterns of brain activity, genes or environmental factors that put a child at higher risk. It's a big puzzle, but it's critically important."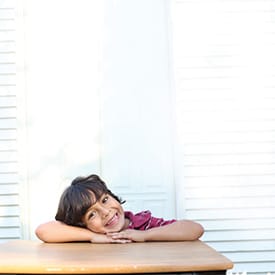 While Levitt and his team are focused on combined genetic and environmental risk factors, the IDM's Developmental Neuroimaging Program, led by Elizabeth Sowell, PhD, is using the latest imaging techniques to view patterns of brain activity. Himself an expert in applying neuroimaging to the study of developmental disorders, Peterson worked with his team at Columbia to identify specific markers in the brain that put both children and adults at higher risk for major depression.
"There are people who get depression who don't have those markers," he says. "But the depression they get seems to be milder and not as recurrent as the depression that occurs with those markers, which tends to be much more serious and chronic, and more difficult to treat. These are the kinds of markers we're looking for in other conditions."
And while early intervention -- and prevention -- is the ultimate goal, the IDM is not just focused on young children. Its aim is to promote the best possible outcomes for a wide range of age groups, including adolescents and young adults.
Far-Reaching Impacts
One of the keys to the IDM's work is that not all of it takes place in laboratories. The Institute is working closely with clinicians at CHLA and the hospital's Boone Fetter Clinic, which provides comprehensive diagnostic and treatment services for children with autism and other developmental disorders.
"The Boone Fetter Clinic is a cornerstone of the IDM," says Michele Kipke, PhD, vice chair of Research for the Department of Pediatrics at CHLA. "We see hundreds of children each year with neurodevelopmental concerns, almost all of whom need better and more individualized treatments. With our incredibly diverse patient population, we can help ensure that the research we are doing is relevant not just to our patients, but to patients around the country and the world."
---
"Though not every child is the same, there are always things you can do to help. I want other parents to know not to lose hope."
— Margarita Gevondyan, Alex's mom
---
One thing's for certain: The IDM's impact won't just be felt by kids.
"More than 50 percent of adult psychiatric illnesses begin in childhood," Peterson notes. "And those earlier-onset illnesses are almost invariably more severe and difficult to treat. If we can pinpoint what goes wrong early in development, that will have enormous payoffs for adults as well as children."
For Alex Guyujyan, the payoffs from his early intervention have been life-changing. Now at age 6, he is a typical kid attending a regular elementary school, with no diagnosis or services.
"None of the teachers or kids at school even know about Alex's prior autism diagnosis," says his mom. "The early therapies really helped him. Though not every child is the same, there are always things you can do to help. I want other parents to know not to lose hope."
Read the Entire Issue of Imagine Winter 2014
View the digital version from your desktop, tablet or smartphone, or download to read this issue at a later time.
Support CHLA
If you Live L.A., Give L.A. Every dollar of your gift will help provide world-class care for every child that comes through our doors -- kids like Alex. Visit CHLA.org/GiveLA.