Imagine - One Step at a Time
Against all odds, Grant Virgin survived being hit by a car. Now he's taking his life back.
It was a warm September evening, just before 7:30 p.m., when 16-year-old Grant Virgin set out from his Palm Desert home to make the familiar walk to a friend's house.
He never made it. Shortly after he left his home, passing motorists discovered the high school junior lying in the road, alone. Grant had been struck by a car -- the victim of a hit-and-run driver.
He was near death.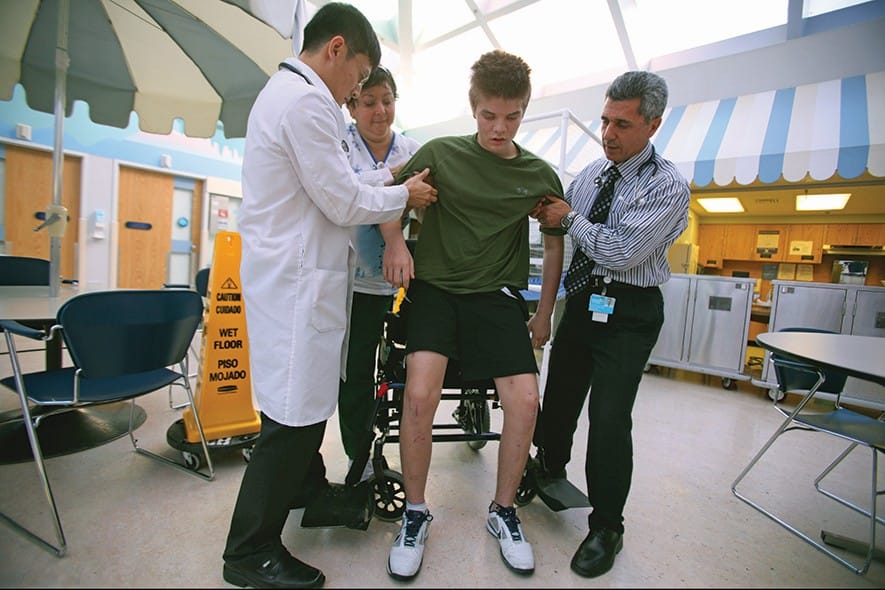 Grant was airlifted to a Los Angeles-area hospital for emergency surgery. His injuries were devastating. The impact had traumatized his brain and plunged him into a deep coma. His aorta, the main artery in the body, was crushed -- an injury few people survive. He had broken bones from head to toe and lacerations to his spleen and liver.
"We didn't know if he would survive the helicopter ride," says his mother, JJ Virgin. "Then they told us he would never wake up."
Still, his family refused to give up hope. And after three weeks in a coma, Grant woke up. Soon after, he spoke his first words. Against all odds, he had survived. But his toughest battle was still ahead.
Grant not only had to relearn fundamental skills like walking and talking, but in the wake of his traumatic brain injury, doctors weren't sure how much of his cognitive function would return.
His parents began searching for the rehabilitation program that would give him the best possible chance to regain the life he'd once had. Nine weeks after the accident, they brought him to Children's Hospital Los Angeles.
A Team Effort
The Acute Rehabilitation Program at Children's Hospital provides coordinated, interdisciplinary care for children and adolescents with the most complex and serious illnesses and injuries, including brain injuries, seizure disorders, spinal conditions, fractures, cancers and rheumatologic conditions.
Each aspect of care prepares young patients to return to life outside the hospital, with individualized treatment plans combining medical, nursing and psychosocial care, along with occupational, physical, speech and respiratory therapies.
"We call it interdisciplinary because we all work together for a common goal: the best possible rehabilitation for the patient," says Kevan Craig, DO, head of the Division of Rehabilitation Medicine at Children's Hospital. "It's a complete team effort."
Among the many strengths of the hospital's Acute Rehabilitation Unit is its ability to care for medically complex patients, including patients like Grant recovering from traumatic injuries and cancer patients undergoing chemotherapy.
"Not many rehab units in the country can care for kids as sick as the ones we care for," explains Phan Dang, RN, manager of the Acute Rehabilitation Unit. "That's the beauty of our unit. We're able to bring kids here much sooner so they can begin the intense rehabilitation they need."
Because of the unit's extensive capabilities, the number of patients it serves has nearly tripled over the past decade. To accommodate that increased demand, Children's Hospital is building a new, larger center, to be called the Margie and Robert E. Petersen Foundation Rehabilitation Center honoring Bobby and Richie Petersen, on the sixth floor of the Mary Duque Building.
The Margie and Robert E. Petersen Foundation Rehabilitation Center, set to open in October, will house 22 beds -- 16 of them in private rooms -- with more spacious and comfortable accommodations for patients and families. The new space will also feature larger, more modern therapy areas and new, state-of-the-art equipment.
Learning to Live Again
When Grant arrived at the Acute Rehabilitation Unit, he was in a wheelchair, and his vocabulary consisted mostly of "let's go" and "no." Most concerning, he had little short-term memory or cognitive understanding.
"He was awake enough to know that he wasn't at home, but he didn't know why," his mother says. "He didn't understand who he was, where he was, what had happened to him. It was a really tough time."
Therapy on the unit is intense for every patient -- three hours a day, six days a week, for an average of four to six weeks. Grant's stay was expected to be several months. Day by painstaking day, the rehabilitation team went to work helping him regain his memory, his cognition and his ability to do countless essential tasks: from walking and talking to tying his shoes and brushing his teeth.
"The team found more innovative ways to help him than I could ever imagine," says Grant's father, John Virgin. "They're just absolutely dedicated to their work."
That work was made especially challenging because Grant was prone to sudden, violent outbursts, common in patients recovering from a severe traumatic brain injury. But at 6 feet tall and 200 pounds, Grant could be dangerous.
To keep the teen and everyone around him safe, the staff employed seamless communication and teamwork, and expert medical care. In addition, a security guard was stationed outside his room, and Grant's hospital bed had a tent cover that could be zipped up to protect him and the staff during an outburst.
His parents took turns being at his side during his entire hospital stay. The rehab team also worked with them to support their wishes to supplement Grant's care with a range of alternative therapies, including high doses of fish oil. John is a tennis coach and JJ is a celebrity nutrition and fitness expert and author, as well as former co-host of "Freaky Eaters" on the TLC television network.
"Rehab is family-centered care," Craig says. "We engage the families as much as the patient. They're part of the health care team and are absolutely central to their child's recovery."
Going Home
At the end of January 2013, after just two months at Children's Hospital, Grant went home.
He was now walking and had regained 50 percent of his speech abilities. His cognitive skills, while not completely recovered, had greatly improved. He could eat, dress, shower, and throw and catch a ball. His violent outbursts had subsided and were under control.
The day he left, he hugged his nurses and therapists.
"He was a different kid than when he came," Dang says. "That's what is so rewarding about working on this unit. Every day you have a chance to make a dramatic difference in a young person's life." 
Grant has continued his intense rehabilitative therapy at home in Palm Desert, and he continues to make major strides. Now 17, he's taking classes at home with a teacher and heads to school daily to see his friends. His speech is about 85 percent restored. He works out and even does 220-yard sprints on the soccer field.
"We've got a happy, healthy, strong, good-looking kid who needs a haircut!" says his dad with a laugh.
Over the holidays, Grant and his family returned to the Acute Rehabilitation Unit to say thank you -- and deliver toys and gifts to the patients.
"I wanted to do something to help others," Grant explains, "and to just show the kids that it takes time, but you will get better."