How Dogs Help
Dog Therapy Program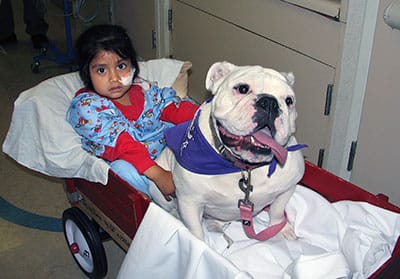 Therapy dogs at Children's Hospital Los Angeles help patients through animal-assisted therapy and animal-assisted activities.
Through animal-assisted therapy, dogs take an active part in patient treatment, where they interact under supervision of a medical professional with a specific therapeutic goal in mind. For example, a patient working on gross motor skills might be tasked with rolling a ball back and forth with a dog. 
Through animal-assisted activities, visits are not guided by health care providers and there is no specific treatment goal. Rather, these visits offer enjoyment, distraction and companionship.
Studies show that both types of visits can have a powerful and positive effect. Research shows that therapy dogs can lower blood pressure, decrease levels of stress hormones epinephrine and norepinephrine, calm heart and respiratory rates and increase mood-boosting endorphin, among other beneficial outcomes. 
A dog visit can also have a profound effect on a patient's experience of pain, with patients frequently lowering their pain rating up to four points on a 0-10 scale after just a few minutes with a dog.
Program Staff
Kate Buhrmaster
Coordinator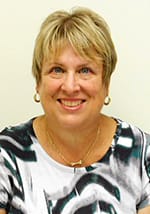 Dianne Lahti
Coordinator