Gayathri Sellakumar Jith, MPH, FACHE
Senior Vice President and Chief Administrative Officer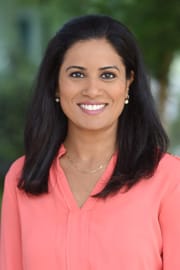 Gayathri Sellakumar Jith, MPH, FACHE, joined Children's Hospital Los Angeles as senior vice president and chief administrative officer in June 2016.
Gayathri oversees the departments of Information Services, Construction, Facilities, Support Services and the institution's clinical service lines, including Cancer and Blood Diseases, Heart Institute, Neurosciences and Orthopaedics. She is responsible for leading growth and performance improvement while ensuring the highest quality of care and expanding market share.
Gayathri has more than 15 years of experience as a senior leader of health care institutions, including pediatric academic medical centers, nonprofit hospitals, medical groups and research institutions. Her expertise spans strategy, business development, operations, compliance, physician services, access, revenue cycle, facilities and support services.
Prior to joining CHLA, she served as senior vice president of Strategy, Business Development and Ambulatory Services at Valley Presbyterian Hospital where she led health care reform efforts, oversaw the hospital's strategic direction, physician network development, clinical service lines, grant programs, marketing and communications and ambulatory clinics. During her tenure at Valley Presbyterian, she also served as the vice president of Operations and senior vice president of Strategy and Operations where she led the organization's seismic compliance efforts and oversaw clinical, support and ancillary services.
Prior to her work at Valley Presbyterian, she served at CHLA as the administrative director for the department of Anesthesiology, Critical Care Medicine and Imaging Services, where she expanded and enhanced the department's operations, expanded into new service areas, and refined revenue streams to support the clinical, academic and research mission.
Gayathri was honored as a Thomas C. Dolan Executive Diversity Program Scholar and was named as the San Fernando Business Journal's Top "40 under 40." Gayathri obtained a Master of Public Health degree from the University of California, Los Angeles, and a Bachelor of Science degree in Biochemistry and Cell Biology from the University of California, San Diego. She is a fellow of the American College of Healthcare Executives.