Game Boy
Physician Todd Chang is using serious gaming as a tool to train young doctors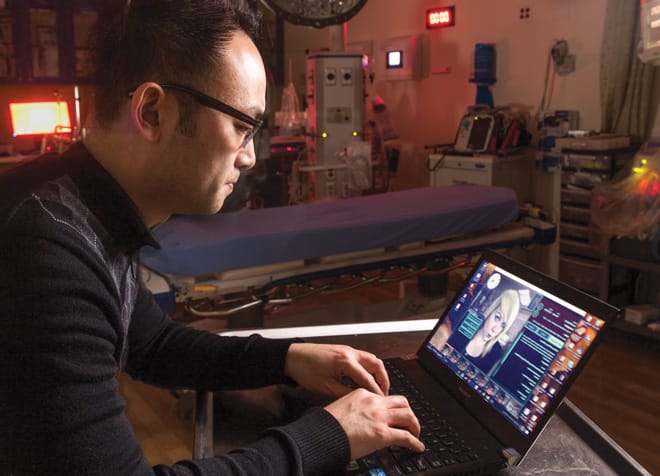 Todd Chang, MD
Activity in the emergency department (ED) in a pediatric hospital is fast-paced, and the most precious resource is time. With more than 80,000 patients to attend to every year for trauma, rare diseases and complex conditions, physicians and residents at Children's Hospital Los Angeles have to manage resources accurately and efficiently.
Residents rotating into a pediatric ED can have difficulty adjusting to the sharp difference in tempo, after training in departments that function at a steady pace, enabling watchful observation and measured assessment. In an instant, Todd Chang, MD, an attending physician in the Emergency Department at CHLA, can spot a novice resident in the midst of seasoned emergency physicians. Because teaching and assessing patient care one patient at a time is the current norm in medical education, students often graduate with inadequate experience in providing care to multiple patients at the same time, while prioritizing resources in a crowded ED. "The transition to a busy ward, clinic or operating room requires a critical set of management skills that is not taught in medical school," says Chang, who is also associate professor of Clinical Pediatrics at the Keck School of Medicine of the University of Southern California. "Additional training is needed to help residents feel ready for the emergency room setting and to perform time-sensitive, multipatient care." Chang works with medical students, residents and fellows every day, utilizing the most current educational technologies and techniques, including distance learning and e-learning. His expertise has earned him the role of director of technology within the International Network for Simulation-based Pediatric Innovation, Research, & Education (INSPIRE).
Combining a passion for game design and resource management, he set out to develop a game with the goal of teaching and assessing cost- and time-effective patient care using serious gaming strategies. "I've always liked video games, but the type I particularly enjoy are called 'resource management games,'" Chang says. "Farmville is an example, where you manage certain types of resources including your time; performance and scores are based on how well you manage the resources to accomplish whatever goal the game provides."
Whether asking players to build cities, create a civilization or run a restaurant, resource management games can be extremely realistic. Entire worlds can be created, with every layer of reality familiar to that setting. This burgeoning field, known as "serious gaming," allows players to build certain skills in addition to having fun.
"A few years ago," Chang says, "I came across a superhero game online where you could pick a hero based on his or her superpower. Some were traditional superhero-type powers, but others were very subtle. For example, there was one character who could instantly heal certain injuries, but not others. So when faced with a dilemma where several people are hurt, the player had to decide which superhero to send to which person, depending on their injuries. I found this very interesting. It was literally a resource management game, but with superheroes wearing spandex costumes." Chang immediately saw the analogy to medicine.
"I imagined each of us working in our ED. Currently, there are about 17 full-time faculty and I knew exactly which superpower each one of us would have. Originally, I wondered if we could make a video game of just us."
In this whimsical idea Chang saw the potential for a unique training tool. He set out to develop and validate a serious game platform using a virtual pediatric emergency department to assess and improve multipatient care skills for residents rotating through the department.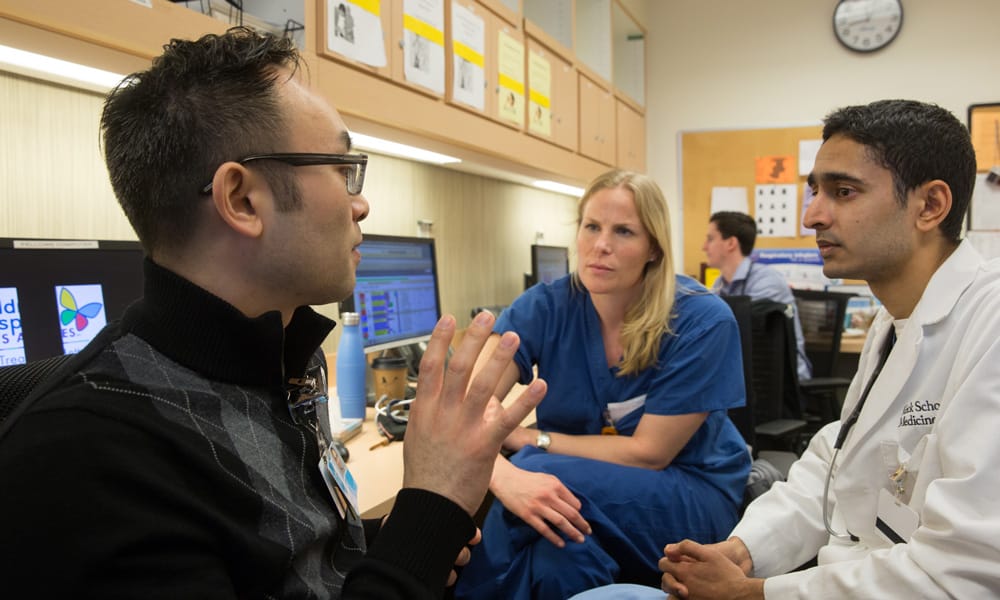 ---
"Additional training is needed to help residents feel ready for the emergency room setting and to perform time-sensitive, multipatient care." – Todd Chang, MD
---
This year, the Stemmler Fund of the National Board of Medical Examiners awarded Chang a multiyear grant to develop his game, called VitalSigns. Using best practices in game development, the game is being designed to encourage repeated use and practice that may improve multipatient management in the hospital.
"The fund allows us to study real patient management and correlate it with in-game patient management. It's our hope that we can use the game both as an assessment tool and as a training tool, since we will be using actual patient metrics within the game to maximize fidelity," explains Chang. Initially, 16 separate medical emergency scenarios will be developed with variations in the patients' age, appearance and gender for a total of four permutations per case. This provides a total of 64 distinct cases. Ultimately, the game will provide three to five cases per gameplay, lasting 15 minutes per session. Each scenario will include graded levels of difficulty, emphasizing clinical decision-making, efficiency and multitasking abilities. The incremental levels of difficulty will provide challenging motivation to improve management skills and the ability to deliver multipatient care while prioritizing tasks within a given timeframe.
"In the ED, you can't simply see patients in the order that they arrive. Some of them are sicker than others and you have to figure out who needs to be seen first," says Chang.
Time is precious in pediatric emergency medicine. With specialized training tools like VitalSigns, Chang and his team are making sure that doctors can maximize their impact in order to make every moment count.