FUNDING FOR RESEARCH

By Ellin Kavanagh
Leveraging thousands into millions
Whether through philanthropy or government grants, the right investment—made at the right time—can have a tremendous impact on research. Although funding a research program generally requires millions of dollars, smaller amounts of money can be used strategically to fill a gap or initiate a new project. Data generated from these research activities can then be leveraged to apply for significant National Institutes of Health (NIH) grants or to solicit larger philanthropic investments.
"You can draw a line from that original gift to where we are today."

– Thomas Coates, MD
Leveraging $25,000 into $15 million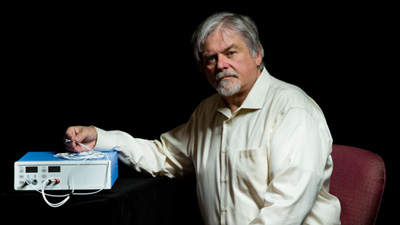 Coates with the laser Doppler flow meter
For Thomas Coates, MD, it started with a good idea. Coates treats patients with sickle cell disease. To develop new ways to help patients manage their condition, he needed to know what was happening in their smallest blood vessels—the areas where the characteristic crescent-shaped red blood cells cause obstructions. Nearly 20 years ago, there was no way to observe blood flow at that level.
That's where the good idea came in. Coates knew of a device called a laser Doppler flow meter, which was used in other applications to measure how fast particles were moving. He and his colleagues reasoned that a low-power laser could "see" beneath the skin well enough to measure the flow of red blood cells traveling through the capillaries. All he needed was the Doppler to test his hypothesis, but its $25,000 price tag put the essential piece of equipment out of reach.
Fortunately, private philanthropist Genevieve Atoll stepped in and gifted the full amount. "You can draw a line from that original gift to where we are today," says Coates, section head of Hematology in the Children's Center for Cancer and Blood Diseases at Children's Hospital Los Angeles.
Today, he heads an investigation into the basic biology of sickle cell disease that is funded by a $9.5 million grant from the NIH. In fact, since purchasing the device that enabled Coates' lab to advance the knowledge of blood flow and vessel reactivity, the lab has continuously been awarded prestigious NIH funding, totaling more than $15 million.
"It represents a significant return on Mrs. Atoll's generous investment," says Coates.
He and his team discovered that when patients with sickle cell disease sigh, their blood flow drops and their vessels constrict—conditions that leave them vulnerable to sickle vaso-occlusion, strokes and extraordinary pain. All because of a simple sigh—something the average person does many times each day.
Subsequently Coates and his colleagues have identified many other factors that can cause blood vessels to constrict, including stress. They are investigating techniques to minimize a patient's stress, and with that, the incidence of sickle cell events.
"And we're still using the Doppler," Coates adds.
Learn more about sickle cell disease at CHLA.org/SickleCell
"Science changes hearts and minds."

– Johanna Olson-Kennedy, MD
$340,000 helps generate $5.7 million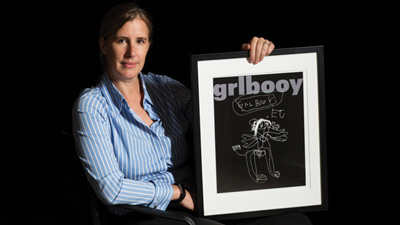 Olson-Kennedy shares a self-portrait created by one of her patients.
According to Johanna Olson-Kennedy, MD, medical director of the Center for Transyouth Health and Development at CHLA, "Early funding jump-started my career as a clinical researcher. I can't remember the amounts, but they weren't huge."
Olson-Kennedy received an intramural award—supported by private philanthropy and other sources—for $160,000 over two years. She used the money to fund the early stages of a cross-sex hormone study.
"I knew that I was onto something important because after six months, a lot of these kids were able to come off psychotropic medication, or they were no longer diagnosed with bipolar disorder or some other significant mental illness," says Olson-Kennedy. "We had begun moving these kids from 'survive' to 'thrive.'"
The information she collected from those first 101 patients had comprised the world's largest database of ethnically diverse transgender youth. Olson-Kennedy used the data to apply for an entry-level NIH award for mentored career development. Again, the amount was not large—$180,000 over two years. The new funding allowed her to continue the study in teenagers and to begin a second study, this time looking at the effect of hormone blockers on adolescents.
Experience with these two studies helped her craft another application to the NIH, for a multisite trial with Boston Children's Hospital, UCSF Benioff Children's Hospital San Francisco and Lurie Children's Hospital of Chicago. In 2015, the group was awarded $5.7 million, and Olson-Kennedy became lead principal investigator of the first NIH-funded study to evaluate the long-term outcomes of medical treatment for transgender youth.
"Science changes hearts and minds," says Olson-Kennedy. Even if you're not a millionaire, that's a worthwhile investment.
Read more about transgender medicine at CHLA.org/TRANSGENDER
"It doesn't always take a lot of money—just the right amount, right when you need it."

– Sonia Michail, MD
Turning $5,000 into $2.3 million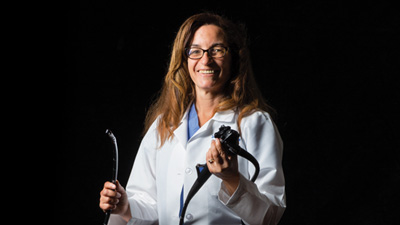 Michail holds a colonoscope, used to diagnose intestinal disorders.
For Sonia Michail, MD, a pediatric gastroenterologist at CHLA, the magic number was $5,000. That's what she needed to begin treating patients with intestinal disorders who were immunosuppressed and no longer responding to conventional treatment. Her patients were suffering from ulcerative colitis, Crohn's disease and Clostridium difficile infection—all diseases resulting from an imbalance between good and harmful bacteria in the gut.
At the time, she had been reading case reports about a procedure called a fecal microbial transplant, or FMT. Patients who had exhausted all other options were not just improving a little—they were being cured. Michail's previous research had focused on the gut bacteria of children with intestinal disorders and how it affects their response to treatment. FMT was a logical next step.
After developing a process for preparing and delivering the transplant, Michail encountered a hurdle with the Food and Drug Administration. Before she could begin investigating FMT to treat patients, she needed to hire a regulatory expert at a cost of $5,000.
Michail spoke with the Higgins Family Foundation, which she had worked with previously. Fortunately, the foundation supplied the necessary funding.
Treatment outcomes from her initial patients led Michail to consider initiating a clinical trial. Using the pilot data, she applied for an NIH grant to study FMT in patients with ulcerative colitis. In 2015 she was awarded $2.3 million to fund the study.
The Higgins Family Foundation has also agreed to provide financial support for an FMT trial in patients with Crohn's disease.
"That initial $5,000 is going to help change the lives of a lot of kids," says Michail. "It doesn't always take a lot of money—just the right amount, right when you need it."

Learn more about fecal transplants at CHLA.org/FMT