FloSheet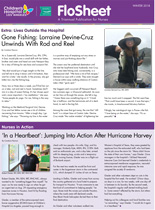 Extra: Lives Outside the Hospital - Gone Fishing: Lorraine Devine-Cruz Unwinds With Rod and Reel
Nurses in Action - 'In a Heartbeat': Jumping Into Action After Hurricane Harvey
From Reindogs to Red Pajamas: Nurses help bring comfort and cheer during the holidays at CHLA
A Conversation With... - John Hulse, RN, Emergency Department and Trauma Center
FloSheet Chronicles
Voice of the Profession - Nancy Lee, MSN, RN, NEA-BC, Senior Vice President and Chief Clinical Officer
Children's Hospital Originals - Preparing for the Worst
Bedside's Best - Relationships Are Key to Longevity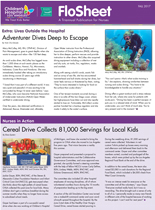 Extra: Lives Outside the Hospital - Adventurer Dives Deep to Escape
Nurses in Action - Cereal Drive Collects 81,000 Servings for Local Kids
It's a Marathon: Four nurses halfway to earning their doctorates represent a growing trend in nursing
A Conversation With... - Julie Hines, RN, PACU
FloSheet Chronicles
Voice of the Profession - Nancy Lee, MSN, RN, NEA-BC, Senior Vice President and Chief Clinical Officer
Children's Hospital Originals - A Bridge to Adult Health Care
Bedside's Best - As a Patient, She Found Her Calling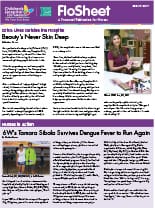 Extra: Lives Outside the Hospital - Beauty's Never Skin Deep
Nurses in Action - 6W's Tamara Sibala Survives Dengue Fever to Run Again
Enhancing Mindfulness on the Job
A Conversation With... - Fran Blayney, RN, Clinical Educator
FloSheet Chronicles
Voice of the Profession - Nancy Lee, RN, MSN, NEA-BC, Senior Vice President and Chief Clinical Officer
Children's Hospital Originals - Making Families Central to the Conversation
Bedside's Best - DeRynn Thompson Embraces Change in Her Nursing Practice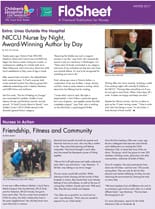 Extra: Lives Outside the Hospital - NICCU Nurse by Night, Award-Winning Author by Day
Nurses in Action - Friendship, Fitness and Community
A Different Way of Caring: Nurses across CHLA are expanding the definition of nursing as they take on atypical jobs.
A Conversation With... - Bobby Hett, BSN, RN, Unit Lead NICCU
FloSheet Chronicles
Voice of the Profession - Nancy Lee, RN, MSN, NEA-BC, Senior Vice President and Chief Clinical Officer
Children's Hospital Originals - Transforming Lives for Transgender Youth
Bedside's Best - Pain, Pain, Go Away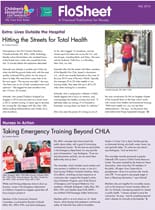 Extra: Lives Outside the Hospital - Hitting the Streets for Total Health
Nurses in Action - Taking Emergency Training Beyond CHLA
A Passion for Transforming Lives Around the Globe
A Conversation With... - Margaux Chan, RN, BSN (Magnet Program Manager)
FloSheet Chronicles
Voice of the Profession
Children's Hospital Originals - Celebrating a 40-Year Legacy
Bedside's Best - Sheila Kun: Explorer at Heart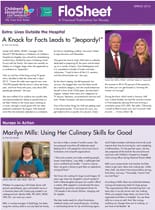 Extra: Lives Outside the Hospital - A Knack for Facts Leads to "Jeopardy!"
Nurses in Action - Marilyn Mills: Using Her Culinary Skills for Good
On the Move - Embracing the Call to Fitness With a Sense of Play and Purpose
A Conversation With... - Debbie Jury, NP (Pain Service)
FloSheet Chronicles
Voice of the Profession
Children's Hospital Originals - Longtime Bonds Help Nurses Advance Their Education
Bedside's Best - Serving the NICCU With Heart and Soul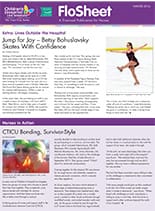 Extra: Lives Outside the Hospital - Jump for Joy - Besty Bohuslavsky Skates With Confidence
Nurses in Action - CTICU Bonding, Survivor-Style
Sharing Knowledge, Touching Lives Around the World
Paul Viviano's Commitment to Nursing Research
FloSheet Chronicles
Voice of the Profession
Children's Hospitals Originals - 6 West Doubles the Mentoring
Bedside's Best - Schedule Mastermind Arlene Deseo Keeps MDA Neuromuscular Clinic Running Smoothly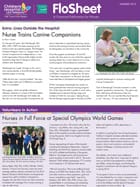 Extra: Lives Outside the Hospital - Nurse Trains Canine Companions
Volunteers in Action - Nurses in Full Force at Special Olympics World Games
Think Before You Eat - Nurses are practicing mindful eating as part of their own personal wellness plans
Nurses Train With New Robot
FloSheet Chronicles
Voice of the Profession
Children's Hospital Originals - The Rehab Unit's New Home Matches Its Exceptional Care
Bedside's Best - Compassionate Care for Brain and Spinal Cord Patients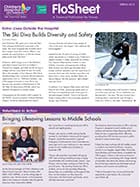 Extra - The Ski Diva Builds Diversity and Safety
Bringing Lifesaving Lessons to Middle Schools
'Groundbreaking' Institute Puts Spotlight on Nurses
Nurses Helping Nurses
Flerida Imperial-Perez Keeps Her Eye on Safety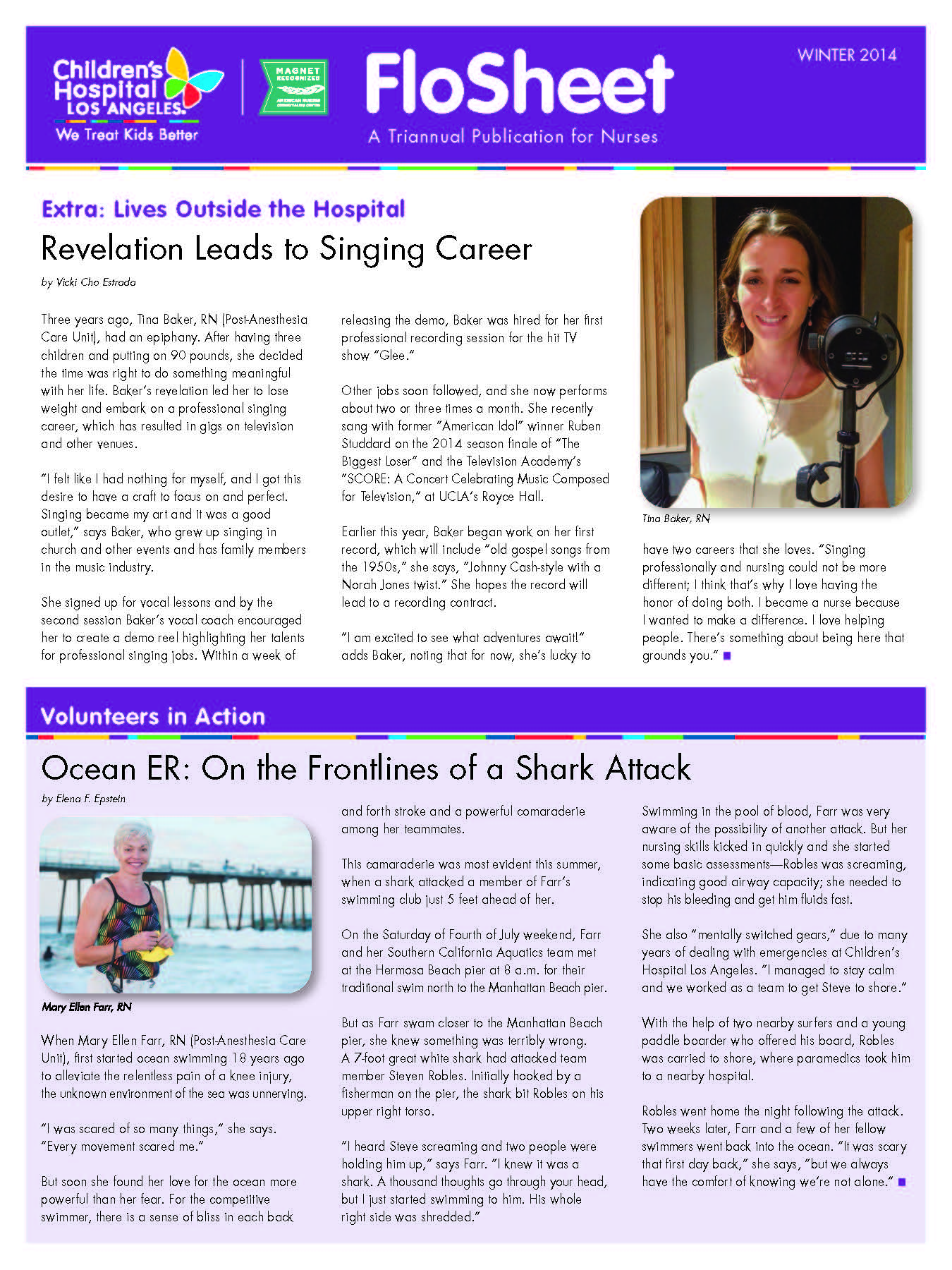 Extra - Lives Outside the Hospital
Volunteers in Action - Ocean ER: On the Frontlines of a Shark Attack
Double Take - For Parents of Multiples, Seeing Two Beating Hearts on the Ultrasound Is Just the Start of a Great Adventure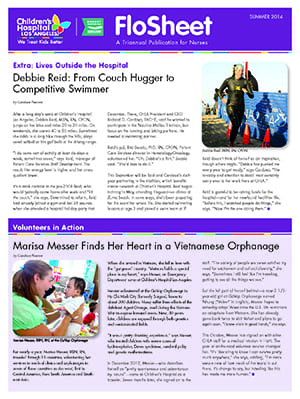 Extra - From Couch Hugger to Competitive Swimmer
Volunteers in Action - Marisa Messer Finds Her Heart in Vietnam
Children's Hospital Originals - No-Risk Simulation Training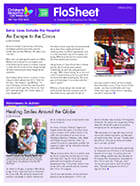 Extra - An Escape to the Circus
Volunteers in Action - Healing Smiles Around the Globe
Children's Hospital Originals - Building Future Leaders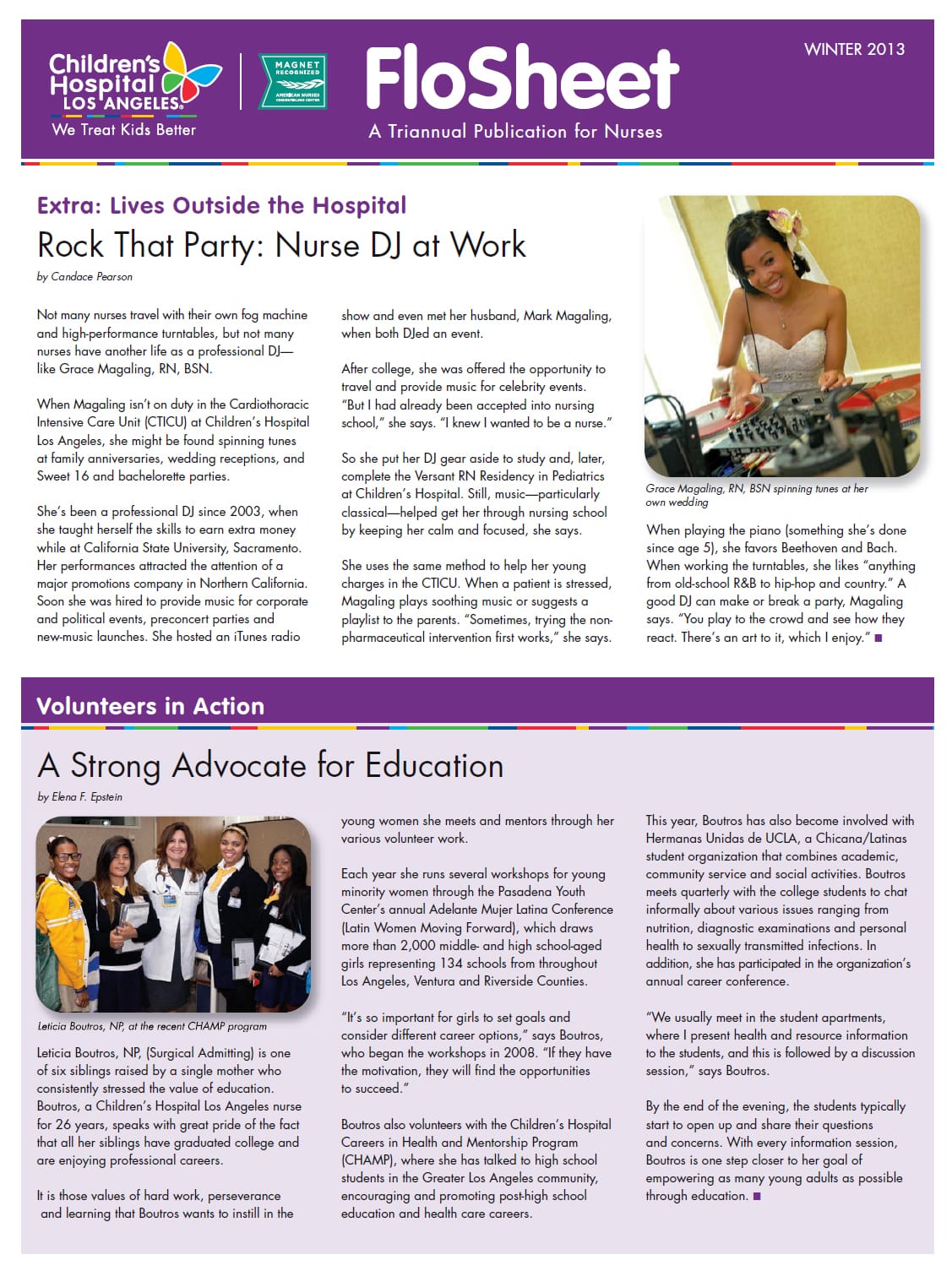 Extra: Lives Outside the Hospital - Nurse DJ at Work
Volunteers in Action - Strong Advocate for Education
Children's Hospital Originals - Beads of Courage: The Color of Resilience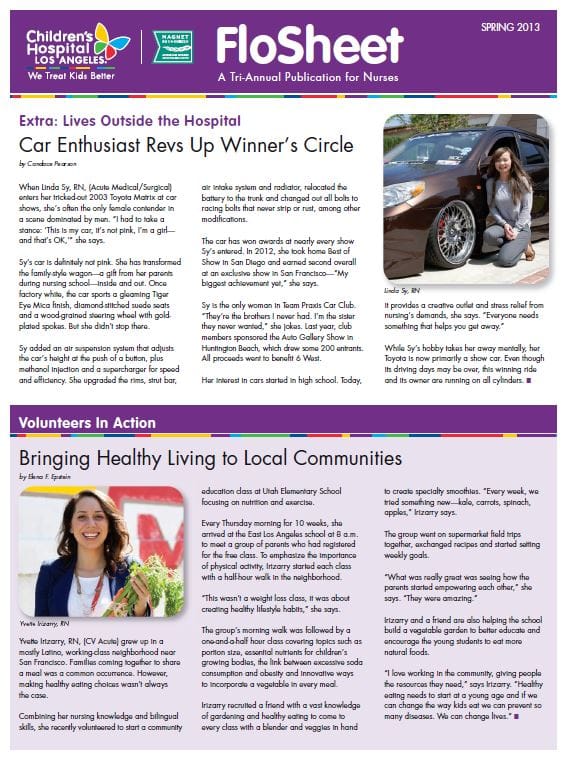 Extra-CHLA: Lives Outside the Hospital
Volunteers in Action
Healing Vulnerable Children with Care, Compassion
Getting to Know CV Acute
Voice of the Profession
Extra-CHLA: Lives Outside the Hospital: A Taste of Billboard Fame
Volunteers in Action: Planting the Seeds of Hope
Inside the Anderson Pavillion: Nurses Adjust to New, Larger Environment While Providing State-of-the-Art Patient Care
Bedside's Best: Code Urgent: Improving Emergency Outcomes for Kids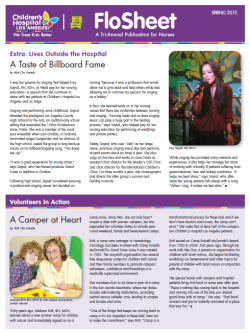 Extra-CHLA: Lives Outside the Hospital: A Taste of Billboard Fame
Volunteers in Action: Planting the Seeds of Hope
Inside the Anderson Pavillion: Nurses Adjust to New, Larger Environment While Providing State-of-the-Art Patient Care
Bedside's Best: Infection Control Detective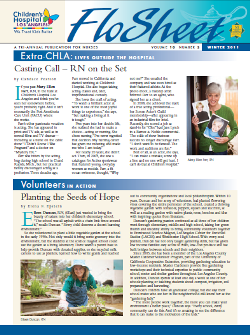 Extra-CHLA: Casting Call - RN on the Set
Volunteers in Action: Planting the Seeds of Hope
Nurses Adjust to New, Larger Environment
Bedside's Best: Infection Control Detective

Extra-CHLA: Taking Marathons to the Next Level
Volunteers in Action: Making Dreams Come True for Campers
As Patients Nurses See the World Through New Eyes
Bedside's Best: Preparing for the Move to the Anderson Pavillion

Extra-CHLA: On the Fast Track
Volunteers in Action: A World of Caring
Nurse Practitioners Create a Bridge Between Physicians and Nurses
Bedside's Best: Leader, Mentor, Researcher

Extra-CHLA: Feeling the Salsa Energy
Volunteers in Action: BMT Nurse Rides the Trail
You Can Go Home Again
Bedside's Best: Creating a Smooth Transition for Patients Going Home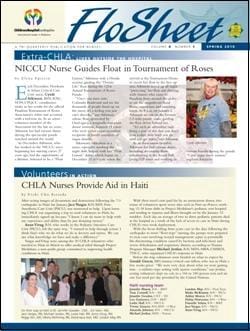 Extra-CHLA: Lives Outside the Hospital
NICCU Nurse Guides Float in Tournament of Roses
Volunteers in Action: CHLA Nurses Provide Aid in Haiti
"DR. RN" - On the Track of the Ultimate Academic Degree
Bedside's Best: It's Official: PICU is Among the Best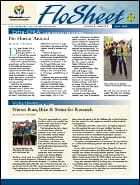 Extra-CHLA: Diane Grade, RN, and her daughter help young people learn horse handling skills through participation in the California Rangers.
Volunteers in Action: Nurses run, bike and swim for research
Air Traffic Controllers Keep CHLA Running
Each of our ten house supervisors are responsible for handling the traffic of patients in our hospital.
Bedside's Best: Kathryn Smith, RN, MN, manages the Autism Warm Line in the Boone Fetter Clinic.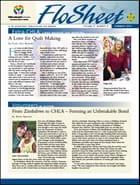 Extra-CHLA: Peggy Hoyt, RN, BSN, MHA, is putting her love for quilt making to work for the New Hospital's Building's Neonatal and Infant Critical Care Unit.
Volunteers in Action: Susan Cline, RNC, MSN, MBA hosted Maka Chawoneka from Harere Zimbabwe while she received care from our Division of Maxillofacial and Plastic Surgery.
Making the Pain Go Away: Nurses, Deborah Jury, RN and Meghan Middleton, RN use a variety of ways to treat pain in children.
Getting Strength from Her Patients: Irene Ramos Klecha, RN, MSN, sometimes has to bear the most difficult news to expectant mothers.
Sharing a Commitment to Help Others: Three nurses form the PICU's Social Morale Committee help the hospital's High-Risk Youth Program.
Noche de Niños Honors Our Veteran Nurses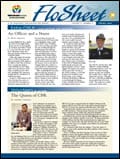 Extra-CHLA: Joan Clark, RN, is a nurse and an officer, providing care on our Newborn and Infant Critical Care Unit and serving as a Reserve Officer of the Navy
Volunteers in Action: Denise Henry, RN, MSN, is the hospital's "Queen of CPR"
Balance: Nurses Share How They Balance Work and Family
Bedside's Best: Neuro-oncology Nurse, Barbara Britt, Finds a Cure in Caring
CHLA Originals: RN Residency Program Celebrates 10 Years and Graduates a New Fellow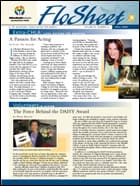 CHLA Extra: Bonnie Brennan, RN, BSN, a nurse with a passion for acting
Volunteers in Action: Marion Antoku, RN is the force behind the DAISY Award
A World Perspective: Our nurses' multicultural background helps families heal in comfort
Bedside's Best: Educating Emergency Department Nurses
Bridge to Nursing Program
Children's Hospital Los Angeles nurses participate in Nautica Malibu Triathlon to raise funds for pediatric cancer research at our hospital.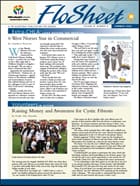 6 West nurses star in television commercial for Gold Bond Ultimate Healing Lotion
Volunteers in Action: 5 East Nurses - Raising Money and Awareness for Cystic Fibrosis
Learning the CHLA Way: Student Nurses Gain Invaluable Experience During Their Pediatric Rotation
Bedside's Best: Playing to an Audience, One Kid at a Time
CHLA Originals: Guardians in the Operating Room
Recognition of Compassion and Dedication
FloSheet Chronicles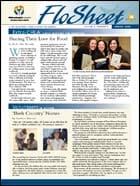 Extra-CHLA: Nurses of 5 East and Neonatal and Infant Critical Care Unit create second cookbook
Volunteers in Action: Suzanne Taylor and Lisa Hatter call their experience providing care in Africa "life-changing"
It's All Relative: Family members enjoy each other's company on and off the job
Bedside's Best: Profile of Neonatal and Infant Critical Care Unit nurse
Voice of the Profession: Message from Chief of Nursing
CHLA Originals: Director of Family-Centered Care
FloSheet Chronicles
Announcement of Magnet Recognition for hospital's nurses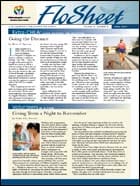 Focus on physical fitness
Renal Teen Prom
Hospital passes major Magnet Milestone
Nurse develops support group for tracheostomy patients and families
Nursing Excellence award received by hospital employee
Spotlight on two-decade nursing veteran
Nurse wins Telly Award
Combining a career in nursing with a career in spiritual care for others
"Love through the Lens" - photography of our nurses caring for children
Nurses bond with patients
Education for patients with diabetes
Making the move "west" to work at Children's Hospital Los Angeles
Nurse attends traveling seminar in China
Educating the community about HIV/AIDS
Providing scoliosis screenings
Teen drinking and driving awareness
Sickle-cell educators
Wound management expert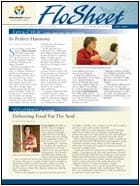 Singing from the heart
Volunteer for Project Angel Food
Caregivers instrumental in separation of conjoined twins
Highest Hematology/Oncology nurse ranking claimed by one of our own
CAMP CHLA - Nursing field exposure for high school students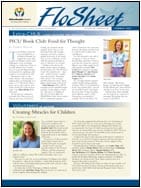 Pediatric Intensive Care Unit book club
Nurse joins medical mission in Amazon
Nurses presenting nationally
Nurse returns to Neonatal Intensive Care Unit after 12-year absence
Nurse adopts "medically fragile" children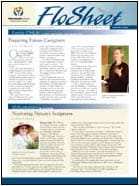 Preparing future caregivers
Volunteering for Huntington Gardens
Magnet Recognition program preparation becomes journey of enlightenment
Leader in congenital heart disease
Reconstructing dreams, supportive organization for children with cleft lip palate and other facial deformities
Fifth Annual Nurse essay contest
Country dancing helps nurse recuperate from a bicycling accident
Providing care for Katrina victims
Planning for disaster
Decreasing bloodstream infections
Working on clinical trials for CLOLAR to help leukemia / lymphoma patients
Mastering sign language
Volunteering for Children's Day in Little Tokyo
Star selected for LA Nurses , unscripted documentary following lives of nurses
Spotlight on CTICU role model
Focus on two-decade veteran of the CNICC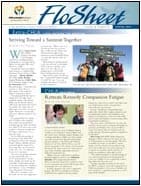 Caregiver makes African trek
Retreats remedy caregiver fatigue
RN Residency in Pediatrics sustains new nurses
Teaching patients about advocacy
Nurse cares for fellow passengers after Metro commuter train accident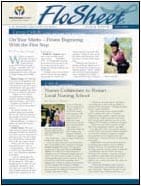 Mountain biking for fitness
Nurses collaborate to restart nursing school
Patient safety first with new KIDS data system
CTICU honored for exemplary patient safety improvements
Operating room caregivers perform surgeries for children in Vietnam
Professional ladder for nurses
Scrapbooking as a tonic
Telemedicine program serves are PICUs
Garden reveals first view of the New Hospital Building
Caregiver is portrait in humanism
Nurse essay contest winners
Grass roots injury prevention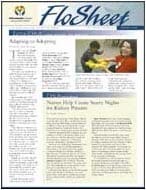 Nurse adapts to adopting
Rental Teen Prom
Focus on neonatal nursing
Jack-of-all-Trades caregiver
Donating hair to the Locks of Love program to benefit cancer patients
Benefits for nurses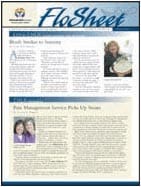 Painting - hobby that brings serenity
Pain management services benefits from nursing staff
Focus on pediatric nurse practitioners
Spotlight on 33-year veteran nurse
Hillary Clinton gives keynote address for opening of The Saban Research Institute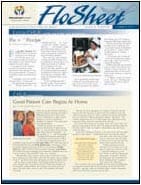 Passion for the culinary arts helps destress
Good patient care begins at home
Elite ECMO nursing core leads the field
A patient of the hospital becomes a nurse
Bone marrow transplant coordinator volunteers throughout the world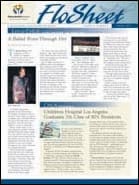 Nurse gives vocal performances
CHLA graduates 7th class of RN Residents
Anne Wilson Endowment for Nursing Excellence
Nurse essay contest
Focus on Orthopaedic Nurse
In service in Sinaloa
Nurse Benefits
Market adjustments made for nursing salaries