Fetal-Maternal Center Patient Guide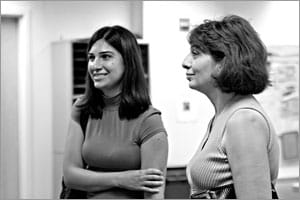 Becoming a Patient
You can become a patient of the Fetal-Maternal Center whether or not you are referred to us by a physician. Most new patients are seen at our hospital when routine tests have indicated a possible problem with their unborn baby.
We understand that this is a challenging and stressful time for you and your family. We are committed to providing compassionate support and the best medical care. We will do all we can to assist you and your family during this difficult time.
Step One: Contact our Nurse Manager
The first steps to become a patient involve gathering information. Most of this will be done by the staff and will not require any involvement from the patient. Please be aware that there is a process involved, however, and the first steps can take several days. One of the steps includes obtaining permission or authorization for the provision of care from the various insurance carriers.
When you call us, our Nurse Care Manager will ask you about your baby's:
Condition
Estimated due date
Insurance information
Referring physician
Studies performed
Treatments received
We will then schedule an appointment and request that you or your doctor send your medical information to us for review. If you are traveling to Los Angeles, we will provide a list of available accommodations and, if necessary, help you make arrangements.
Second Step: Initial Visit to the Center
Your initial visit will involve diagnostic testing and evaluation with our team. We understand that you may feel anxious while you are visiting us and you are welcome to bring a family member or a friend to accompany you.
What can I expect during the visit?
The first visit will be arranged with you as part of the first steps. Please plan to arrive 15 minutes earlier than the scheduled appointment in order to allow sufficient time to fill out the new patient paperwork. Please bring a copy of insurance information.
You will be greeted by a Nurse Care Manager who will meet with you and guide you through the process.
You will be seen by one of our perinatologists and other specialists as required.
Your evaluation may involve a number of different tests and consultations with our team members including a specialized ultrasound, fetal echocardiogram, amniocentesis and fetal MRI.
Our Nurse Care Manager will coordinate these appointments for you.
About the Ultrasound Test
A great deal can be seen by specialized ultrasound when performed by an experienced perinatologist. In addition to ultrasound, there are other types of diagnostic testing and imaging that can help the team to better visualize, measure and evaluate certain conditions. Further diagnostic testing may be ordered, such as a fetal echocardiogram or a fetal MRI, to assist the team in gathering as much information as possible.
The care manager will arrange and explain these and any other tests that may be needed. Upon arrival for the ultrasound, the clinical assistant may weigh you, check your blood pressure and escort you into a room, where you will be asked to lie down on the examination table.
The first ultrasound can take up to an hour, so please plan to make yourself as comfortable as you can. Use the restroom beforehand. Let the staff know if you there is anything you need. There is no need to undress, other than to expose the abdomen. You will be given a cover to ensure privacy. In many cases, your care manager will be present before the doctor arrives, in order to introduce herself and spend a few moments getting to know you.
Once the doctor arrives, he will introduce himself and talk with you about the reason for the visit. The lights will be turned off for the ultrasound, as this allows for the capture of the best images. There is a screen visible from the table where you will be able to watch the ultrasound as it occurs.
Once the ultrasound is completed, there may be pictures for you to keep. You will be able to sit up, and either move into the waiting room or directly into the conference room if there are lengthy explanations of findings to discuss. Otherwise, results will be told to you as the ultrasound progresses.
For more information about the tests, visit our Diagnostic Testing page.
Third Step: Making Treatment Decisions
After diagnostic tests and consultations are completed, our team members will meet with you to review the findings and answer your questions. In addition, we will outline your treatment options so that you can make the best decisions for you and your family.
The care manager will be present at all conferences involving the explanation of findings. This will include a plan of care, further testing that might be ordered and any consultation with pediatric specialists that might be required.
A plan will be discussed and developed, often depending upon the decisions a family makes. The care manager will work closely with the family to ensure that all decisions are made with the best understanding of all aspects of the baby's situation as we can achieve.
The care manager and the patient coordinator will assist in arranging and explaining all care needed. The next appointment may be scheduled with one or more pediatric specialists. These are pediatricians associated with Children's Hospital Los Angeles that have American Board of Pediatrics certifications as well as additional training and certification in a specialty field of medicine.
Patients who come to our Division for care typically require care from two or more specialists. These can be a perinatologist and the pediatric specialist who will take care of the baby, once he or she is born. In most cases, there are more than two different doctors involved. The advantage of relying on our Division for care is that we offer all doctors and all services in one location.
If an unborn baby is diagnosed with a heart problem, the care manager will arrange appointments to meet with the physicians who will be caring for the baby, such as pediatric cardiologists, cardiothoracic surgeons and/or fetal cardiologists.
There may also be a meeting with a geneticist to help answer the question every family has: "Why and how did this happen?"
If there are conditions that may require surgery, a meeting with a pediatric surgeon will be arranged.
Every condition has one or more specialized doctors who will provide care. It is important for the family to meet the doctors, understand their particular baby's condition, understand its unique characteristics, and plan for care both during pregnancy and once the baby is born.
Non-Emergency Conditions
In many cases, conditions are seen that may not require immediate care at the time the baby is born, but will need to be watched and managed, to prevent problems from developing. For example, babies with enlargements in a both kidneys, especially if they are boys, should be watched to make sure there are no problems that could cause damage over time. In these cases, the care manager will arrange for the family to meet with a pediatric urologist. He will be present during a next visit with the perinatologist, view the ultrasound at the same time as it is being done, then meet with the family to discuss plans. In many cases, babies with this condition look and act completely normal and healthy. The urologist can tell which might need care and which do not. The family will understand their baby's plan of care, which may include an ultrasound before leaving the hospital after birth, and coming in to the office in the first few weeks of life to discuss the results.
Role of the Care Manager
Learning that your unborn baby may have a problem that requires care and evaluation both during pregnancy and either at the time of delivery, or shortly thereafter, can be overwhelming. Equally overwhelming is the need for additional care, that may involve several different physician specialists, diagnostic tests and the possibility that your unborn baby needs to have special arrangements made for a safe delivery and care at the time of birth.
To assist families with the maze of care, each patient has a dedicated care manager to help them through each step, from the time a diagnosis is made throughout the pregnancy, delivery and transfer to Children's Hospital Los Angeles for neonatal care if necessary. The care manager is the person who will form the links in the chain of each family's care. She will ensure that communication occurs between the IMFH team, the hospitals and the family. The Nurse Care Manager is here to help families through each step of the journey to take care of everything to do with getting the care and support needed, including:
Scheduling appointments
Arranging physician visits
Arranging for tests
Explaining, informing and answering questions
She will provide access to supportive services, education and understanding of the baby's condition, decisions to be made and options in care.
After the first steps in the process have begun, the care manager will contact each patient, usually by phone. You will have an opportunity to discuss the upcoming appointment and ask questions.
Patient Advocacy
Each person who works at the Fetal-Maternal Center is considered a patient advocate, in that each role provides a service to provide either care, support or information for our families. There are times when families have specific needs that may be theirs alone, such as a problem with access to:
Food
Housing
Transportation
Other questions include knowing what to ask the doctors, or how or whether to tell others about the potential problem the unborn baby may have.
We also have a dedicated patient advocate who is available upon request to assist families with issues that may present themselves. This service is also provided free of charge, with an open invitation to all our families. It brings issues and questions, big or small to our on-site patient advocate.
Financial Information
Our hospital accepts many insurance plans. Our financial counselor is available to help you make financial arrangements based on your insurance coverage. To determine your financial obligation for services rendered under your coverage, please contact our main office and ask to speak to a financial counselor.
Insurance Benefits
Please review the terms and conditions of your insurance benefits before you visit us. To ensure that the billing is properly submitted, it is important that you bring your insurance card and valid identification card or driver's license each time you visit our Division for care.
Financial Counseling
If you have questions about your insurance coverage or you need assistance with making financial arrangements, we have a financial counselor available to work with you. Please contact our main office and ask for the financial counselor.
Counseling
Having an unborn baby with a possible problem can be overwhelming in many different ways. In addition to the worry about being provided with all the necessary care, families often experience stress, worry and sadness as well.
The Fetal-Maternal Center is fortunate to share the services of two part time USC Psychologists, who are present during clinical hours on Tuesdays and Thursdays. The supportive services of PhD Psychologists are made possible through the generosity of the Atlas Family Foundation grant; providing care for families prenatally, in the Newborn and Infant Critical Care Unit, and in the High Risk Infant Follow Up program.
Teratogen Counselor
We are fortunate to have an on-site Teratogen Counselor, part of the California Pregnancy Risk Information Service and Clinical Research program. This service is available to everyone, at no charge, accessible through a statewide toll-free number, by email, or by meeting with our counselor in person.
The Teratogen information specialist can provide information for patients, physicians or anyone with questions regarding possible effects on pregnancy, including planning for future pregnancy. Questions and concerns can include anything one has heard or read about affecting pregnancy, such as medications, illnesses, recreational drug use and exposure to environmental agents.
Some commonly asked questions:
How much folic acid should I be taking?
Is it okay to dye my hair?
I'm taking an antidepressant; should I stop?
How much fish is okay to eat?
Can I drink wine or beer with dinner?
Will a drug I took before I knew I was pregnant hurt my baby?
Is it okay to get a flu shot?
This service is confidential and free. Bilingual Spanish-speaking counselors are available. There may be an opportunity to help future pregnant women, by participating in the Patient Follow-Up Program. Participants receive a free specialized pediatric physical exam for their baby, among other services.