Fetal Cardiology Resources for Health Professionals
Most professionals involved with obstetric/fetal sonography agree that the prenatal detection of congenital heart disease represents the most challenging component of fetal sonographic screening.
Based upon input from many obstetric/maternal-fetal-medicine/radiology colleagues, we have chosen to emphasize video clips, rather than still frame images, in this web-based attempt to improve the professional's ability prenatally to recognize normalcy and to detect congenital heart disease.
Some of these clips demonstrate important normal findings, others demonstrate important abnormal findings and still others demonstrate important technical considerations and artifacts.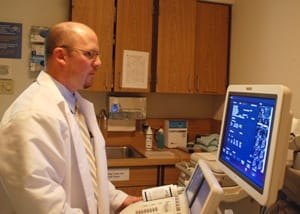 Each clip is paired with a succinct paragraph which highlights the important points to be learned.
This site aims to fill an important void in the training of sonographers and physicians who perform both low- and high-risk obstetric scanning. We welcome your feedback.
Growth of Video Library
We plan to add clips on a quarterly basis, and we hope that professionals from around the world will contribute clips for inclusion in this growing web-based Fetal Cardiology Video Library. 
Encouragement to Share
We encourage you to share the link to this page with with proessionals around the world involved with fetal scanning to encourage input and improvements from institutions around the globe.
Please send your comments to:
Jay Pruetz, M.D. (Email)
Director, Fetal Cardiology Program
Children's Hospital Los Angeles
4650 Sunset Blvd., #34
Los Angeles, CA 90027