EMPOWER Weight Management Clinic
About Our Clinic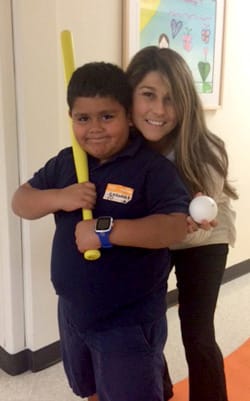 At the EMPOWER Weight Management Clinic (Energy Management for Personalized Weight  Reduction) at Children's Hospital Los Angeles, we believe that all children, adolescents, and young adults have the potential to achieve a healthy weight.  In some cases, though, it requires a personalized approach, and at EMPOWER, a specially-trained, multi-disciplinary team of health care providers delivers that approach to all of our patients. We also believe that involving the entire family in lifestyle change is essential to the behavior change process for individual children, adolescents and young adults, and we design our services to support the entire family. At the EMPOWER Weight Management Clinic, we accept referrals for patients ages 2-17 whose BMI is greater than the 95th percentile, and for patients 18-21 whose BMI is greater than 30 kg/m2.
What to Expect During Your Visit
On your first visit, you will see a dietitian, physician, physical therapist and you may also see a behavioral health specialist; this core team will collaborate to create a customized plan designed to optimize your health and maximize your potential to achieve a healthy weight. This first visit will take up an entire afternoon, so please plan accordingly. Please wear comfortable clothing to your appointment.
In addition to regular follow-up with our team physicians, your treatment plan may include:
Regular visits with the dietitian
A fitness assessment by the physical therapist
A prescription for electronic apps
A Kids N Fitness referral
Medication (not commonly used but a possibility in patients 18 years old and older)
Conditions and Treatment
All of our EMPOWER Weight Management Clinic team physicians are trained in the basic management of medical problems that are commonly associated with obesity, and will include diagnostic evaluations and treatment for these conditions in your overall treatment plan. They include:
Type 2 diabetes mellitus
High blood pressure
High cholesterol
Obesity-related liver disease
When found to have more complex cases of these conditions, patients will have the unique opportunity to be evaluated and treated during their clinic visit by nationally-renowned Children's Hospital Los Angeles specialists from the Divisions of Endocrinology, Adolescent Medicine, and Pulmonology, and to be referred if needed to CHLA Cardiology, Nephrology, and Gastroenterology specialists. Patients with suspected obstructive sleep apnea will be referred for sleep study evaluation; and surgical consultation will also be available by referral for patients who are considered good candidates for bariatric surgery
Kids N Fitness
Services also include the option to participate in Kids N Fitness, Children's Hospital Los Angeles' unique evidence-based, classroom-oriented program for families and kids. Kids N Fitness helps families and kids learn new and different lifestyle choices to improve their nutrition and exercise habits, for an overall goal of improved health and weight.
Referrals
Referrals can be made by primary pediatricians and family doctors. Please have your health care provider complete this form, and please arrive to your first appointment with copies of your lab test results, as indicated on the form.
Patient Agreement Form (Spanish)
Resources