Digital Doctoring: Wearable technology in pediatrics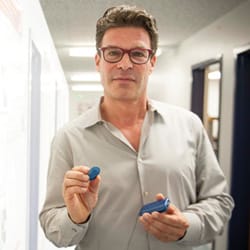 Wearable computers have hit the mainstream, largely on the wrists of gadget enthusiasts and people who want to drop a few pounds. These consumer products are more focused on fitness than health care. Conventional medical applications have tended toward heart monitors, used most often in adults. But that reality is changing.
"We're seeing wearable technology being introduced all over the hospital," says Jessica Rousset, director of the Center for Innovation at Children's Hospital Los Angeles, "for at-home data collection of blood oxygenation, heart rate, respiration and ECGs. Clinicians are also using this technology for sleep studies, obesity intervention and psychosocial applications."
"It's fun," says Jacklyn Hana, mom to 6-yearold Isabella. "And for kids, it's all about fun. My daughter actually asks me to put it on her." But the device her daughter is requesting isn't a smartwatch or a fitness bracelet.
When she was 5, Isabella was diagnosed with Moyamoya disease, a genetic disorder that causes the walls of the carotid arteries to thicken, restricting blood flow to the brain. Diminished blood supply caused Isabella to suffer multiple strokes, resulting in loss of speech and some movement. She is now in the Margie and Robert E. Petersen Foundation Rehabilitation Center at CHLA, being cared for by Terry Sanger, MD, PhD.
Sanger, a pediatric neurologist with a doctorate in engineering, directs the Health, Technology and Engineering program at the University of Southern California. Although he treats patients like Isabella, the majority of his time is spent in the lab inventing devices for children with movement disorders.
Isabella is currently enrolled in a clinical trial to test one of these devices—it's called surface electromyographic biofeedback, or sEMG. Electromyographic devices monitor the electrical current generated by muscle movement. This concept isn't new, but Sanger—who designed the device, the software and the algorithm—improved upon the existing technology and optimized it for kids. He also included Wi-Fi capability, enabling the data to be stored in the cloud for later analysis.
Children like Isabella who have experienced an early stroke sometimes have deficits that make moving their right arm difficult. As a result, they tend to only use their left hand. One intervention is to place a cast on the "good" hand so that the child is forced to use the other, building up muscle and strength in the weakened limb.
"The cast made Isabella uncomfortable," says her mom. "I agreed to participate in the trial because I knew she would prefer a piece of technology. It's cool."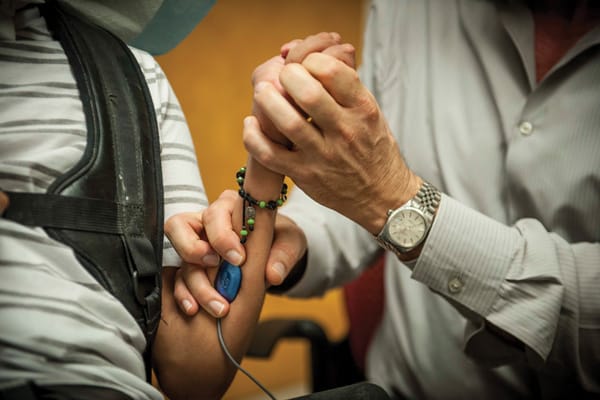 Sanger holds up a small, blue plastic oval that vibrates like a cell phone. "Kids who've experienced early strokes may lose voluntary control of their limbs," he says. "They don't know what their muscles are doing. This device provides biofeedback. And it makes things more interesting for the child."
The "things" he's referring to are the tough and sometimes tedious exercises of rehabilitation. Take a child who can't move his wrist. Sanger and his team place the sEMG on the affected group of muscles and direct the child to "make it buzz." The device is very sensitive and can pick up muscle activity that is too weak to cause movement. Sanger tells the child, "Don't worry about raising your wrist; just make it buzz."
Kids practice all day because they like the feeling of the vibration—it's reminiscent of a cell phone or a video game. After a while, the muscle gets stronger, and they don't need the device; they're ready for physical therapy.
"The great thing is that you don't have to give kids instructions about how to use the device," he says. "You can put it on 1-yearolds, and they figure it out."
Sanger understands technology, and he understands children—and that's why he's good at putting them together.
If you Live L.A., Give L.A. Every dollar of your gift will help provide world-class care for every child that comes through our doors. Visit CHLA.org/GiveLA.