TO DEVELOP THE NEXT GENERATION OF SCIENTISTS—MENTORING MATTERS

By Ellin Kavanagh
Guiding early-career investigators to become world-class scientists
Pick up a scientific journal and you'll find articles showing a clear trajectory from hypothesis to conclusion. Missing is the years-long odyssey that the investigator and team have taken to reach their destination and how many individuals contributed along the way.
Those researchers who completed their own journeys are in a unique position to train others. A select few serve as mentors—earning their name from Mentor, the teacher of Greek lore. They are essential to the success of those who are still finding their way.
Mentors at The Saban Research Institute of Children's Hospital Los Angeles help develop innovative, paradigm-shifting scientists dedicated to accelerating discoveries into leading-edge pediatric care. Fortunately, the institution is home to many MDs and PhDs who have traveled this path and are dedicated to helping the next generation of researchers access the resources necessary to achieve transformative careers.
Much as he'd like to, Pat Levitt, PhD, Chief Scientific Officer, Director of The Saban Research Institute and Simms/Mann Chair in Developmental Neurogenetics at CHLA, can't increase the number of hours in a day. But by leveraging time through mentorship, he can make it feel like his time is more abundant.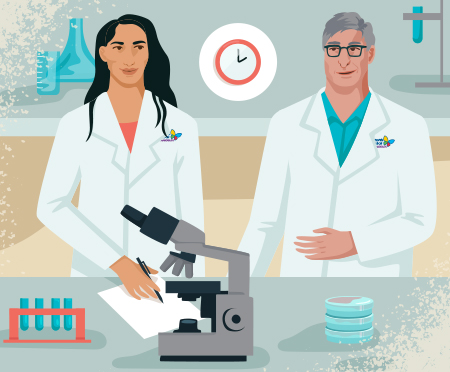 Alexandra Lanjewar, BS (left), and Pat Levitt, PhD
Dr. Levitt believes that time is a crucial component for successful mentorship. But it's also a resource in short supply for principal investigators like himself, who already manage a burgeoning portfolio of grants, manuscripts and speaking engagements, as well as a full lab with many trainees. "It's about making the effort to truly understand each of your mentee's goals, and that takes dedicated, predictable, one-on-one time," he says.
One of his mentees, Alexandra Lanjewar, BS, entered USC's Neuroscience Graduate Program immediately after completing her bachelor's degree, so she did not have a lot of lab experience. The goal of her research project is to define the biological mechanisms regulating neural circuit growth and maturation that leads to the onset of executive function. She needed access to someone who could teach her lab skills. She also needed time to make mistakes and learn from them. "Alexandra has taken full advantage of the available resources," says Dr. Levitt. "She's already a co-author of two research manuscripts in less than two years."
In addition to providing one-on-one time, Dr. Levitt has been able to create more time for trainees to learn and experiment by establishing a culture of mentorship in his lab. The lab is set up to ensure that an experienced member of the lab is always available to offer instruction on techniques to anyone who needs it.
Dr. Levitt's commitment arises from the belief that mentorship is foundational to conducting research. His longstanding dedication was recognized when he received the USC Mellon Mentoring Award for Postdoctoral Fellows. "In my lab, mentoring is front and center and begins with high school students," he says.
Trainees who are awarded fellowships at CHLA are now asked to become mentors to students in the Samuels Family Latino and African American High School Internship Program—known as LA-HIP. Now in its 14th year, LA-HIP provides hands-on training in laboratory-based research to public high school students preparing for future careers in science. "It's effective in so many ways—the mentee learns to model behavior, to teach techniques and to communicate science," says Dr. Levitt.
Lanjewar agrees. She says that Dr. Levitt is a great mentor, so she tries to follow his lead in working with her own mentee.
"Mentoring an LA-HIP student has helped with my science communications skills," Lanjewar says. "Being able to talk about science in a way that is accessible to people who are early in the process of becoming scientists is really important. Our job also is to convince the public of the need, the larger purpose of our work and how it can be applied to improve people's lives. I'm getting better at it by working with my LA-HIP student."
Now in her third year of a five-year doctoral program, Lanjewar looks forward to taking her place in this continuum of mentorship when she has a lab of her own. From her perspective, the key element is to allow people the time and freedom to make mistakes. "My advice is don't get frustrated. Start again. Just keep working."
John Wood, MD, PhD, breaks things. More from training than temperament, the engineer in him likes to take things apart and put them back together in a new way that allows him to "make things happen."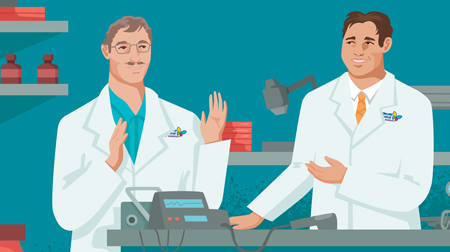 John Wood, MD, PhD (left), and Jon Detterich, MD
"Our work is driven by unsolved clinical problems," says Dr. Wood, whose lab is focused on the cardiovascular consequences of red blood cell disorders. "We develop robust tools and then ask interesting questions about the basic physiology of disease." Often the technology Dr. Wood and his team need to study a clinical problem does not yet exist, so he takes available technology and changes it. "I take the 'toy' and break it and figure out how to make it fit our current needs," he says. "I've had a lot of luck with doing this—it really appeals to the engineer in me."
This desire to make things happen is also a vital aspect of Dr. Wood's approach to mentoring. Jon Detterich, MD, a pediatric cardiologist at CHLA, first met Dr. Wood when he was a resident. Dr. Detterich waited until he was a clinical fellow before approaching his potential mentor.
"I wanted to do a prospective study on pulmonary hypertension in patients with sickle cell disease," says Dr. Detterich. "John challenged me [to take a different approach]. Since a prospective study is difficult to complete during a three-year fellowship, he worked with me on a separate project that allowed me to explore a complex data set, similar to what I was planning for the prospective project." Dr. Detterich wrote an abstract about his research for the American Society of Hematology conference. The abstract was accepted and he was offered a travel award so he could attend the meeting and present his work.
"After that success, I started the prospective study, even though I was still a fellow. I learned a lot about research design and planning, methodology, data collection and analysis—in large part due to John's mentoring. "I think he was surprised—given the demands of the fellowship program— that I got the study off the ground and started enrolling patients. John says, 'Ideas are cheap and making things happen is hard.' Thanks to him, I was able to make something happen."
Dr. Detterich is continuing to make things happen—he has received several National Institutes of Health grants in support of his research on the biomechanics of red blood cells and vasoconstriction in patients with sickle cell disease.
Ashwini Lakshmanan, MD, MPH, was encouraged to dream big, yet her current project can be stored in your pocket. Her big dream was to reduce the barriers to care through mobile health by developing a cell phone app. She needed guidance about funding to turn this dream into a reality.
Ashwini Lakshmanan, MD, MPH, (left), and Michele Kipke, PhD
Her mentor, Michele Kipke, PhD, has helped guide a lot of scientific careers. From her vantage point as Vice Chair of Research in the Department of Pediatrics and Head of the Division of Research on Children, Youth and Families, she describes the relationship between mentor and mentee as crucial.
"The young scientist needs to figure out where he or she wants to be in their career in five years and start on a path to get there," says Dr. Kipke. "It's my job to figure out how to help them reach their goal."
"When I was figuring out my path, Michele asked me, 'If you could do anything, what would you do?'" says Dr. Lakshmanan. "She encouraged me to think broad and wide. She also challenged me to consider implementation right from the start."
As an attending neonatologist in the Fetal and Neonatal Institute, Dr. Lakshmanan was particularly interested in high-risk infants and their transition from the hospital to home. Existing follow-up care programs demonstrated improved outcomes and significant cost savings—but their reach was limited. She hypothesized that a way to broaden the scope of these programs was to integrate a free cell phone app, called Baby Steps LA, into discharge planning.
Both mentor and mentee agree on a crucial component of mentoring: guidance around financial support to protect Dr. Lakshmanan's time so it can be devoted to research. Under Dr. Kipke's leadership, Dr. Lakshmanan obtained a Southern California Clinical and Translational Science Institute KL2 Career Development Award, and also was able to participate in her mentor's grant from a private foundation.
"We wouldn't have been able to develop or pilot-test the app without Michele's support," says Dr. Lakshmanan.
Dr. Lakshmanan and the team have spent the past year developing Baby Steps LA, a virtual transition program available in English and Spanish that provides medical information, family resources and access to a moderated online support group. The Baby Steps LA app was recently awarded third place in the national American Hospital Association's Innovation Challenge.
Jesse Berry, MD, an ophthalmic surgeon and ocular oncologist, was in the operating room preparing to treat a child with retinoblastoma, a pediatric eye cancer. As she removed a small amount of fluid from the child's eye in preparation for giving chemotherapy, she had an idea. Later when she shared the idea, many people discouraged her from pursuing it. Her mentor wasn't one of them.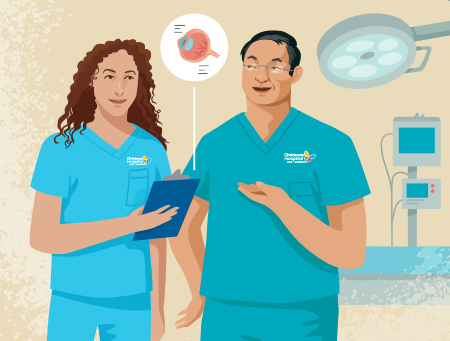 Jesse Berry, MD (left), and Thomas Lee, MD
Thomas Lee, MD, Director of The Vision Center, knows a thing or two about career development, having recently been honored with the USC Faculty Mentoring Award for paying his expertise forward. From his perspective, the most important part of mentoring is understanding your mentees well enough to recognize their potential and help them realize it.
"Several years ago, I selected Jesse Berry from a number of residents interested in training at CHLA," says Dr. Lee. "Jesse grew up in a rural area and was raised by her grandmother. She went on to Harvard for college and medical school on scholarships. I could tell she knew a lot about risk and making the most of an opportunity."
The opportunity Dr. Lee had in mind for Dr. Berry was research on retinoblastoma.
Retinoblastoma was the first human cancer to have its underlying genetic mutation identified—the Rosetta stone of cancer genetics. Three key physicians made this discovery—one at Massachusetts General Hospital, one at SickKids in Toronto, and A. Linn Murphree, MD, at CHLA. They had each reached the culmination of their life's work and were nearing retirement.
Dr. Lee spoke to Dr. Berry about the institution's role in retinoblastoma research and about the need for new expertise. "We were losing the key people in the field, and there were no ophthalmologists preparing to step in and fill that gap," says Dr. Lee.
He suggested that if Dr. Berry had any interest in basic science, she should consider this an area where she could make a tremendous impact, both in the field and in patients' lives. At that time, Dr. Berry wanted to focus on surgery and clinical work.
"I spoke to her about it in 2011," says Dr. Lee. "Then again in 2012 and 2013. In 2014, she said to me, 'I have this idea …' After that conversation, she went on to change the field of retinoblastoma research."
Unlike most tumors, retinoblastoma is unique in that it cannot be biopsied because of the risk of spreading cancer cells outside of the eye. Diagnosis is made clinically, and the only time that tumor tissue is available is if the eye needs to be removed to stop the spread of disease. For this reason, clinicians are unable to use any tumor-specific genetic information or markers to aid in diagnosis or to inform treatment recommendations or prognosis.
Since 2014, Dr. Berry has been making steady progress on proof-of-concept research for a safe way to gather genetic information about the retinoblastoma tumor. It began that day in the operating room when she paused before discarding the small amount of fluid—called aqueous humor. She found that the fluid contained tumor DNA—allowing it to function as a "liquid biopsy."
Dr. Berry says that her mentor's most significant influence was allowing her to figure things out. "If he had just given me a project, I probably wouldn't have been driven to figure out how to do something so impactful," she says. "Now there's potential that this may one day change the treatment paradigm for retinoblastoma."
For Dr. Berry, the right environment and Dr. Lee's support and encouragement made all the difference. "He created an atmosphere where it was OK to be wrong," says Dr. Berry. "I might not have mentioned the liquid biopsy idea to him unless I felt like it was OK to make a mistake. Even if he thought it was crazy— and some people did—it would be alright."
The National Cancer Institute recently awarded Dr. Berry $1.14 million to study the development of an aqueous humor liquid biopsy to more effectively diagnose and treat retinoblastoma.
According to Dr. Lee, the important takeaway is that CHLA can develop world-class scientists. "Dr. Berry started her career here without a scientific background and has become a thought leader who has created a new field of research. She is proof of concept that CHLA can grow high-impact scientists. We know we can because we've done it."