Children's Optical
* Children's Optical will be closed Saturday, July 4th. We will resume normal business hours on Tuesday, July 7th.
Change in Protocols due to COVID-19
Temporary Hours
Tuesday thru Friday - 10:00 AM to 5:00 PM
Saturday - 8:00 AM to 4:00 PM
Closed for Lunch - 12:30 to 1:30
Due to the unprecedented outbreak of COVID-19 the CHLA Optical Shop is taking extra precautions to ensure the safety of our staff, our patients and their families. Due to recommended social distancing guidelines the Optical Shop will only be permitting one patient and one parent to enter the shop at a time.
We will be making appointments for orders and pick up of glasses. Please call for an appointment.
We kindly ask that if a family is already in the shop being seen by our team that you wait outside until they complete their visit and exit the shop.
Please call 626-303-2030 if you have any questions or to confirm when we will be ready to see our next patient.
Thank you for your understanding and patience during this challenging time.
Children's Hospital Los Angeles Optical
Conveniently located in Monrovia close to the Children's Hospital Los Angeles Ambulatory Care Center in nearby Arcadia, Children's Optical offers one-stop shopping for patients needing prescription eye glasses, contact lenses, frame repairs, accessories and protective eyewear.
Children's Optical provides customized lenses for children to ensure proper prescriptions and comfort. When very young children are prescribed glasses to correct a developmental condition, it is crucial that the lenses be properly aligned.
With a large selection of frames to choose from, Children's Optical offers child-friendly frames that can be properly fitted to facial characteristics, nose bridge and temple length to provide the best comfort.
Children have smaller noses, which can lead to the glasses slipping down if they aren't properly fitted.
Frames should be durable and be sized to fit the width of the face.
The temples (arms) of the frame should be the proper length and follow the contour of the ear. Frames can be fit with comfort cable tips to ensure a minimum of slipping or strap to secure the glasses.
Durable frames and polycarbonate lenses are recommended for protection against breakage and harmful UVA/UVB light rays from the sun.
Take a Virtual Tour of Children's Optical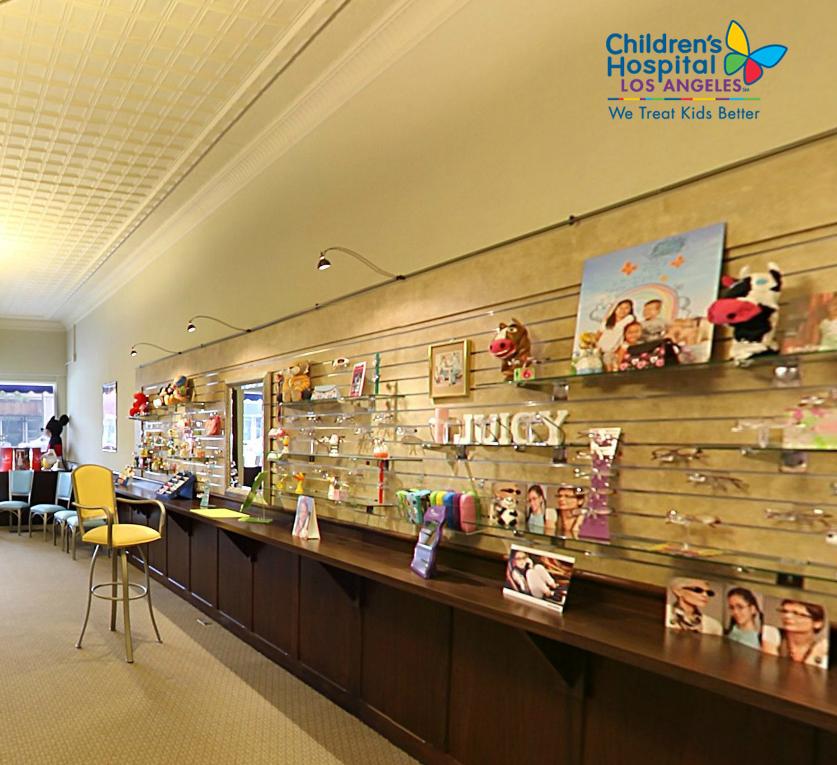 Parking
Street parking is available along South Myrtle Ave. or free parking structures on East Lemon Ave. and West Colorado Blvd.
Care Services
Eye glasses
Contact lenses
Frame repairs
Accessories
Protective eyewear
Eye patching
Eye exams are not available at Children's Optical. Please contact The Vision Center for a pediatric eye exam appointment.
Frames Carried
Bongo, Candie's, Converse, Disney, Eyes Cream Shades, Flexon, Guess, Jessica McClintock, Juicy Couture, Julbo, Lilly Pulitzer, Lucky Brand, Mira-Flex, Nike, OP, Penguin, Ray Ban, Ray Ban Jr., Rec Specs, Sketchers, Specs 4 Us, Timex, Vera Bradley, XOXO and more.