Center for Innovation - Copyrighted Products
The products for sale below were developed by our health care practitioners and community researchers to help other health care professionals, educators and families. These products include curricula, workbooks and videos.
Details on Making Purchases Online
Bulk orders may be placed via Email.
Payment Types Accepted
Check: Checks should be payable to "Children's Hospital Los Angeles"

Mail checks to:
Children's Hospital Los Angeles
Attn: Center for Innovation
4650 Sunset Blvd., #84
Los Angeles, CA 90027
Products
Competency Checklist for the Neonatal and High Risk Infant Therapist

HEADSS: An interview protocol

It Only Takes a Second! Preventing Traumatic Childhood Injuries

Medical Emergency Communication Booklet

Project AIM (Adult Identity Mentoring)

Quake, Rattle and Roll: A Children's Book on Earthquake Preparedness and Safety
Created by: Edith M. Mak, OTR/L, Janet Lurie, OTR/L and Nancy Forero-Lilienfeld, PT
Children's Hospital Los Angeles, Division of Rehabilitation Services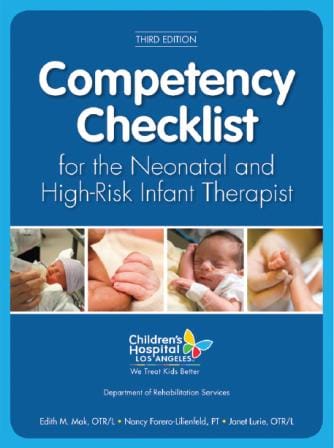 This training manual was developed for occupational and physical therapists who are beginning practice in the neonatal and high risk infant care units and acute outpatient area. The Checklist is intended to be a set of guidelines and an objective tool used to measure, train and monitor the clinicians' advanced competency skills. It assesses areas of competency in evaluation, treatment intervention (including neurobehavioral development), feeding skills, family training and interdisciplinary teamwork and discharge planning.
The Checklist is divided into three major sections:
Chart Review
Assessment
Therapeutic Intervention and Feeding
Also included are a pre-test, open and closed book examination, test questions and answer key and reading and reference list.
Price: $75 + S&H
Created by: Calvin Lowe, MD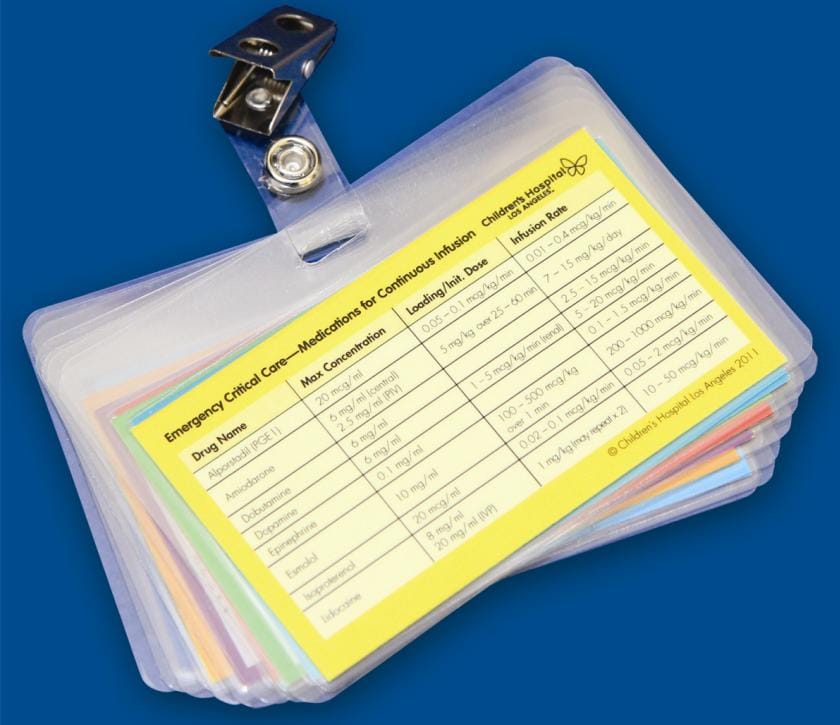 This badge-size reference guide provides pediatric critical care medical information to the emergency medical provider in an easily accessible and legible fashion. The guide is designed to take into consideration the special biological and developmental requirements of children, including the neonate. This referral tool will be useful to emergency medical technicians, emergency medical physicians, nurses and emergency room attendants.
The unique feature of this product is the instant access to the user (emergency medical technicians, emergency medicine physicians, nurses and emergency room attendants). It is designed to be carried by the user and the information is provided in an easy to read format. Each set consists of eight double-sided color quick-flip reference cards.

Created by: Ellen Iverson, MPH
HEADSS is a unique psychosocial program developed for use with adolescents. The goal of the program is to provide specific information to allied health professionals on how to intervene and discuss such topics as sex, suicide and drug use. The program includes a workbook and video that guide the professional through the process step by step. The workbook is designed for counselors, psychologists, therapists and social workers.
This product is exclusively available through Films for the Humanities & Sciences and may be ordered here.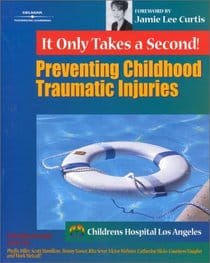 A must-read book for anyone who has children in their care. Most childhood accidents are preventable -- learn how to prevent them. Jamie Lee Curtis writes the inspiring foreword which defines her support and encouragement for bringing this vital information to your attention. In addition, you'll read about the real life experiences of celebrities and parents dealing with childhood accidents. You'll also know what to watch for at the most common accident scenes: home, vehicle, play areas and school/day care. Going beyond prevention, the authors provide insight into the significant psychological, emotional and economic impacts of accidents, complete with commentary from expert pediatricians from all over the country. With this book, you can make a difference in children's lives!
Price: $10.00 + S&H
Created by: Francine Kaufman, MD

Kids N Fitness is a 6-week weight management program for overweight children and their parents. The 1.5-hour weekly classes are divided into interactive nutrition education, exercise and parent seminars. The goals of Kids N Fitness are to:
Reduce weight gain in overweight and obese youth
Promote healthier eating habits, more frequent exercise, and a reduction in the behaviors that encourage weight gain
Provide ongoing support to help sustain healthy behaviors
The program is available to hospitals, health clinics and after school programs upon securing a license from Children's Hospital Los Angeles. Children's Hospital Los Angeles will provide instructor manuals (designed for health educators, teachers and dietitians) with complete curriculum, 8 hours of training, sample of incentives and updates thereof for a two-year period.
For pricing information, please contact:
Ms. Megan Lipton-Inga
MLipton@chla.usc.edu
323-361-5423
Created by: Micky Heinrichs, MD, and Philip Malouf, MD
This book is a communication tool for use in case of a medical emergency, to communicate easily with patients from varied cultural and linguistic backgrounds.
Sections of the book can also assist with taking the patient's medical history, communicating treatment and procedure orders, hospital patient discharge and admission.
This pictorial resource should be used in any situation in which communicating with patients is difficult. It can be used in hospital settings, nursing homes or by Emergency Medical Technicians and paramedics.
Registered Copyright.

Product Overview
Micky Heinrichs, MD,
Emergency Medicine Fellow
, demonstrates the benefits and uses of the Medical Emergency Communication Booklet.
Price $50 per book + S&H
Created by: Ellen Iverson, MPH

Facing the Challenge: Building Peer Programs for Street Youth was developed for high-risk adolescents and raises the seldom discussed, important issues related to developing and managing peer programs. The program includes a workbook and video and is designed for the service provider.

This product is exclusively available through Films for the Humanities & Sciences and may be ordered here.
Project AIM is a CDC-endorsed program created to reduce sexual risk and substance abuse risk among youth.
Created by: Dr. Leslie Clark
Intervention Description
Project AIM is a group-level youth development intervention designed to address risk trajectories, emergence of environmental risk and the debilitating effects of poverty and racism. The intervention is based on the Theory of Possible Selves, which states that a person's motivation is determined by a balance of positive and negative ways people see themselves in the future. Individuals who are able to imagine both possible positive and negative futures are more likely to work toward their life goals and achieve future success. Thus, Project AIM encourages at-risk youth to imagine a positive future and discuss how current risk behaviors can be a barrier to a successful adulthood.
The goals of Project AIM are to provide youth with the motivation to enact safe choices. Students are able to explore theories of their possible selves:
What one might become (hopes)
What one would like to become (goals)
What one is afraid of becoming (fears and threats)
The curriculum consists of the following four units:
Legacy, Role Models and Peers
Self-Projection: Expanding Visions of Possible Selves
Self-Expression Through Work: A Positive Self
Skills for Fulfilling Positive Future Selves
Target population: At-risk adolescents
Research Results
Project AIM was tested in schools among African-American seventh grade students in a suburb near Birmingham, Alabama. At 12 weeks after the intervention, youth participating in Project AIM compared with youth not receiving the intervention reported the following outcomes:
Increased abstinence
Decreased intention to engage in sex
For Details on the Research Design
Clark, L., Miller, K., Nagy, S., Avery, J., Roth, D., Liddon, N., et al. (2005). Adult identity mentoring: Reducing sexual risk for African-American seventh grade students. Journal of Adolescent Health, 37, 337.e1–337.e10. For more information, click here: Centers for Disease Control and Prevention.

For more information, please contact:
Aim Services Core at aim@chla.usc.edu
Frances Cordero at fcordero@chla.usc.edu or 323-361-4605
Written by Santiago Chambers and Helen Arbogast.
Drop, cover and hold on! These famous steps are known to children and adults alike. To educate children and their parents the importance of earthquake safety and preparedness, Children's Hospital Los Angeles' Injury Prevention Program has created a book on the topic to help parents and professionals prepare families for an untimely disaster.
"Quake, Rattle and Roll" is a children's book written by the Manager of Safety and Security, and CHLA's Safety Officer, Santiago D. Chambers, CHSP, CHEP, edited by the Manager of the Injury Prevention Program, Helen Arbogast, MPH, CHES and illustrated by Kris Wimberly, who is known for his work with Warner Bros. Animation, Walt Disney Animation and Nickelodeon Animation Studios on the show SpongeBob SquarePants.
The book debuted during the Great California ShakeOut Earhquake Drill on October 15. 2015. Marlton Elementary School, a school with students with special needs, enjoyed the story of Tommy and his family planning and preparing for an earthquake. The book details what to do in a disaster, how to prepare, what to plan for and other safety and preparedness tips. The Injury Prevention Program was able to donate 25 copies to the school.
When asked the importance of children and their parents to be prepared and have a plan, Santiago said, "Children naturally look to their parents for guidance in times of calm and especially times of peril; having the right plan, training and response will better prepare a family for disaster. The ABC/123 step muscle memory approach to responding works well to keep parents and children on the same page."
"Disasters can happen at any moment. If you are prepared before a disaster hits, your family may be safer. We hope this wonderful children's book, will be a tool for professionals and families to start the conversation with young children about understanding earthquakes and equip them with tools for disaster preparedness at home and school", said Helen when asked about the goal and purpose of the book.
100% of net profit from the sale of this item will be donated to support education and outreach for children through the Kohl's Injury Prevention Program at Children's Hospital Los Angeles.
Price: $5.99 + S&H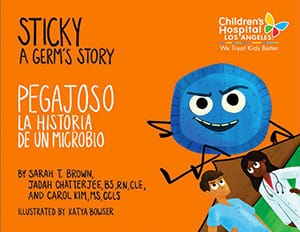 Title: Sticky: A Germ's Story
Written by Sarah Brown, Jadah Chatterjee, BS, RN, CLE, and Carol Kim, MS, CCLS
Sticky the Germ is a bad guy. He wants to make people sick, so he doesn't want you to wash your hands. But doctors and nurses do! This book teaches children the importance of keeping their hands clean, with English and Spanish text side by side. Produced by Children's Hospital Los Angeles.
Price: $6 + S&H
Created by: Sonia Aller, PhD
Assistive Technology for Infants and Young Children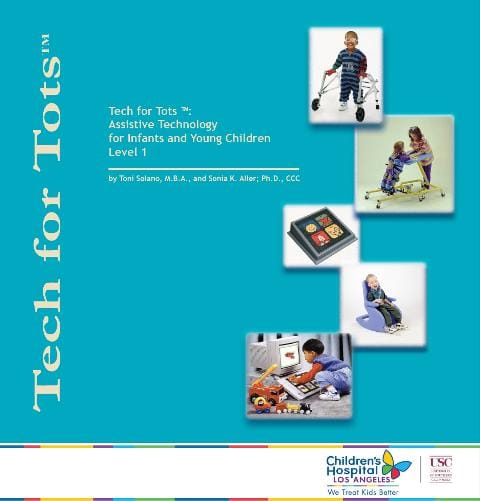 A complete, flexible lecture presentation package for trainings of 1-4 hours in the university classroom or professional inservice presentations. Meets National Association of State Directors of Special Education-recommended competencies.
Covers
Purpose of AT for children ages birth through 5 from a neuro-developmental perspective
Legal requirements
Examples and functional applications
Identifying potential AT users
A family-centered approach
A model trans-disciplinary AT team / contributions of each discipline
Price: $50 + S&H