Casting Call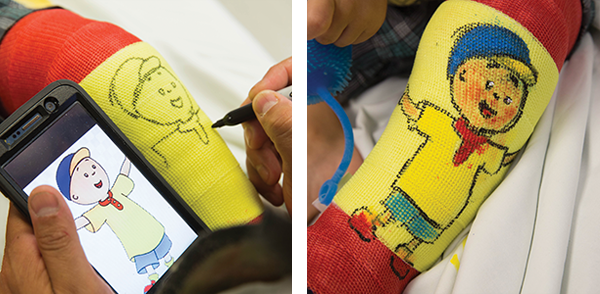 Luis Ruiz can create a perfect-fitting cast for a child in as little as five to 10 minutes. Then, it's time to have some fun.
Ruiz reaches into a giant file drawer and begins pulling out his supplies: colorful Sharpie pens, white out, glitter and more. In a few short minutes, he quickly creates a colorful drawing on each cast—and reaps his reward.
"The kids just light up in smiles," he says.
An orthopedic technician at Children's Hospital Los Angeles for the past seven years, he got the idea for the drawings three years ago, when a little boy asked him to draw a happy face on his cast.
Ruiz said no, worried he might mess up the drawing.
"Pleeease?" the boy pleaded. He relented. Seeing how happy it made the young patient, he decided to ask other kids if they would like a drawing on their casts.
"At first I was terrible!" he says with a soft chuckle. "But the kids were nice about it. And practice makes perfect, I guess. Now I can pretty confidently draw whatever kids want."
Popular requests include Disney characters such as Minnie Mouse, or Olaf from "Frozen," superheroes like Batman and Superman, soccer balls, penguins and professional sports team logos. One patient had his Dodgers cast signed by Tommy Lasorda and Steve Garvey; another had his Lakers cast inscribed by Pau Gasol.
The artwork not only helps ease kids' fears, it also turns their cast into a conversation piece at school. Upon request, Ruiz even refurbishes the casts after removal so kids can keep them as souvenirs.
Ruiz, who has two grown children of his own, insists he never did any drawing before finding his calling as "the cast artist." And while his imaginative illustrations have brought him recognition throughout the hospital, he humbly casts the attention aside. His motivation: seeing those smiles.
"Making kids happy is the greatest feeling in the world," he says. "That's what life is all about."
If you Live L.A., Give L.A. Every dollar of your gift will help provide world-class care for every child that comes through our doors. Visit CHLA.org/GiveLA.