Career Development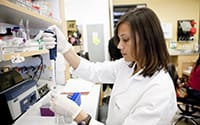 TECPAD offers a clearinghouse of resources to prepare trainees for professional careers in academic, clinical and alternative pediatric research settings at all stages.
Southern California Clinical and Translational Sciences Institute
The Southern California Clinical and Translational Science Institute (SC CTSI), based at USC, provides resources to help investigators move their discoveries through the research pipeline and into sustainable public health solutions.
Career Development Resources
The NIH Office of Intramural Training & Education (OITE) offers workshops and science skills tutorials online to help research trainees develop scientific and professional skills that will enable them to become leaders in the biomedical research community. All OITE activities and services are provided free of charge.
The National Postdoctoral Association provides resources for self-assessment and career planning geared towards PhDs and postdocs.
<a href="http://sc-ctsi.org/index.php/events/home>Southern California Clinical and Translational Science Institute (SC CTSI) Career Development Seminars
The SC CTSI Education, Career Development, and Ethics Program (ECDE) is the education arm of the SC CTSI, which promotes the translation of scientific discoveries into new tools for clinical and community health. The SC CTSI ECDE program offers a series of career development seminars open to TSRI trainees.
Science Careers provides information on employment, job alerts, a database where you can post a resumé/curriculum vitae and other resources.
USC's Center for Excellence in Research compiles opportunities and offers guidance on tailoring submissions and navigating the application process to federal funding sources.
The USC Center for Excellence in Research presents a calendar of workshops and courses related to proposal and grant writing and other skills necessary for obtaining research funding and furthering career development.
The interactive "Path to Career" tool designed by the Vanderbilt University School of Medicine Biomedical Research Education and Training Office of Career Development provides links to resources related to career exploration, skills development, networking, self-assessment, grant writing, resumé writing and other critical components of career planning.
Is there an online career resource you find helpful? Please let us know by emailing tecpad@chla.usc.edu.
TECPAD encourages all research trainees at The Saban Research Institute to utilize the Individual Development Plan (IDP) tool, "MyIDP" from Science Careers, to guide communication with their mentor about their professional development needs and career goals. Additional information about the IDP is outlined below. To further assist trainees with career exploration, grant and proposal writing, networking, presenting at conferences, interviewing and mentoring, TECPAD manages a listing of external resources, which can also be found below.

The IDP facilitates communication between postdoctoral fellows (postdocs) and mentors and provides a process for identifying research needs, setting expectations, assessing progress and discussing career goals. The process is interactive, requiring the full participation of both the postdoc and mentor. NIH recognizes the value of IDPs throughout research training as a mentoring and career planning guide as well as an evaluation tool for biomedical research. On July 23, 2013, the NIH issued a statement encouraging research institutions to develop institutional policies requiring IDPs for graduate students and postdocs conducting research supported by NIH awards by October 2014. MyIDP is a free and widely used online tool from Science Careers.

MyIDP has four basic steps: Steps For Postdocs For Mentors1Conduct a self-assessmentBecome familiar with available career opportunities2Survey career opportunities with mentorDiscuss opportunities with postdoc3Write IDP, share with mentor and reviseReview IDP and help revise4Implement plan and revise as neededEstablish a review of progress and help revise the IDP as needed.
The MyIDP tool provides:
Exercises to examine your skills, interests and values
A list of 20 scientific career paths with a prediction of which ones best fit your skills and interests
A tool for setting strategic goals for the coming year, with optional reminders to keep you on track
Articles and resources to guide you through the process